I use affiliate links in some blog posts. If you click through and make a purchase, I earn a small commission at no extra cost to yourself. Thank you for your support.
The pros and cons of stay-at-home parenting are something that's never left my mind since I quit work to have kids six years ago, but recently – perhaps prompted by Shared Parental Leave and associated press articles – I've been working through two particular lines of thought often expressed by those who would want to see me back in my teaching profession and paying for external childcare.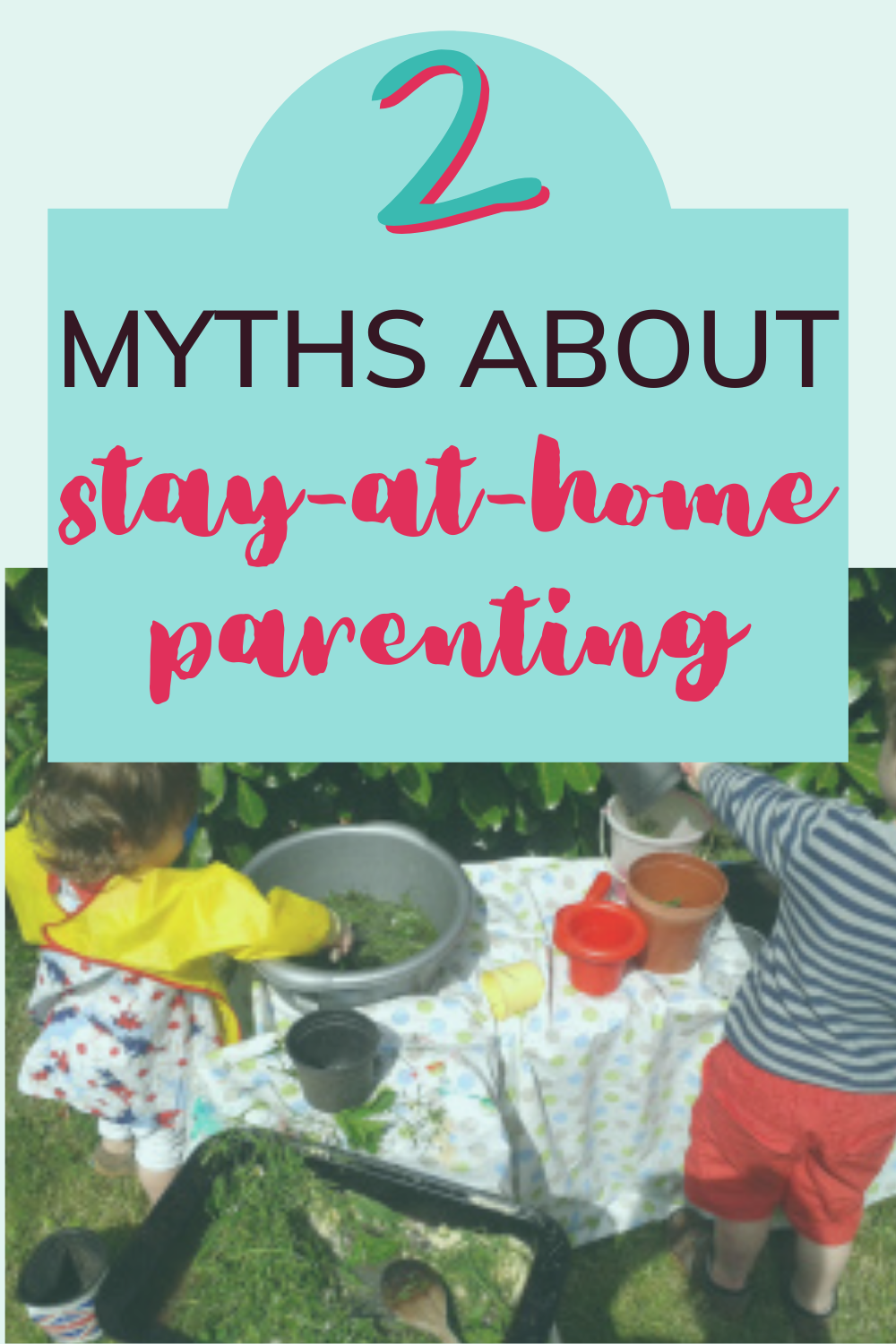 This is not an argument against those who work and/or use childcare.
We're all raising kids in different situations, and what's best for one family won't be best for the next family. Personally, I don't think whether parents work outside the home or not makes much difference to the kids – it's what you do in the time you have together that counts.
Instead, consider this as a bit of comeback for those times when the media makes us stay-at-home parents feel just a little less worthy for making this decision. I'd love to hear your comments. 🙂
Myth no.1: "It's much healthier for your kids to see you working then staying at home."
The other day someone I don't know very well said to me, "Well, you see, our mum worked so it's just natural for us to want to work".
Yeah, right. While my slouch of a mum just bummed around feeding me, playing with me, taking me to groups, keeping the house reasonable and running a number of community initiatives – and I'm merely following her lazy layabout example.
My kids see me running toddler groups, serving drinks to others, stacking chairs, setting out toys and other activities, washing up, leading songs and stories, scrubbing play dough off the floor, leading discussions and forums. They come with me when I go to the school office for governor business. They've shared their home with others as I've led Bible studies in our house.
Whilst I do try and keep my commitments to evenings and when the youngest is at preschool, they do occasionally see me writing emails and making phone calls. And this is aside from the 'obvious' work of making their meals, clearing the kitchen, tidying their rooms and washing their clothes – which they observe on an hourly basis.
In short – my children are under no impression that I am free from work. In fact, as part of a Facebook meme which did the rounds recently, I asked my son 'What is Mummy's work?' and he said 'Being a school governor'.
This is only a small part of my week, but interesting that he recognises this as work. Perhaps kids of stay-at-home parents simply grow up with a broader definition of 'work' – that it doesn't have to be paid, or full-time, or purely devoted to one area. It can be voluntary, fitted around children, in and out of the home.
This is healthy, right?
Myth no.2: "You'll lose confidence if you take time out of your career to raise your kids."
If you leave paid work to spend all your time with your children within the confines of your own four walls, then yes, I can see how your confidence will drop. (And – if this is you – you may want to check out my post on countering isolation as a lonely parent.)
But if you instead use the time to make new friends, explore your community, see how you can contribute your skills in new ways, and discover new gifts as well, I think it's highly unlikely that you'll experience a confidence drop.
My stay-at-home parent friends run groups for other parents and kids, they fundraise for the NCT, they write blogs and books, they visit prisoners, they connect with local charities to support vulnerable people, they volunteer at their children's schools, they campaign for things they feel passionately about, they start toy libraries.
All these things increase confidence through building upon existing skills and liaising with a more diverse population than might have been possible in the workplace.
Make no mistake: as a result of pausing my career I have lost my salary, recent training, the opportunity to acquire new skills and a fair chunk of my pension. It's fair to say that this former teacher now largely gets her education news through Twitter.
But let's be clear: for all I've lost, I haven't lost my confidence. If I were to go back into the classroom tomorrow, to teach a lesson as opposed to dropping my son off, I think I would be more confident than when I left, six years ago.
OK my skill-set would be a little rusty, and the GCSE syllabus would have changed beyond recognition (six years, three governments), but, essentially, my professional toolkit is just brimming with new skills and ideas that the experience of the last six years has developed in me.
What other stay-at-home 'myths' do you encounter?