I use affiliate links in some blog posts. If you click through and make a purchase, I earn a small commission at no extra cost to yourself. Thank you for your support.
Eleven weeks into lockdown (or is it eleven months? Hard to tell) it is no surprise that I'm writing now about isolation as a parent.
I guess we've all experienced this, in our own ways, during lockdown season. We may have felt isolated from our friends and families, from our church and small groups, from our work colleagues or from the school run parents who perhaps we did not know well, or at all, but were used to seeing every day regardless.
Not seeing this variety of faces in the flesh is proving to be pretty tough.
However, today I want to talk about isolation not as a phenomenon, but as an everyday reality for so many of us parents.
I send weekly emails of hope, encouragement and laughs at my own inept parenting to a wonderful group of people I call the Hope Tribe. (Not part of the Tribe? Rectify that here.)
Recently, I was re-reading some of the emails I've had from Tribe members over the past year or so, and I discovered a common theme in several of them: loneliness.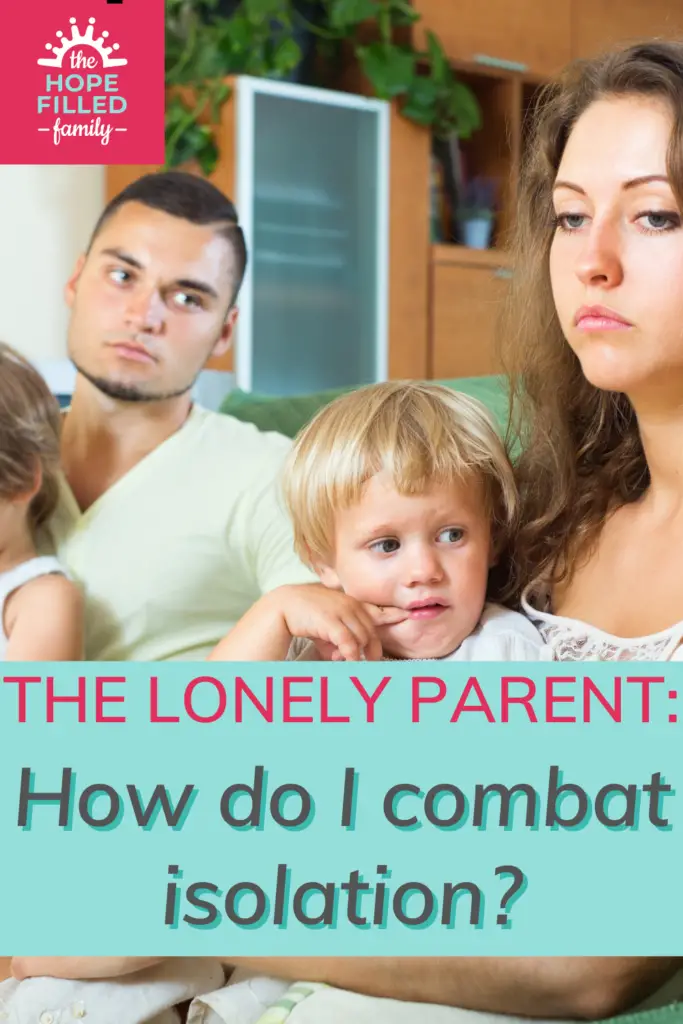 Some feel like they have no time for adult friends. Others feel like they've tried, but to no avail. And yet others feel that potential friends hold them at arm's length due to their children's additional needs or strange behaviours linked to early life trauma.
I'm here to tell you that if you feel like a lonely parent, then you're not alone. Literally. You are not the only one who feels this way. And you're not alone as you parent – even though it may feel that way sometimes. Or a lot of the time.
So why do large numbers of parents feel alone?
All-consuming
The obvious reason that we parents may struggle to build meaningful friendships is because of how busy we are.
We pour ourselves into the lives of our children. We put their needs, schedules and social life ahead of ours. We can't help it – it's how we're wired. We would give up anything to support their development and increase their opportunities for the future.
Even our own need for community.
I think it's good to recognise a couple of things here.
Firstly, parenting is all-consuming, especially if our children have additional physical or emotional needs. It is always going to be really hard to run our own social lives in the same way as we were used to before.
But the second thing to remember is that we do need to prioritise our own mental health if we are to be any use to our children. Maybe this experience of lockdown has shown that a bit more clearly. (I expanded on finding a balance between mental health, finances and raising a family last year.)
If we are feeling isolated, without beating ourselves up about it, the first question to ask is: are we making time to make connections? Are we getting out to that toddler group, evening book club, church event? Or have we got into a rut of claiming tiredness each time an opportunity to connect with others comes round?
I get it – I do. We are dog-shattered. Like, all the time. Our children are exhausting, their needs incessant.
Yes, our weary bodies need sleep – but our weary souls need company. Both are important. Might it be a priority to occasionally forego an early night for the opportunity to catch up with friends, attend a support group or get involved in a church ministry?
Fear of failure
If the first thing we need to ask ourselves is whether we're making an active effort to meet people, the second is whether we're willing to put ourselves out there when it comes to actually building a friendship.
I listened to an interesting episode of the Do It Scared podcast this week with one of my favourite writers/influencers, Jen Hatmaker – check it out here.
The interview covered a lot of ground, but as I was preparing this blog post, the bit which stuck out the most to me was about forming relationships as a woman.
Jen argued that many of us women struggle with friendship because we are fearful of getting it 'wrong', and I think there's something in this.
We know what we should be – bright, interesting, sociable, easy to chat to, able to go deep in our conversations – but worry that we aren't all these things. We worry that we will say the wrong thing, that there will be silence, that the other person will think us stupid/ignorant/boring/unattractive/a hot mess and won't want to know.
We desperately, desperately want genuine connection with others, but the fear of failing often prevents us from reaching out in the first place.
And yet if we are to create the friendships we so deeply need, we will need to be prepared to take that risk, to step out, to be willing to expose our vulnerabilities. Because when we do, we find that other people open up too. It turns out they didn't have it all together either.
(Note: if you're a man reading this, sorry if you feel a bit excluded. I know full well that adult men often struggle to forge meaningful connections with one another too. But I think often our reasons are slightly different. Women are 'expected' to automatically be great conversationalists, wonderful with small-talk but also able to connect more deeply when needed – so if we feel inadequate in these areas, it can be a huge obstacle. Men, I know you need connection too, and also struggle to find it sometimes. The rest of this article is for you too!)
A changed focus
Perhaps you have tried to start and maintain friendships. You've shown up to the schoolfriend reunions, the church worship team get-togethers, the PTA events – often at great cost to your family life. And yet it never seems that you can forge a relationship deeper than the usual niceties.
What do you do then?
It's wise to remember a third area which might be holding us back from making real, deep connections with others: the extent to which our lives and priorities have changed since having children.
Harsh though it may sound, our old friends might no longer be so interested in us once kids come along. Or maybe they would be – but they're up to their necks in their own parenting journey. Keeping in touch can be hard work.
Much as we say we're not going to turn into anyone new when we become parents, we do. And, actually, that's pretty normal and healthy. We adapt to the needs of our child – whose personality, character and health are unknown at the point when we're glibly announcing to our friends that we're certainly not going to become those neurotic helicopter parents.
If the connections you're trying to make don't seem to be going anywhere, consider who will best understand your situation.
If you're an adopter or foster carer, can you get to a local support group of other adopters and foster carers? If you have a child with additional needs, can you connect with others who walk the same path? If you're struggling with your sleep-defying toddler, can you find local toddler groups full of friendly parents who get it?
Be realistic
Finally, it's worth remembering that none of us are perfect, and thus none of us can be everything to our friends.
Perhaps some of your friends are great at keeping in touch and arranging times to hang out, but not so great at understanding how hard it is when your autistic child has a meltdown. That's OK – they don't have to do everything. Because maybe you can find a local support group or an online group to offer that particular connection.
Your local friends are meeting your need for physical community, while your specialised support group friends are meeting your need to be understood.
Don't knock online support. Some of the best solidarity I've felt as a parent has come from Facebook groups where people understand what it's like to have adopted children, for example, or to be a clergy spouse.
And I hope that I can offer you some sense of support and connection here, through the Hope Tribe. It's a community of parents who enjoy reading this blog, and connect through email and social media. I'm always hugely encouraged by the awesome people I get to 'know' through the Tribe. (You can sign up here if you fancy joining me.)
Whilst we put many hours into helping our children build, manage and grow their friendships, it's time to start doing the same for ourselves.
Where can we go, what can we do, how can we prioritise some time to do this? Can we take a deep breath and make a first step towards connection – even if it means looking silly or awkward? And can we deliberately seek out those who understand our specific situations?
I'd love to hear your thoughts on this. How have you managed to find connection as a parent? How do you work this into your week? And how has it benefited you as a person (not just as a parent!)?