I use affiliate links in some blog posts. If you click through and make a purchase, I earn a small commission at no extra cost to yourself. Thank you for your support.
I struggle to find Christian songs which are easy for pre-school kids to sing and remember. Most Christian kids' songs have far too many words for tiny ones, and are clearly geared towards primary-age children.
So my preference, where possible, is to re-word a nursery rhyme or popular tune with some simple, repetitive words which tell a story – for example, Easter Bells is my Easter re-working of Jingle Bells, and my David and Goliath song uses the tune of 'Miss Polly had a Dolly'.
As we know, it's much easier to pick up a song when you already know the tune – and nursery rhymes have stood the test of time for a reason: they're decent tunes! They're easy to pick up, short with much repetition, don't require instrumental backing, and (usually) have a limited range of notes, which means they can be sung in different keys with no problem of getting to the third line and realising you've pitched too high or too low.
It also takes much longer to learn a song when you're given written words to read, and most pre-school kids can't read anyway, so having simple, repetitive words (which nursery rhyme tunes lend themselves to) makes aural learning easy.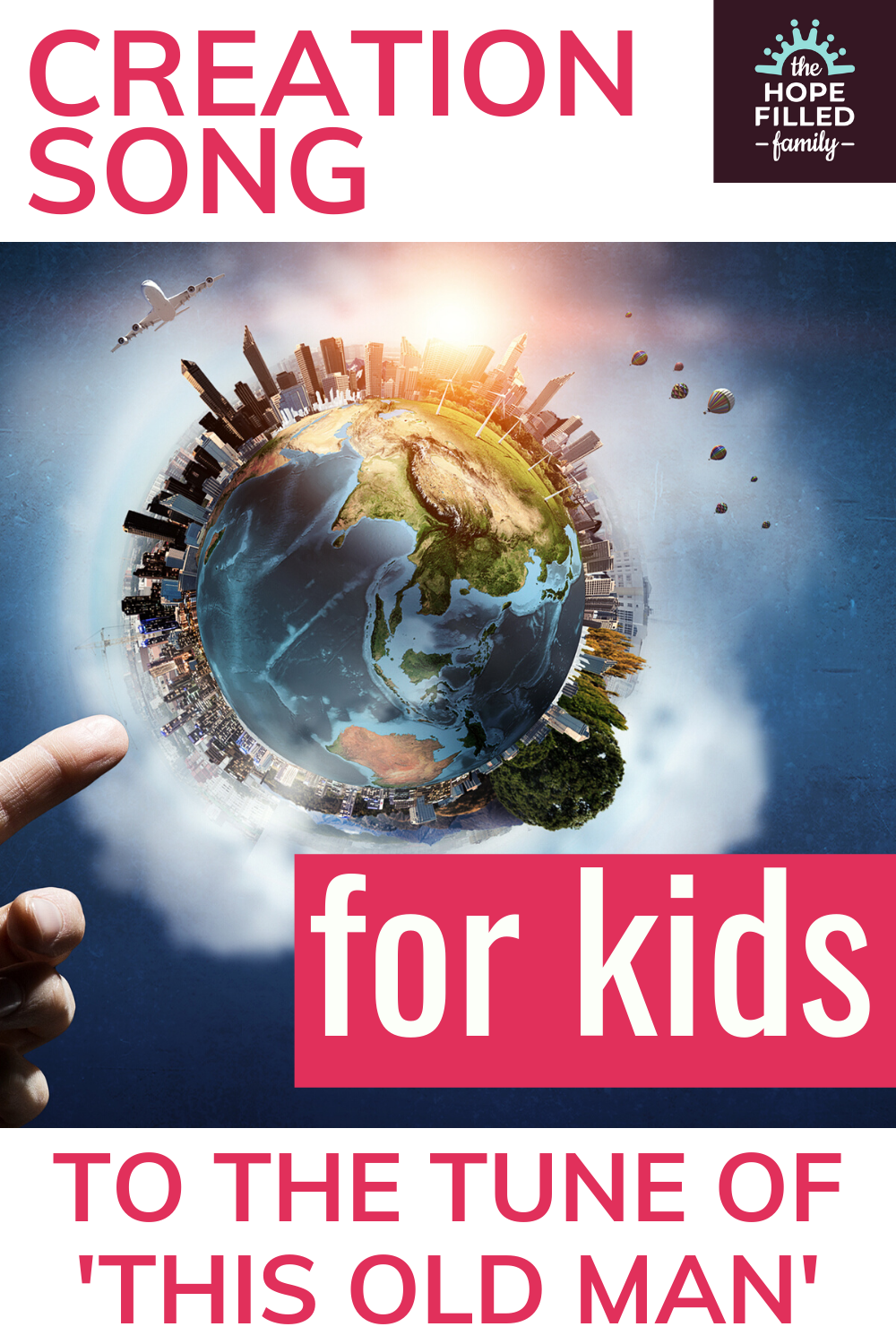 Creation Song
This Tuesday, I'll be kicking off the new term at toddler group by telling/playing the Creation story with the kids. I did this story last year, but without music, so this year I was keen to introduce an appropriate song.
Now, how many of you adults can remember the order of creation? Honestly?!
I know I can't…so the song I've come up with has really helped me to remember the story accurately, never mind the children! It's to the tune of 'This old man'. (If you use it with your kids, or church group, I'd love to hear about it!)
Here it is:
Our great God
Our great God, on day one, He said "Light!" and it was done –
With our loudest voices, everybody sing: Our great God made everything!
Our great God, on day two, made the sky for me and you –
With our loudest voices…
Our great God, on day three, made the land and plants and sea,
With our loudest voices…
Our great God, on day four, made sun, moon and stars galore,
With our loudest voices…
Our great God, on day five, made the fish and birds alive,
With our loudest voices…
Our great God, on day six, put animals and humans in the mix,
With our loudest voices…
(slower, if you like!) Our great God, on day seven, had a rest after all He'd given…
With our loudest voices…
If you liked this song, don't forget to check out Easter bells!