I use affiliate links in some blog posts. If you click through and make a purchase, I earn a small commission at no extra cost to yourself. Thank you for your support.
With schools having closed in many countries, and increasing numbers of people here in the UK needing to self-isolate with children, I wanted to share with you a few ideas about how to survive at home with your kids.
Now, I have four children between 5 and 10 and, much as I love them dearly, I am ALL IN for state-funded education. It's free childcare between 8.40 and 3pm each day….and my kids love it! For now, I'm grateful that none of us have any symptoms which would mean self-isolating, but I'm well aware this happy state may not last for long.
To try and reduce my panic at the prospect of actually having to be with my kids all day every day, I've put together a bit of a plan for our family, and wanted to share my ideas in case you can use them too.
Every family is different, so what follows are some general ideas, rather than exactly what we're doing with our family – activities and approaches and timings will all vary, so please just take the following and apply it as appropriate to your own set-up. But I hope the principles will help you stay sane in the midst of what could be a challenging time for everyone.
(And if you lead a small group, don't forget to check out my post on How to Lead a Discipleship Group (When you Can't Meet in Person).)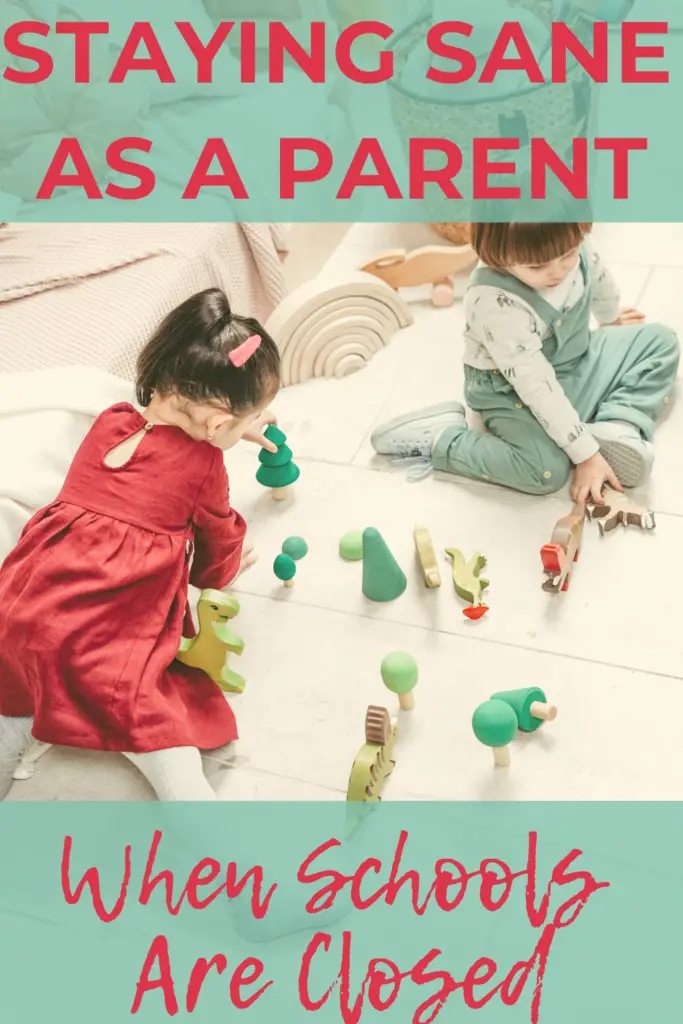 1. Set a schedule
Quite honestly, I'm the one who needs routine in our household – I know I'll go mad if I don't have it! – so I'm definitely making sure we have a rough daily plan, even if we veer off as the day goes on.
And without sounding too school-ma'am about it, kids thrive on routine too – some more than others.
Some children will find it particularly difficult to transition from the tight schedule of a school day to a kind of 'nothingness' at home, so these kids may need a particularly strong daily schedule, at least to begin with. If possible, this schedule should be visual, so that your children can see what's going on, and feel safe within the new 'normal'.
Having a loose schedule for your days will help you all not to go stir-crazy, as well as allow your children to incorporate their preferences too.
2. Include some education – but don't go crazy
It's probably not a good plan to spend the entire shutdown period watching Netflix – but neither will it go down very well with your children if you over-schedule their days full of head-down, pen-in-hand learning.
Our children learn in all sorts of ways. Playing games, building dens, sewing a craft project, colouring a picture, playing a musical instrument – learning takes place during all of this, of course, so we needn't worry about how much 'sat-down' learning our kids are doing (unless, of course, they're revising for important exams).
So plan a realistic amount of school-related education for your children each day, and think about how you're going to ensure it happens well. Maybe you could set up a special space for it, plan it for a particular time of day, or set a timer.
Teachers will probably give guidance on how to help your child at home, so you can take this as a starting point. My son in Year 5, for example, will be allowed to bring home a school Chromebook, for online Maths and English activities.
For my boys in Reception, I'm going to aim to listen to them read every day, as well as give them a short writing task, and practise simple maths with them too.
For my Year 3 daughter, in addition to reading, we can practise her times tables – and, as she loves to be creative, I may even set her a project to research on the computer and present to us in a scrapbook or series of Canva posters.
(Canva – by the way – is a free, web-based design program. It would be a great program for older children and teenagers to learn to use in while they're at home – encourage them to create posters, Powerpoint slides, or social media banners related to their most recent class topic.)
While every family is different, if it helps to give an indication of what I'm planning, our family will be planning to do 'sit-down' learning for no more than an hour each day. I expect the twins may just do half an hour. It's all based on their age and how they learn: too much heavy stuff will be counter-productive.
>> Order arts, craft and education supplies here at Baker Ross <<
3. Get outside
My kids are far less annoying when they've had space to burn off their energy – and maybe yours are too? So a top survival tip for me would be to get outside as much as possible.
If you have a garden – use it, regardless of the weather! Rainy days can be a good time to don wellies and splash in as many puddles as possible. Windy days are great for blowing bubbles and flying kites. Sunny days – if we get any – will be great for outdoor picnics and hunting for bugs.
If you don't have any or much outdoor space, take a drive to a big open space: a field, less-used park, woods, hills or even the beach if you live near. As long as you're keeping your distance from others, and avoiding over-populated places (these will likely be closed anyway!), you should be OK.
4. Special play
If you're already having a mild panic attack about your children's ability to play 'nicely' and amicably for days on end, then try some special play.
This is a strategy we learnt on our recent Enhancing Adoptive Parenting course, so is particularly good if you have adopted or fostered children, or children who struggle to play independently.
Special play is when we take a set amount of time (could be 5 minutes, could be 30 – we aim for 15 minutes), and play 1:1 with our child – no siblings allowed! This is a particular challenge for our family of four, but if they can see that they will eventually benefit too, then they're happy to entertain themselves while we're spending 1:1 time with their brother or sister.
Because I'm not great at free play, when I play with my children, I often tend to pick a game, puzzle, craft activity or something else which constitutes a 'closed' activity. But special play is firstly led by the child – so they choose what they will play with (unless they can't choose, in which case you may have to give them two options) – and secondly is totally open and free.
As your child plays, you sit with them, narrating what they're doing. You don't steer or direct the play, and neither do you pass judgement or suggest ideas. It's great to ask questions of your child as you play, but you let them make the decisions, and follow their lead.
The idea is that children grow in confidence with their play, to the point that they're able to do it independently for longer periods of time – giving YOU the time you need to do admin, work from home, or even just shut yourself in a dark cupboard for five minutes…
>> Try Baker Ross for some fantastic free-play arts and crafts ideas <<
5. Use screens wisely
It will be tempting to use screens a lot during this period, but I know that my own kids' behaviour goes really downhill when they have too much screen-time. I'm not particularly wanting to deal with that if we potentially have a month at home together!
And yet, realistically, they will need this chill-out time – and I will need the quiet as well, in order to get on with jobs or just take a breather.
So I'm going to do three things. Firstly, I'm going to try and make it fair, maybe with a screen-time rota, hoping to avoid arguments by giving everyone an opportunity to choose what goes on. Secondly, I'm going to add screen-time into our schedule at points in the day when it's helpful for me: for example, when I need to make dinner, or when I can get an hour's work done.
And thirdly – it's a wild card, get ready – I'm going to use this time to sort out our DVDs. Yes, really! We have sooooo many kids' films – and yet our children largely rely on Netflix and YouTube to keep them entertained. Some of our films they haven't even watched.
So I'm toying with the idea of putting on a different film each afternoon, after lunch. If at least one child wants to watch it, it goes on. The others can then decide whether to watch, or whether to go and do something else. If no one wants to watch it, we put it aside for the next charity shop run. I also love Anna's idea about reviewing films (see Stay-At-Home Survival Guide), and may put together little score cards, so our children can think about what they're watching from different points of view.
6. Get the kids involved with jobs
If all of us are together at home for a little while, chances are that certain jobs are going to slip. A bit like the holidays, it will be good for us to remember that our homes may get messier and less organised.
But even so, there are certain jobs which have to be done daily in order for everyone to be fed, clothed and happy. If we grown-ups spend the whole time doing these jobs ourselves, we'll become frustrated, not able to spend any playtime with our children – and they will get impatient waiting for us to be available.
It's important for our children to recognise the jobs which need to be done, and to learn vital life skills so they don't go into adulthood clueless about how to keep a home. Helping out with simple jobs, according to age, reminds children that we're a family: all in this together, all contributing, all benefiting.
However you do it, whether on a rota system or more ad hoc, get your kids involved with everyday tasks: setting the table, clearing away meals loading/unloading the dishwasher/washing machine/tumble dryer, hanging clothes on the line (come on, Sun!), tidying play spaces at the end of the day, making beds, and so on.
Check out 5 Fun Clean-Up Activities for Kids for some ideas to make tidy-up time fun!
7. Faith
If you're a family of faith, school shutdown could be a great opportunity to dive a bit deeper together as a family, or perhaps individually with each of your children as they get into the Bible for themselves with an age-appropriate resource.
Check out my post 10 Best Family Devotions for resource ideas, and Family Devotion Ideas (When Your Kids are Running Riot) for encouragement on how to actually do this!
As a Christian family, our faith impacts every part of our lives, and we regularly include God in our natural conversations. But the daily discipline of reading the Bible or praying together as a family often slips!
I'm hoping that this season could be a great time for putting in a few more minutes with our children, either reading their daily Bible notes together with them, or praying as a family, or even both!
(In case you're looking for something, our 5 year olds currently love Pens, our 8 year old is enjoying XTB and our 10 year old is reading Best News Ever, which goes through Mark's gospel.)
And of course if you're just itching for a fresh, new Bible storybook to get stuck into during school shutdown, make sure you grab a copy of my very own Deborah and Jael!
>>Don't forget to look after your own spiritual development! Check out my post on How to Lead a Discipleship Group (When you Can't Meet in Person).<<
8. Games
I'm not the only parent who struggles with free play, so if this is you, then playing games together is a really fun way to while away quite a lot of time, with very little imagination needed!
From card games to board games, counting games to complicated strategy games, it's a great way to spend time with your children, especially if you have a variety of ages to cater for.
So make sure you have a good supply! And, if they're getting tired, why not do a games swap with a friend? Put together a box of games you're not playing right now, and swap for their family's box. It's fun to learn a new game – and the best ones become pretty addictive too.
Check out my family's top 25 games right here!
9. Food
You're still going to need to provide meals for the family, and this might feel more stressful if everyone's around all the time. So why not make it into an activity in itself?
If your children like to cook or bake, use this period to develop their skills, by scouring your cupboards for items which need using up.
As you're not rushing out of the house in the morning, maybe you'd like to try different breakfast recipes, or even make your own bread.
Irish soda bread is a great first loaf to try – especially for kids – as it doesn't require any rising time. If buttermilk isn't easy to get hold of right now, simply use the same quantity of milk. Pour into a separate jug, add a few drops of lemon juice, leave for a few minutes, then use in the recipe. Once baked, soda bread is good with sweet or savoury toppings, and makes a great mid-afternoon snack.
Do you have any exciting food gadgets stowed away in your kitchen cupboards? Now might be the time to use your pasta machine, ice cream maker, or spiralizer for some fun new mealtime ideas!
Home-cooked food will not only use up significant chunks of the day if you're struggling for ideas to entertain your children, but will make you all feel loads better too – there's nothing like a bit of comfort food, fresh from the oven, to cheer us up!
10. Skills
I know I'll go crazy if I have to constantly be coming up with new ways to entertain my children – I'll be wanting them to self-motivate as much as possible.
A great way to do this is to set a challenge for them to work on a particular skill (with a reward to motivate them, of course!).
With all the extra time at home, children could get really good at their instrument or sport, or another hobby they really enjoy.
My son (10) will be able to practise his keepy-uppies for football. I'm also going to see if he can up his piano practice time a little, maybe setting him challenges of new pieces or scales to master, with little rewards along the way.
My daughter (8) wants to learn piano, so perhaps we'll be able to work on that together a bit more.
My youngest sons (5) are maybe a bit young for devoting focused time to one particular skill, but I'd be really happy if they just continued to develop their new love of reading and writing 🙂
Making it visual, perhaps drawing a simple race track with stages to colour in each day, will make it more fun for your child to work towards their goal. Don't forget the rewards though!
11. Staying connected
While the health impact on our children (and us, if we're healthy adults) is minimal, many around us are more susceptible to illness.
A great way to spend some of the extra time we'll have off school, as well as encouraging our children to look outside of their own situation, would be to connect with those members of our families, churches and communities, who are unable to leave the house at all.
Sending old-fashioned letters and cards, drawing pictures, making video-calls, sending texts or whatever communication methods you can manage, will help those around us to know they are seen, valued and loved in this difficult time.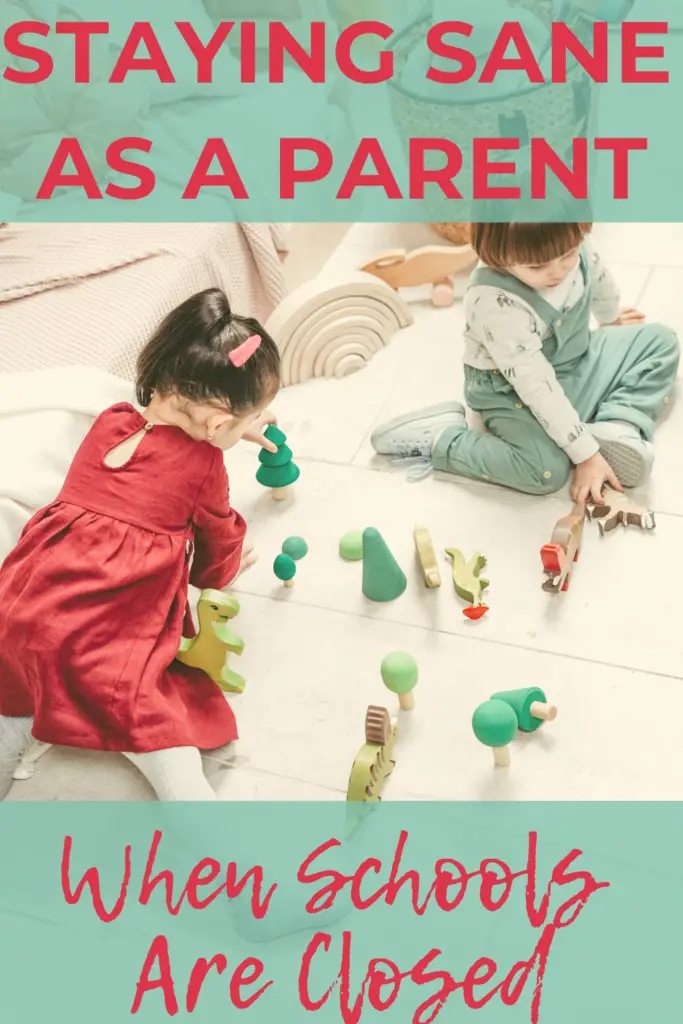 And finally…
Go easy on yourself! I've given a lot of ideas here for keeping your sanity as a grown-up, but I'm not going to lie: it takes quite a bit of effort to do this! I'm certainly hoping that things run smoothly in our family during school closures, but – truth be told – they probably won't, at least not all the time! Days will pass quicker than we're expecting, and we won't get nearly as much done as we were hoping.
That's OK, though! It's not a bad thing to have goals and ideas, as long as we hold them lightly, and are prepared to go with the flow too.
You will be absolutely GREAT, I just know it, and whatever happens, I know that this season will be a period of drawing together as families, however much of our schedule we actually manage to maintain.
For practical play ideas, check out: 100 Free or Cheap Things To Do for Kids – the post was written for summer holidays, but many would apply to a school shutdown situation too.
For ideas specific to the season we're in, why not have a flick through my 30 Simple Lent Activities?
For new music to get you through extended time at home (and great for listening to whilst doing jobs together!), check out The Best Family Worship Songs (Which Won't Make You Cringe).
If you're dreading this time because your kids are really little and are used to going out to groups and other activities, some of the ideas from my post 10 Ideas for Surviving Summer with Young Children will be relevant and useful to you in this situation.
And if you lead, or are part of, a small discipleship group of other Christians, don't forget to check out my post How to Lead a Discipleship Group (When you Can't Meet in Person).