I use affiliate links in some blog posts. If you click through and make a purchase, I earn a small commission at no extra cost to yourself. Thank you for your support.
I'm delighted to feature a couple of books today which would make excellent Christmas presents for your child if they love animals!
And – even better – allow me to help you with your Christmas shopping – read till the end and you'll discover how you can win both of these wonderful animal books for children!
Disclaimer: I was sent a free copy of each book to review, but all opinions are my own.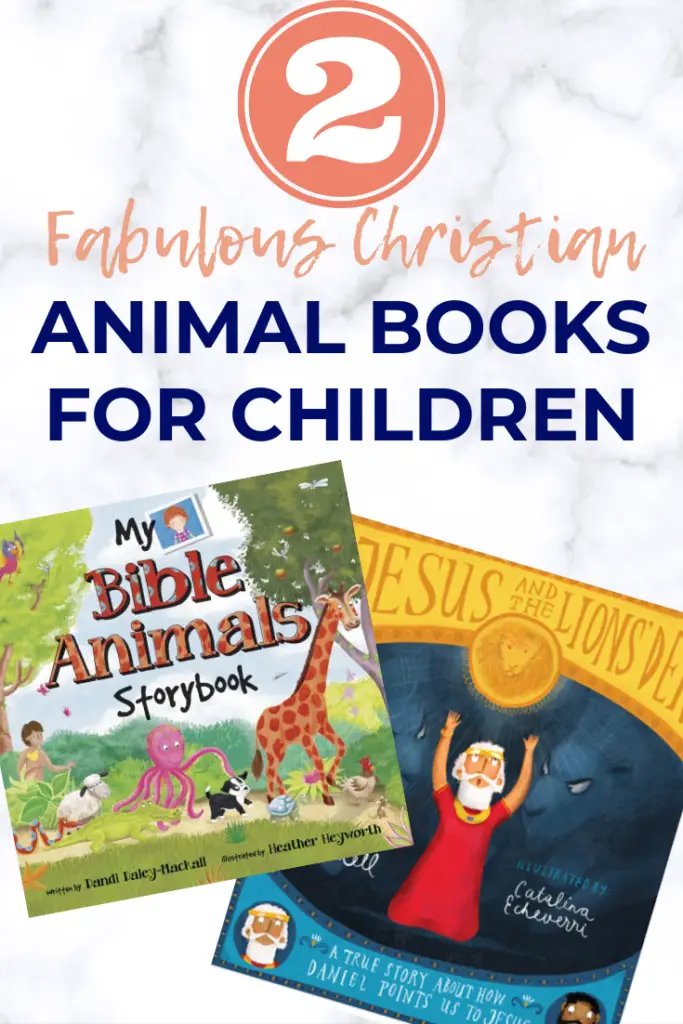 I was so delighted to receive this book, written by Dandi Daley Mackall, as I feel it's unique in the Christian market.
Lots of Christian books for children are centred on Bible stories, or aspects of theology – but My Bible Animals Storybook is centred on animals, and as such would not only appeal to an animal-loving child, but would make a great gift for a child whose parents weren't Christians and might feel uncomfortable with a straight Bible story.
Yes, it's a Christian book and yes it does contain lots of Bible stories – but it's also a fact-filled handbook of all sorts of interesting information about a plethora of different animals!
My Bible Animals Storybook features 29 Bible stories featuring animals, and each one is followed by facts about the animal in question. Some are obvious – for example, Pharoah and the plague of frogs, Daniel in the Lion's Den, and Jonah and the Big Fish (linked to Whale, which is most likely what it was!).
Others are animals which are found in Scripture, but don't usually steal the story – for example the cockerel crowing at Peter's third denial, or the scorpion which Jesus says a good father would never give if asked for an egg. Facts about cockerels and scorpions remind us of these crazy creatures God created.
But I really like the more unusual, subtle animal stories. For example, David's words in Psalms 19 and 119 about God's words being 'sweeter than honey' link to fun facts about bees. And information about sparrows follows the story of Jesus telling his followers not to worry, for 'A sparrow isn't even worth a penny. But when one sparrow falls, God sees it'.
The facts given about each animal encourage a sense of wonder and awe at the amazing creation God has made – and Heather Heyworth's colourful illustrations make this a really fun, appealing book. Both my twins (aged 4 when we read this together) and my then 7-year-old enjoyed the look and sound of this book.
This is followed by a 'What it Means for Me' section, some application, a key verse to remember, and a suggested prayer.
Although it hasn't been marketed in this way, the book would actually make a lovely devotional for an animal-loving child. It would last for a month, roughly – or if you're like us, probably six months!
It's a square-shaped book, and the handy size would fit into many stockings (hint, hint!).
My Bible Animals Storybook is colourful and concise, so would be great for a 3- or 4-year old, but the information is so dense that a 5-7 year old would enjoy it too.
My second fabulous animal book is Alison Mitchell's Jesus and the Lions' Den.
Woah…hold up…Jesus? Not Daniel??
Nope, you didn't mis-read.
This clever book takes the well-known story of Daniel in the lions' den, and shows the parallels between how Daniel was treated and how Jesus was treated: enemies tried to get rid of them, but both were blameless, both turned to prayer when they knew an arrest was near, and both were saved in the end.
It is beautifully illustrated, as are all books in this series from the Good Book Company, by Catalina Echeverri (check out my review of Goodbye to Goodbyes), and the hardback presentation makes it a superb gift.
Monkey and Meerkat (5) enjoyed this book, especially once we'd gone through it once and they knew to look for the particular symbol which marks the scenes which are similar to scenes in Jesus' life.
It is quite a complicated book for the intended age bracket (4-7) – you get the story of Daniel, followed by an extra few pages outlining the parallels between Daniel and Jesus – but it is something, I feel, which young children would grow into. And kids are never too young to start understanding how the Bible fits together as one overarching narrative. This book will help them do that.
Check out other books our kids have enjoyed:
>>25+ Culturally Diverse Stories for Children<<
>>The Rosie books (helping kids to connect to God through their everyday lives)