I use affiliate links in some blog posts. If you click through and make a purchase, I earn a small commission at no extra cost to yourself. Thank you for your support.
The kids and I love Advent, and all the fun preparations for Christmas. We have loads of little traditions that we look forward to, and try to focus on sharing the story of Jesus' birth in creative and fun ways.
One of these traditions is our Advent basket. You may do something similar in your home – but, if not, I really recommend this as SUCH a simple but effective Advent tradition for kids.
Very simply, an Advent basket contains Christmas books and other resources which come out each year at the start of Advent, and encourage playful and spontaneous re-tellings of the Christmas story throughout December.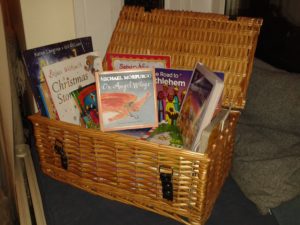 It's that simple! We started ours several years ago with a cardboard box covered in wrapping paper, then we used a spare basket which we had lying around.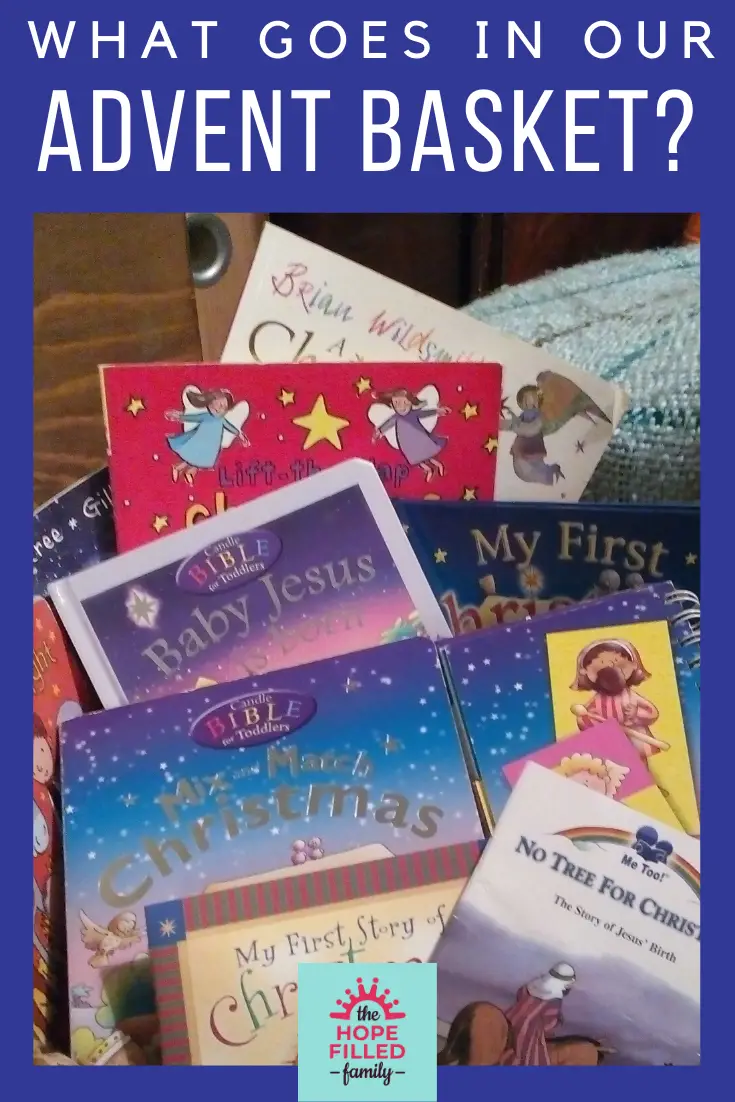 It really doesn't matter what you use! It's always exciting for kids to re-discover books and toys that they'd forgotten about.
We haven't gone out of our way to fill it: when we had kids, we realised that people would often buy them a Nativity storybook at Christmas. Funnily enough, we weren't really very motivated to look at it on/after December 25th! But we didn't want to lose it by the time next Christmas rolled around.
So we started filling a box with all our Nativity goodies – and many of the items we were given in those early days are still going strong now, six or seven years on! (It helps that they only get used one month each year!)
Occasionally, I'll buy a resource for our basket, if I've seen something really good. But the vast majority of items have come to us as gifts.
So what's in it? Absolutely loads, so I'm not going to bore you with everything, but here are my choice items!
A wooden nativity play set
I love a nativity set – but they're often fairly delicate, and very much ornaments rather than play-things. It's great to try and find, if you can, a really solid, robust set that will stand up to the play of a toddler. Small children will soon be able to start telling the story of Christmas very quickly with some figures to play with.
The one we have is no longer being sold, but I love this alternative: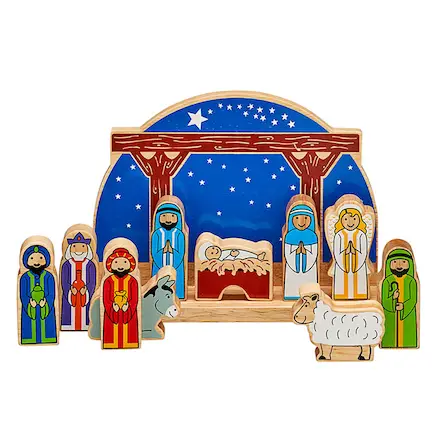 Junior Starry Night Nativity Set
It's not cheap (£19.99), but it will last for years, and the chunky figures are perfect for little fingers (and don't present so much of a choking hazard for very young children).
Something about St Nick
Santa is everywhere at Christmas – so, regardless of whether you encourage your kids to believe in him or not, grabbing a book about the real Santa Claus, St Nicholas, is a must! It's an inspiring story, and one my
children love to hear many times each Advent.
(And check out What we teach our adopted children about Santa for more about this!)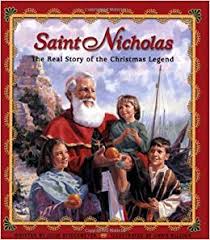 Saint Nicholas: The Real Story of the Christmas Legend is the book we have, which has engaged my kids for the last few years, but I recently bought Just Nicholas, as everyone seemed to be recommending it!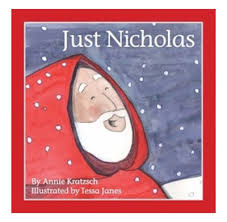 My verdict?
Both books are reasonably wordy, so it depends on the concentration level of your child, but mine have enjoyed 'Saint Nicholas' from the age of about 3 or 4, as there are fewer words per page. 'Just Nicholas' is longer, and perhaps better suited to primary-aged children – this book also has more contemporary illustrations, and a full explanation of the gospel that Nicholas believed, which inspired him to be so generous.
So – both are good, take your pick! (Or get both, like us!)
Nativity board book
If you have babies or toddlers in the house, a board book (or three) is an absolute must! My youngest boys are 4, and they still love to look through these chunky board books.
We love: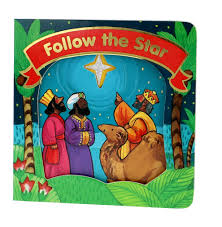 Follow the star (lovely account from the perspective of the Wise Men)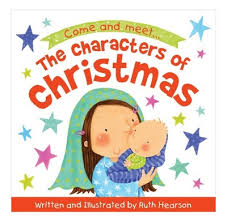 The Characters of Christmas (I love the concept of this book, introducing each of the important people in the story – a little different from your traditional Nativity book)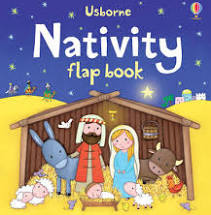 Usborne Nativity flap book (who doesn't love a lift-the-flaps book?)
Activity books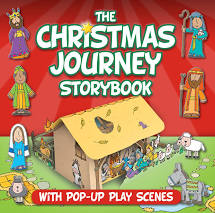 It's great to include in your basket a book which has an additional 'play' element. The Christmas Journey Storybook is one of our newer additions to the basket, and it's a lovely pop-up book, with cardboard play figures to interact with each scene.
For more Christmas book ideas check out my post The Best Christmas Picture Books.
This deserves a section on its own because it's just beautiful, and every family should own a copy. I love the illustrations of Catalina Eccheveri, who illustrates loads of books published by the Good Book Company – and it's well-written too, with language that preschoolers can understand.
There's also an activity and colouring book version, which is great if you're looking for something to mix up the reading books.
DVD
Our kids will watch their fair share of Christmas tripe this December – so it's always lovely to have a Nativity DVD to whip out whenever we need reminding what this season is really all about!
We have a lovely book and DVD set called 'The Road to Bethlehem' which is no longer available – so sad, as we've had it for years and our kids still enjoy watching it!
However, a lovely alternative is CBeebies' The Cow That Almost Missed Christmas, which is usually broadcast at least once each Christmas, so look out for it on the schedule (or maybe catch it on iPlayer). It's a fun re-telling which has a lot 'added', but has a really sharp focus on the real meaning of Christmas too. For a secular TV channel, I'm impressed!
And for older kids and teenagers, why not grab a copy of The Nativity? I was really moved when it was first shown on the BBC a few years ago.
Advent toys
Naturally, your Advent basket will be fairly book-heavy, so do look out for non-book items and grab them while you can – there aren't many, and they tend to be available for very limited periods.
To illustrate this, all the Advent toys we have in our basket are no longer available! So instead of wasting time telling you how wonderful they all are, let me just warn you that it may take a bit of rummaging on Google to find out what's currently available.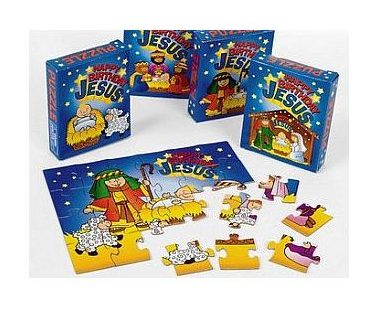 These 'Happy Birthday Jesus' jigsaws would be a lovely gift for a child who enjoyed jigsaws!
Playmobil Nativity
This is a new addition for 2018. It was a gift from a relative, ordered early so that we could enjoy playing with it through Advent.
I wrapped it up for the kids to discover in their basket this weekend – and so far they love it! It's a lovely step up from the chunky wooden Nativity, with more detailed figures who have moveable limbs, so it's great for older preschoolers and primary-aged kids, especially those who enjoy Playmobil and Lego throughout the year.
Ebay has some great bargains on Playmobil Nativity sets right here.
Something for older ones
It's been six years now since I first put together an Advent box, and the little boy who was three is now nine! Clearly, he needs something a bit more stimulating than touchy-feely books.
Many of the books mentioned above are great for older primary kids, and Mister still enjoys them, so if you have KS2 kids then I'd still definitely recommend many of the above.
However, I know we need to start refreshing our selection for next year, so here are a couple of books on my wish list:
Disclaimer: I haven't used either of these, so can't recommend personally, but knowing what I do about the publishers and authors, they will probably be excellent!
And for LOADS more ideas, don't miss Best Books to Read During Advent, which has lots more resources for older kids and teens.
Why not check out my ideas for Stocking Fillers to Nurture Faith? There are three posts: 8-11s, 5-8s and Under 5s.
Over to you: do you have a similar tradition? What resources do you recommend?