I use affiliate links in some blog posts. If you click through and make a purchase, I earn a small commission at no extra cost to yourself. Thank you for your support.
A common question amongst time-poor Christian parents who want to nurture their children's faith is: What are the best family devotions? What are the best ways to come together as a family around God's word? What will really ignite our faith as individuals and as a family?
And will we make it out through a whole devotion without strangling each other?
(Seriously, though, will we?)
Hands-down the best thing we can do for our families is lead them towards God, nurturing their faith and ours, as we open the Bible and pray together. Here are the best family devotions our family has found to facilitate this.
If you're not raising small kids right now, why not bless a family you know with one of these fabulous devotionals? You'll be adding a fun surprise to their day, as well as blessing them with special family God-times which could have eternal significance.
This not only strengthens our faith (and, my goodness, don't we all need some of that right now?) but strengthens our family ties too. If you hadn't previously thought of gathering your family together for a devotion, then I really hope this post inspires you to do that.
And if you're sceptical that your family will actually be able to cope, check out my post Family Devotion Ideas (When Your Kids Are Running Riot).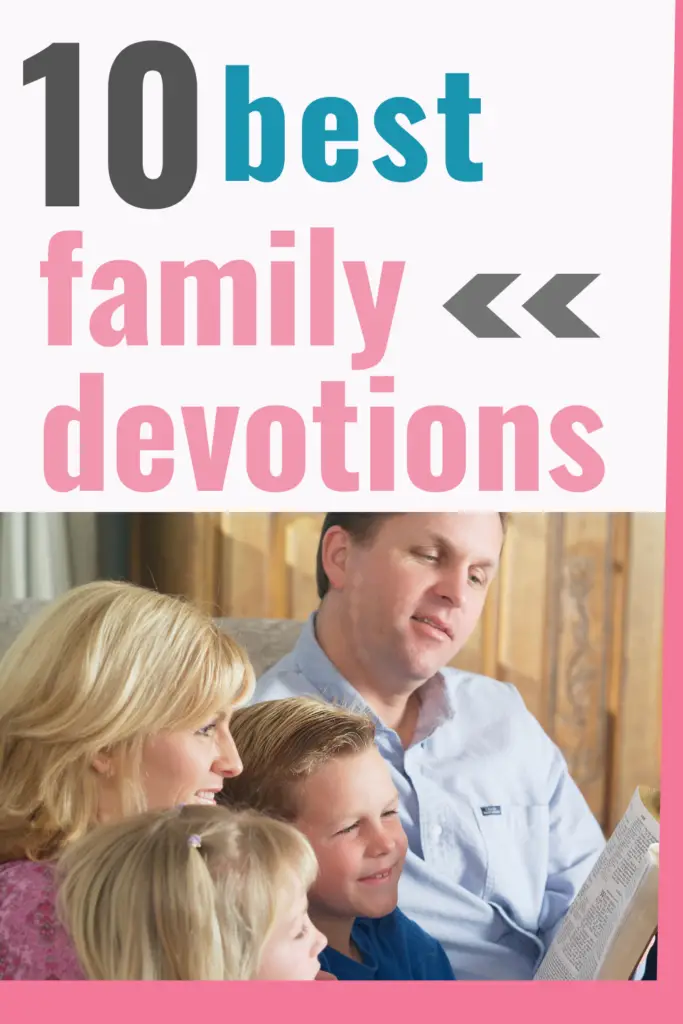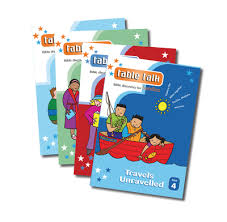 This is a wonderful resource to use with young-ish children – I'd say if your family had a combination of preschoolers and primary-aged kids, then this would be a good choice. It's designed to be done around a table, so would work really well during a meal, when everyone is sat down anyway. (IMHO food is an excellent way to keep kids occupied…)
Each day is short and manageable, and the Bible passages link in with XTB notes, which is great if your older kids are following these anyway. You get a starter question, a short Bible passage, some questions to think it through, and then a prayer idea.
How can I put this? My family have very short attention spans when it comes to family devotional studies – so even a Table Talk session, which is beautifully succinct, might be a little too much for us.
In this case, you could easily leave out the starter question, or cut down the 'talk' and 'think' sections, to make it even briefer.
2. Godventure (some free resources, others from £5)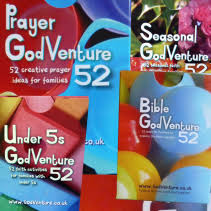 These wonderful resources, produced by experienced children's leader and mum Victoria Beech, are great for creative, active kids. Whether you use the books or the helpful playing-card packs of ideas, Godventure resources include loads of ways to explore the Bible using art and craft, outdoor adventures, and buckets of imagination.
We used Our Family Godventure with Mister and Missy when they were about 6 and 4, and it was a real hit. Missy has since used My God Book, which appeals to her love of all things arty.
And if you're on a budget right now, Victoria has loads of helpful articles and resources available free on her Godventure website.
Highly recommended for kids who like to explore the Bible in active ways!
(Ooh, and don't forget to check out Victoria's guest post for this very blog, all about How to Have a Family Passover Meal!)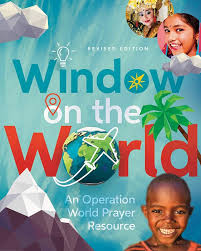 Of course family devotional times don't have to be all about studying the Bible together.
One of the best family devotions, we've found, is to focus onto different parts of the world in prayer. Window on the World is a brilliant resource to use for primary-aged kids right up to teenagers, with loads of fascinating stories, facts and prayer points for a variety of places around the world.
Focusing on areas which have far less than we do is a healthy habit for being able to count our blessings and know God's provision and comfort.
>> Read my full Window on the World review. <<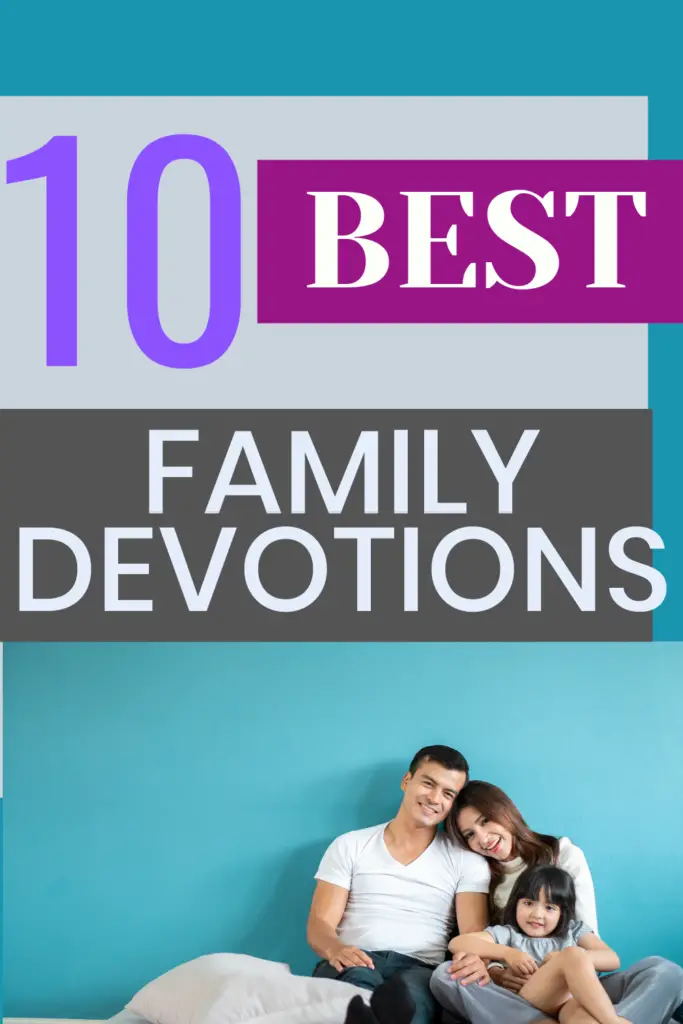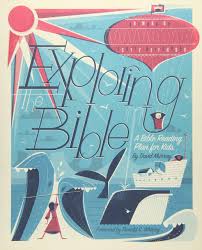 This is a really simple way to open the Bible with primary-aged children. If you follow the whole book from start to finish, it will take you through the whole Bible in a year with your kids. Obviously you won't read every single verse, but your kids (and you!) will end up with a thorough narrative of the Bible.
Each week has an introductory bit to read together, but each passage has just one question, making family devotionals super quick and open-ended, allowing for further discussion and prayer time – or for dashing off to the toilet, if you're our kids (whose bladders all seem to sync for family devotion times…).
5. The Together series (£8.50)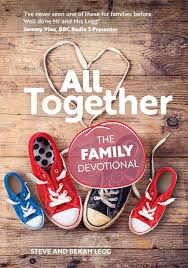 This series includes Time Together, All Together, Growing Together and Life Together, amongst others.
Steve and Bekah Legg are experienced parents, and this shows in the books they've produced. They've kept things short and snappy: each devotion is just two pages long and more than manageable with a family (our kids were aged 12, 10, 7 and 7 when we tried it, and the length was just right).
The Bible passage for each day is included in the book, making it a great choice for holidays – or, in fact, any day when you can't find your Bible. Then you get a helpful explanation/application of the Bible passage, fun facts and stories from Steve and Bekah, some questions to discuss together, and a prayer.
This resource is suitable for primary-aged children, but older preschoolers and younger secondary-aged kids would appreciate it too.
6. Seasonal devotionals (various)
If you're in the season of Lent (as we are at the time of writing) or Advent, you may like to pick up something relevant to this. Fortunately, there's lots of choice.
For Lent, have a look at my post Lent Devotions for Families which includes a wide variety of helpful resources, suitable for all kinds of families.
And if you're reading this in, or approaching, Advent, why not check out this Advent Storybook, Steve and Bekah Legg's Advent Together, or plan a Jesse Tree?
I have LOTS more Advent devotional suggestions for you in my Best Advent Book recommendations!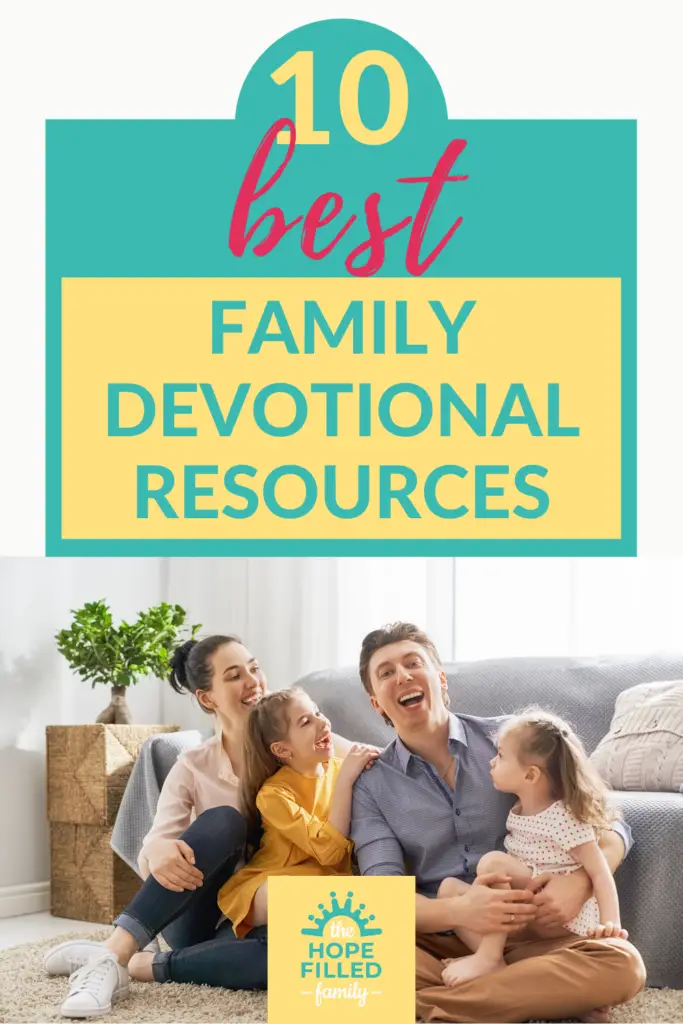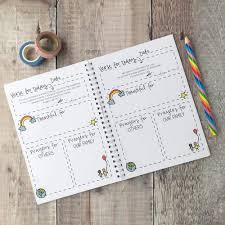 Another fab resource from Hope & Ginger, we really like this journal – although we've put it on hold while we do the Prayer Tree!
It's a great, short and simple way to focus our minds, and it's undated, so you can dip in every day, once a week, or whenever works for you! It would also work brilliantly alongside a Bible-reading resource.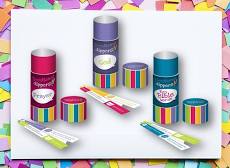 10ofthose are onto something with these! They are truly awesome.
Great for toddlers through to older children, you literally pull one out of the tube whenever you have a few minutes (over a meal is ideal). Each stick contains a 'key word', accompanying Bible passage to look up, a question and prayer idea. They all fit on a stick, so they have to be short and sweet!
The tube just sits on a shelf in our dining room, and every so often we pull out a stick. All our kids (aged 5-10) absolutely LOVE the randomness of this! And although we haven't done this consistently, I'm seriously thinking it will be our daily devotional resource after Easter. It's certainly one of the best family devotions for busy families, as it's so quick and easy, but can really lead to some good discussions.
So far, there are three tubes you can buy: we have the Key Words one, and there are God and Prayer tubes too. Buy the set for £14.99.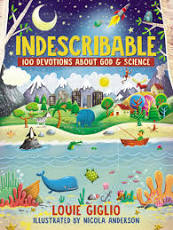 Here's another resource I haven't used personally, but friends swear by it. (Well, not literally – that would be weird.)
Particularly great for scientific kids who love exploring the world around them, this book contains 100 devotions to do daily, weekly, or whenever suits you. Each devotion contains a Bible passage to look up, a reflection from author Louie Giglio, a prayer and a scientific fact.
The aim is to get kids praising the awesome God who made our incredible universe. It's a bit wordy, so your kids would have to be really interested in this kind of stuff – or old enough to be able to sit and listen for a few minutes while you read – but the content is very strong, and guaranteed to raise fascinating questions and discussions with your children.
And, when you've finished, you can grab the sequel: How Great is Our God, for even more fascinating reflections on God and science.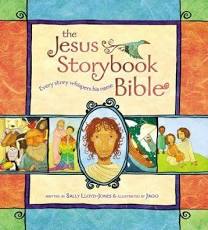 If all else fails – although that's a much more negative way to phrase this final suggestion than it deserves – simply reading through a children's Bible, bit by bit, is possibly the best family devotion you could try!
I recommend the Jesus Storybook Bible for this because it's so beautifully written, like a bedtime story, with gorgeous illustrations to boot. The chapters are manageable, and it makes a great daily devotional.
We read this to Monkey and Meerket (5) at the end of last year, and they were absolutely captivated. We read it at bedtime, after their bedtime stories, and they looked forward to it each night. This is a great option for preschoolers as well as young primary-aged children.
If you'd like more children's Bible recommendations, do check out WHAT IS THE BEST CHILDREN'S BIBLE TO BUY FOR MY CHILD? which lists at least 20 different ones, suitable for babies to teens!
I hope you've found some inspiration amongst our best family devotions – but if you're still unsure of how to get your noisy, crazy family engaged in God-time, be encouraged that my family is hugely chaotic and we (sometimes) manage it – check out Family Devotional Ideas (When Your Kids are Running Riot) for inspiration and hope!