I use affiliate links in some blog posts. If you click through and make a purchase, I earn a small commission at no extra cost to yourself. Thank you for your support.
If you're looking to teach your child a memory verse, but are wondering where to start – start here! This is a list of 100 short memory verses for kids, grouped into categories according to what your child might need at a particular time. I hope it's helpful!
And, because SINGING is such a brilliant way of learning anything, I've linked as many of the verses as possible to songs you can learn with your kids! I'm so grateful to Ishmael, Duggie Dug Dug, DumbRocks, Seeds Family Worship, The Rizers, Sixpence None the Richer and all those who have faithfully set Scripture to music over the years!
(PS Click here for lots of fun Bible verse memorization games!)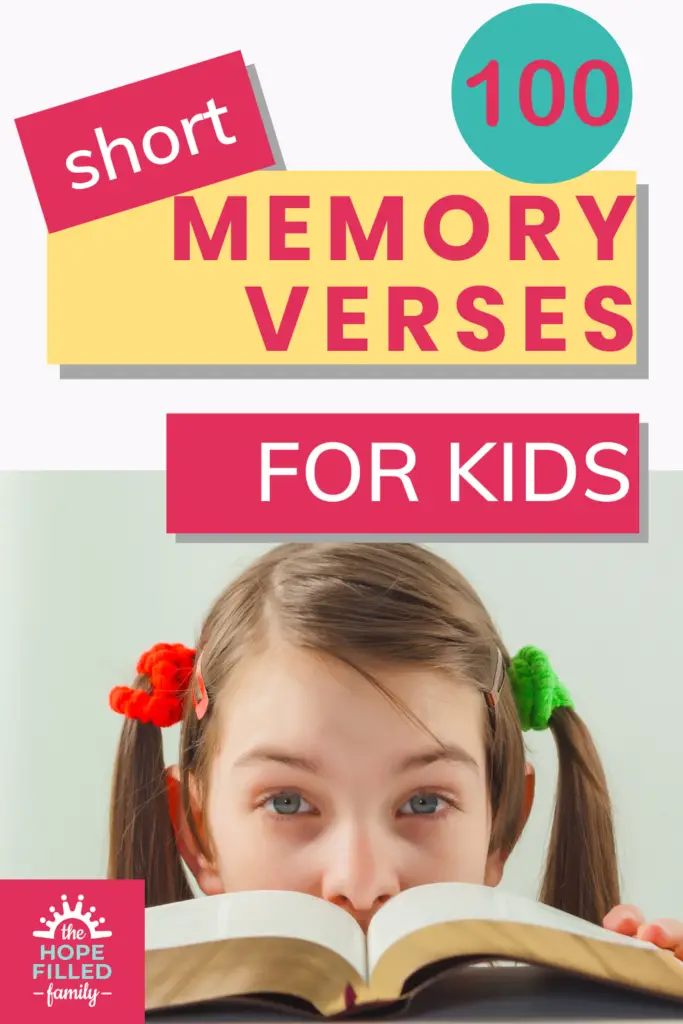 Foundational Bible verses to memorize
These verses are all 'foundational' to our faith, i.e. they teach us what we believe. They're great short memory verses for kids who are just starting to understand what it's all about.
"For God so loved the world that he gave his one and only Son, that whoever believes in him shall not perish but have eternal life." (John 3:16) Song here and also here.
"But God demonstrates his own love for us in this: While we were still sinners, Christ died for us." (Romans 5:8) Song here.
"For I am not ashamed of the gospel, because it is the power of God that brings salvation to everyone who believes" (Romans 1:16) Song here and also here.
"Therefore, there is now no condemnation for those who are in Christ Jesus" (Romans 8:1)
"This is how we know what love is: Jesus Christ laid down his life for us. And we ought to lay down our lives for our brothers and sisters." (1 John 3:16)
"The Lord is not slow in keeping his promise, as some understand slowness. Instead he is patient with you, not wanting anyone to perish, but everyone to come to repentance." (2 Peter 3:9)
"This is how we know what love is: Jesus Christ laid down his life for us. And we ought to lay down our lives for our brothers and sisters." (1 John 3:16)
"All have sinned and fall short of the glory of God" (Romans 3:23) Song here.
"But he was pierced for our transgressions, he was crushed for our iniquities; the punishment that brought us peace was on him, and by his wounds we are healed." (Isaiah 53:5) Song here.
"So do not fear, for I am with you; do not be dismayed, for I am your God. I will strengthen you and help you; I will uphold you with my righteous right hand." (Isaiah 41:10)
Short memory verses for kids about faith
Complementing the foundational Bible verses to memorize, here are some Bible verses about faith.
"If you have faith as small as a mustard seed, you can say to this mulberry tree, 'Be uprooted and planted in the sea,' and it will obey you." (Luke 17:6) Song here.
"Trust in the Lord with all your heart and lean not on your own understanding; in all your ways submit to him, and he will make your paths straight." (Proverbs 3:5-6) Song here by Sixpence None the Richer – this is truly gorgeous, and I've loved it ever since it was released in my teens!
"And without faith it is impossible to please God, because anyone who comes to him must believe that he exists and that he rewards those who earnestly seek him." (Hebrews 11:6) Song here.
"Now faith is confidence in what we hope for and assurance about what we do not see." (Hebrews 11:1) Song here.
"Ask and it will be given to you; seek and you will find; knock and the door will be opened to you." (Matthew 7:7)
If your child is feeling down or attacked
"What, then, shall we say in response to these things? If God is for us, who can be against us?" (Romans 8:31) Song here.
"When I am afraid, I put my trust in you." Psalm 56:3
"Because of the Lord's great love we are not consumed, for his compassions never fail. They are new every morning; great is your faithfulness. I say to myself, "The Lord is my portion; therefore I will wait for him." (Lamentations 3:22-24) Song here.
"So we say with confidence, "The Lord is my helper; I will not be afraid. What can mere mortals do to me?"" (Hebrews 13:6) Song here.
"Even though I walk through the darkest valley, I will fear no evil, for you are with me; your rod and your staff, they comfort me." (Psalm 23:4) Song here.
"Be joyful in hope, patient in affliction, faithful in prayer." (Romans 12:12)
"Have I not commanded you? Be strong and courageous. Do not be afraid; do not be discouraged, for the Lord your God will be with you wherever you go." (Joshua 1:9)
"He will cover you with his feathers, and under his wings you will find refuge; his faithfulness will be your shield and rampart." (Psalm 91:4)
"He will not let your foot slip—he who watches over you will not slumber" (Psalm 121:3)
"You, dear children, are from God and have overcome them, because the one who is in you is greater than the one who is in the world." (1 John 4:4)
"I have told you these things, so that in me you may have peace. In this world you will have trouble. But take heart! I have overcome the world." (John 16:33)
If your child is feeling tired, stressed or anxious
"Come to me, all you who are weary and burdened, and I will give you rest." (Matthew 11:28) Song here.
"May the God of hope fill you with all joy and peace as you trust in him, so that you may overflow with hope by the power of the Holy Spirit." (Romans 15:13) Song here.
"Do not be anxious about anything, but in every situation, by prayer and petition, with thanksgiving, present your requests to God." (Philippians 4:6) Song here.
"And the peace of God, which transcends all understanding, will guard your hearts and your minds in Christ Jesus." (Philippians 4:7)
"Peace I leave with you; my peace I give you. I do not give to you as the world gives. Do not let your hearts be troubled and do not be afraid." (John 14:27) Song here.
"From the ends of the earth I call to you, I call as my heart grows faint; lead me to the rock that is higher than I." (Psalm 61:2)
"He gives strength to the weary and increases the power of the weak." (Isaiah 40:29)
"In peace I will lie down and sleep, for you alone, Lord, make me dwell in safety." (Psalm 4:8) Song here.
"When anxiety was great within me, your consolation brought me joy." (Psalm 94:19)
The character of God
"Now the Lord is the Spirit, and where the Spirit of the Lord is, there is freedom." (2 Corinthians 3:17) Song here.
"Give thanks to the God of gods. His love endures forever. Give thanks to the Lord of lords: His love endures forever. To him who alone does great wonders, His love endures forever." (Psalm 136:-2-4) Song here.
"The Lord is compassionate and gracious, slow to anger, abounding in love." (Psalm 103:8) Song here.
"God is our refuge and strength, an ever-present help in trouble." (Psalm 46:1)
"The Lord is my light and my salvation—whom shall I fear? The Lord is the stronghold of my life—of whom shall I be afraid?" (Psalm 27:1)
"The Lord is my shepherd, I lack nothing." (Psalm 23:1)
"God is light; in him there is no darkness at all." (1 John 1:5)
"Your Father knows what you need before you ask him." (Matthew 6:8)
"The earth is the Lord's, and everything in it, the world, and all who live in it" (Psalm 24:1)
"Taste and see that the Lord is good; blessed is the one who takes refuge in him." (Psalm 34:8)
Who Jesus is
"I am the bread of life. Whoever comes to me will never go hungry, and whoever believes in me will never be thirsty." (John 6:35)
"If we confess our sins, he is faithful and just and will forgive us our sins and purify us from all unrighteousness." (1 John 1:9)
"I am the light of the world. Whoever follows me will never walk in darkness, but will have the light of life." (John 8:12) Song here.
"Jesus said, "Let the little children come to me, and do not hinder them, for the kingdom of heaven belongs to such as these."" (Matthew 19:14)
"I am the way and the truth and the life. No one comes to the Father except through me." (John 14:6) Song here.
"The thief comes only to steal and kill and destroy; I have come that they may have life, and have it to the full." (John 10:10)
"The Son is the image of the invisible God, the firstborn over all creation." (Colossians 1:15)
Identity – who we are in Christ
"Therefore, if anyone is in Christ, the new creation has come: The old has gone, the new is here!" (2 Corinthians 5:17) Song here.
"You are the light of the world. A town built on a hill cannot be hidden." (Matthew 5:14) Song here.
"For he chose us in him before the creation of the world to be holy and blameless in his sight." (Ephesians 1:4)
"In love he predestined us for adoption to sonship through Jesus Christ, in accordance with his pleasure and will" (Ephesians 1:5)
"For we are God's handiwork, created in Christ Jesus to do good works, which God prepared in advance for us to do." (Ephesians 2:10)
"For I know the plans I have for you," declares the Lord, "plans to prosper you and not to harm you, plans to give you hope and a future." (Jeremiah 29:11)
"I praise you because I am fearfully and wonderfully made; your works are wonderful, I know that full well." (Psalm 139:14)
"Truly my soul finds rest in God; my salvation comes from him." (Psalm 62:1)
"See what great love the Father has lavished on us, that we should be called children of God! And that is what we are! The reason the world does not know us is that it did not know him." (1 John 3:1)
Character and lifestyle
"Set a guard over my mouth, Lord; keep watch over the door of my lips." (Psalm 141:3) Song here.
"For the Spirit God gave us does not make us timid, but gives us power, love and self-discipline." (2 Timothy 1:7)
"How good and pleasant it is when God's people live together in unity!" (Psalm 133:1)
"Our people must learn to devote themselves to doing what is good, in order to provide for urgent needs and not live unproductive lives." (Titus 3:14)
"Love your enemies and pray for those who persecute you" (Matthew 5:44)
"But seek first his kingdom and his righteousness, and all these things will be given to you as well." (Matthew 6:33) Song here.
"Rejoice always, pray continually, give thanks in all circumstances; for this is God's will for you in Christ Jesus." (1 Thessalonians 5:16-18)
"All Scripture is God-breathed and is useful for teaching, rebuking, correcting and training in righteousness" (2 Timothy 3:16) Song here.
"Dear friends, let us love one another, for love comes from God. Everyone who loves has been born of God and knows God." (1 John 4:7) Song here.
"Take delight in the Lord, and he will give you the desires of your heart." (Psalm 37:4) Song here.
"The fear of the Lord is the beginning of wisdom, and knowledge of the Holy One is understanding." (Proverbs 9:10)
"Therefore, as God's chosen people, holy and dearly loved, clothe yourselves with compassion, kindness, humility, gentleness and patience." (Colossians 3:12)
"Don't let anyone look down on you because you are young, but set an example for the believers in speech, in conduct, in love, in faith and in purity." (1 Timothy 4:12)
"Do not conform to the pattern of this world, but be transformed by the renewing of your mind. Then you will be able to test and approve what God's will is—his good, pleasing and perfect will." (Romans 12:2)
"Do nothing out of selfish ambition or vain conceit. Rather, in humility value others above yourselves." (Philippians 2:3)
"Keep yourselves in God's love as you wait for the mercy of our Lord Jesus Christ to bring you to eternal life." (Jude 21)
Bible verses to teach toddlers
How do you teach preschoolers Bible verses? I have loads of ideas in How do you teach memory verses in a fun way? but of course the most important thing is simply to choose short memory verses with words they can understand or at least have explained to them easily. Here are a few ideas:
"Since we live by the Spirit, let us keep in step with the Spirit." (Galatians 5:25) Song here.
"I am the good shepherd. The good shepherd lays down his life for the sheep." (John 10:11)
"Jesus Christ is the same yesterday and today and forever." (Hebrews 13:8) Song here.
"Believe in the Lord Jesus, and you will be saved" (Acts 16:31)
"Since God so loved us, we also ought to love one another." (1 John 4:11) Song here.
"Cast all your anxiety on him because he cares for you." (1 Peter 5:7)
"Have faith in God" (Mark 11:22)
Memory verses for youth
These memory verses are a little longer or more complex and would be particularly brilliant for teenagers to learn, unpack and discuss:
"Religion that God our Father accepts as pure and faultless is this: to look after orphans and widows in their distress and to keep oneself from being polluted by the world." James 1:27
"But if we walk in the light, as he is in the light, we have fellowship with one another, and the blood of Jesus, his Son, purifies us from all sin." (1 John 1:7) Song here.
"For the word of God is alive and active. Sharper than any double-edged sword, it penetrates even to dividing soul and spirit, joints and marrow; it judges the thoughts and attitudes of the heart." (Hebrews 4:12) Song here.
"There is one body and one Spirit, just as you were called to one hope when you were called; one Lord, one faith, one baptism; one God and Father of all, who is over all and through all and in all." (Ephesians 4:4-6) Song here.
"Unless the Lord builds the house, the builders labour in vain. Unless the Lord watches over the city, the guards stand watch in vain." (Psalm 127:1)
"If my people, who are called by my name, will humble themselves and pray and seek my face and turn from their wicked ways, then I will hear from heaven, and I will forgive their sin and will heal their land." (2 Chronicles 7:14) Song here.
"But you are a chosen people, a royal priesthood, a holy nation, God's special possession, that you may declare the praises of him who called you out of darkness into his wonderful light." (1 Peter 2:9)
"Not that I have already obtained all this, or have already arrived at my goal, but I press on to take hold of that for which Christ Jesus took hold of me." (Philippians 3:12)
"Finally, brothers and sisters, whatever is true, whatever is noble, whatever is right, whatever is pure, whatever is lovely, whatever is admirable—if anything is excellent or praiseworthy—think about such things." (Philippians 4:8)
"The Lord bless you and keep you; the Lord make his face shine on you and be gracious to you; the Lord turn his face toward you and give you peace." (Numbers 6:24-26)
"Do everything without grumbling or arguing, so that you may become blameless and pure, "children of God without fault in a warped and crooked generation." Then you will shine among them like stars in the sky as you hold firmly to the word of life." (Philippians 2:14-16)
Psalms to memorize
If you want to learn more than just one verse, why not try a short psalm? The following are all just a few verses long but packed with awesome learning opportunities for our kids – and us!
You'll be AMAZED how quickly even small kids pick up whole psalms! Our friends are doing this at the moment with their three aged 7, 5 and 3 – it was their positivity and encouragement that made me include this section at all, otherwise I'd have probably thought it was a bit too much! But it really DOES WORK, people!
Psalm 100 "Shout for joy to the Lord, all the earth. Worship the Lord with gladness…" Song here.
Psalm 117 "Praise the Lord, all nations! Praise him, all peoples…" (just two verses long!)
Psalm 121 "I look to the mountains; where will my help come from?…"
Psalm 127 "Unless the Lord builds the house, the builders labour in vain…
Psalm 131 "Lord, I have given up my pride…"
Psalm 133 "How good and pleasant it is when God's people live together in unity!…"
Psalm 150 "Praise the Lord. Praise God in his sanctuary; praise him in his mighty heavens…"
I hope these short memory verses for kids have been helpful as you pick one for your family or Sunday School to learn! Which is your favourite Bible verse? Is it on this list? Do share in the comments – I'd love to hear!
If you're looking for some great resources to go alongside these short memory verses for kids, why not check out my recommendations for children's Bibles, children's Bible devotionals and family devotionals?