I use affiliate links in some blog posts. If you click through and make a purchase, I earn a small commission at no extra cost to yourself. Thank you for your support.
My husband, who doesn't often read this blog, sometimes mocks me for writing about faith and discipleship in young families.
"Ha! You're telling people how not to do it, right?"
And he's absolutely spot-on: he and I really don't have it sorted when it comes to our children's discipleship. Yes, we've had nine years to get our act together, but still we struggle to know how to lead them in faith, make time for any kind of spiritual conversation, and help them understand the Bible.
And he a vicar, of all things.
Finding a way to help our oldest two (Mister, 9, and Missy, 7) engage regularly with the Bible is a particularly tricky area. Bedtime seems to be the natural time for us to do this, as mornings are too rushed. But because they still share a room, we need a Bible reading guide for kids which they'll both be able to access.
When I was a kid I used a well-known children's Bible reading magazine. I completed it daily, first with my Mum and later independently, and enjoyed the cartoons and puzzles.
It was always my intention that my own kids would follow suit. Yet, although Mister enjoyed the look of these notes, actually getting round to doing them was another matter. Not all kids like wordsearches and code-breaking – and even fewer like these things last thing at night.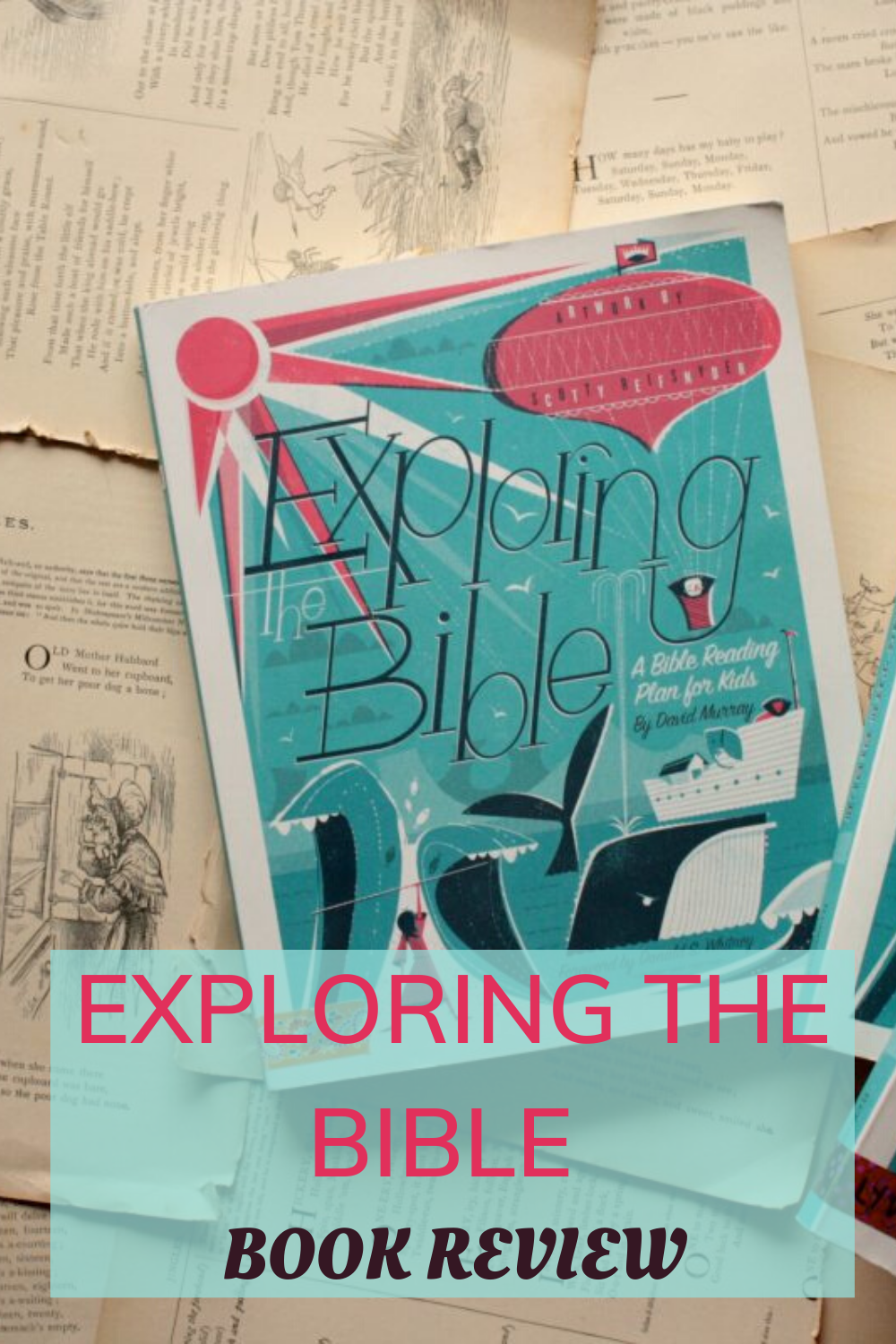 My ears perked up, therefore, when I heard of a new Bible reading guide for kids that I hadn't seen before. Exploring the Bible by David Murray is a 365-day plan for 6-12 year olds which leads them right through God's word from Genesis to Revelation. Check out this video trailer here (if only for the author's beautiful Scots voice).
Here's what I love about this book:
It doesn't take you through every single verse (or even every book) of the Bible, but it DOES give a pretty thorough summary
Other children's Bible reading guides focus on the more narrative sections of the Bible, but this one includes Song of Solomon and Ezra, Nehemiah and 2 Peter, so our kids are learning how to study the books of poetry and prophecy, as well as some of the New Testament letters.
Each week has a theme
This helps the guide to hang together well. You're not reading disparate ideas on consecutive days, but are spending Monday-Saturday deepening your understanding of one idea.
For example, week one is themed 'Beginnings', and each day has a title like "The beginning of animals", "The beginning of marriage", "The beginning of the Sabbath" etc – all 'beginnings' which are found in Genesis 1.
Sundays have no set reading, but offer space to record what has been learnt at church
This is a really smart idea. I struggle with how to connect the various Bible teachings our kids get from various sources, so I absolutely love the space this book gives to recording things such as: Bible passage and theme of the Sunday sermon/kids programme, as well as the main points.
It brings their Sunday curriculum into their daily devotional time, giving them a second chance to reflect upon what's been taught, and can open up a great discussion between them and us.
Each day has a short Bible passage and one simple question
The danger of a Bible reading guide for kids is that it ends up with an overly moralistic application.
I totally get this. It can be really hard to know how to apply the multi-faceted layers of God's word to children. They often find a black-and-white approach a lot easier.
But actually, kids think about things pretty deeply, if you give them a chance. Having one daily question – even a closed one – encourages them to really absorb what they're reading. It can often initiate further discussion.
For example, the question on the day entitled "The beginning of the Sabbath" was simply: 'What did God do on the seventh day?' The short answer of 'rest' was followed by a little discussion between me and my children about what rest means. (Poor things probably got a diatribe from me, as I'd just written about rest!)
Each week has space to add prayer requests
I'm not a good pray-er. And, as such, I'm not great at knowing how to encourage my kids into persistent prayer. (Although Window on the World has been an excellent prayer resource for our whole family.)
But having a space to write down what is on my kids' hearts means two things. Firstly I get to know what is worrying them or what is important to them. Secondly, we pray for these things Every.Single.Night because they're written down so we can't forget!
The design is beautiful
There's a very cool 'vintage-travel' theme, illustrating us going on a journey through God's word. The illustrations are fresh and contemporary, and I love the whole look and feel of the book.
It's really quite simple
While the book has been (IMHO) expertly thought-out, it's also been kept very simple. Family life is so busy, that who wants Yet Another Thing To Fit In? Each daily reading and question is short and easy to follow. There's no extra faffing about.
We've not been using this resource long, and yet we've found that already our kids are starting to engage with God's word for themselves, thinking about what it means for their lives. We've found it easy to adopt this habit every night – which, I assure you, has NOT been something we've found easy before.
If you're wanting to help your child into a daily Bible reading guide for kids, this is an awesome book!
For more ideas, check out my post 10 Best Family Devotions.