I use affiliate links in some blog posts. If you click through and make a purchase, I earn a small commission at no extra cost to yourself. Thank you for your support.
When it comes to celebrating the seasons with your family, Lent is a challenging one.
For one, it's pretty long – 40 days plus Sundays – which is a heck of a long time, especially for very young children.
And, for another, it's not exactly a fun-filled fiesta is it? I mean, it's not meant to be. We're supposed to spend the time remembering Jesus' fasting in the desert, the sacrifices we make as Christians and – in some sense – 'mourning' Jesus' death and sacrifice. There are no decorations, no parties, no Easter Jumper day.
But I don't think this means it has to be an altogether solemn time for our families. I believe that our number one priority as families must always be to draw one another closer to Jesus – at any time of the year! – and that we can do this with fun and laughter and creativity. Yep, even in Lent!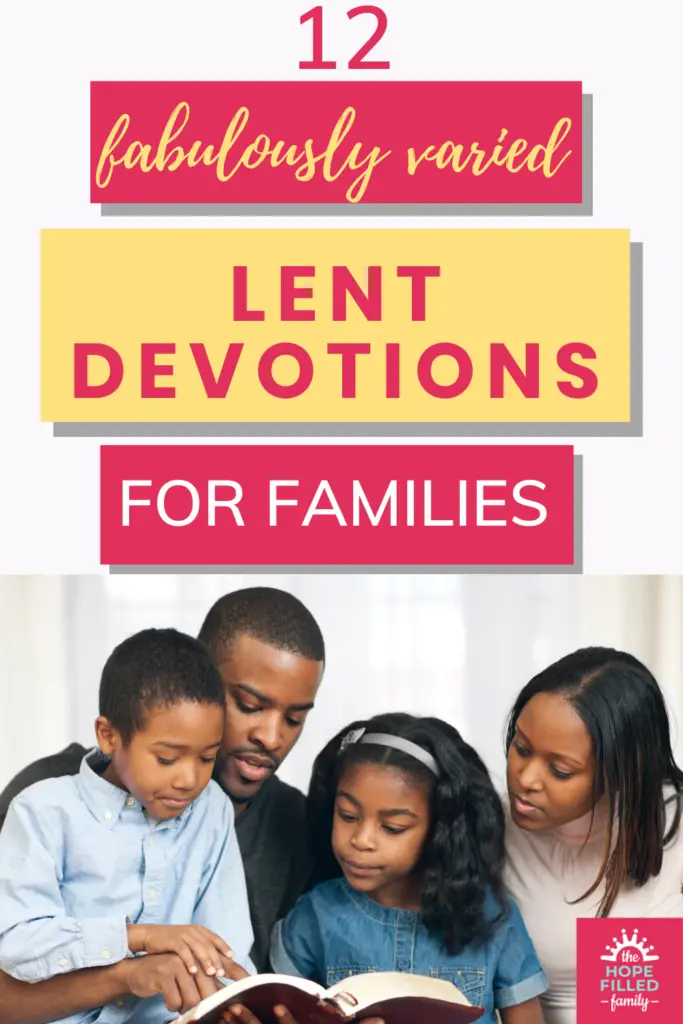 What do you teach kids during Lent?
Of course there is no limit to what you can teach your kids during Lent – anything which draws them closer to Jesus is wonderful!
But traditionally you might focus on:
Jesus' life (i.e. reading through a gospel together)
The temptations of Jesus
Jesus' death and resurrection, in readiness for understanding Easter when it comes
In short, it's a great time to teach/re-teach your kids the gospel which gives us hope!
If you were looking for a different angle, you could teach stories of 'rescue' through the Bible (Moses and the exodus, Esther saving the Jews, Jonah, etc) right through to God saving us through Jesus' sacrifice on the cross.
You may like to check out my 30 Simple Lent Activities for Families – or see my suggestions for 50 Things to Give Up for Lent (and 10 Things to Take Up).
And if you're planning a Passover meal for Maundy Thursday, don't miss How to have a Family Passover Meal with the wonderful Victoria from Godventure! (Keep scrolling for a fabulous Godventure resource!)
What can families do for Lent?
But here are some resources which will make life easier for stressed-out parents. They will equip you to guide your family through Lent with joy, depth and insight. Some are 'off the shelf' – just grab the resource and do what it says. Others may involve a little preparation or forward planning. Some are discussion-based, others more interactive. Simply choose one which fits your family in its current season.
I look forward to hearing what works for your family this year! Why not share in the comments?
Age suggestion: 4-18
If your family enjoys a challenge, why not try 40Acts? Stewardship ran this initiative encouraging generosity from 2011-2020, and although there are no new resources being produced (at the time of writing), there are plenty from previous years to download.
There are seven family wallcharts/planners, each giving a suggested generous 'act' for that day. and numerous other resources (for churches, small groups, schools and youth groups) which you might find useful for more ideas. Things like: giving your postie a chocolate bar, writing a letter to a friend, baking some cookies to sell for a charitable cause – and so on.
It's all free and instantly downloadable – which is good news if you're reading this on the evening of Shrove Tuesday – (we've all been there).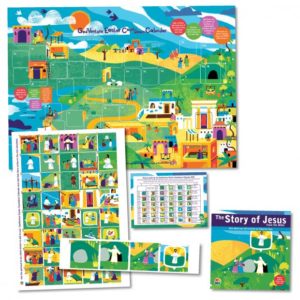 Age suggestion: 2-8
Godventure faith at home resources never disappoint, and this colourful A3 countdown calendar, based on Mark's gospel, will be sure to engage your children during the loooooong season of Lent.
There's a sticker for each day (apart from Sundays), some of which are overlapping, so that as the story unfolds, the position of the characters cleverly changes. Each story lines up with a short section of the story in the accompanying "Story of Jesus" mini-book, which is the gospel of Mark (NIrV – nice and accessible).
This is a wonderful, open-ended way to spark conversation and questions within your family this Lent – simply by reading the gospel of Mark together, with stickers! (And who can resist a good sticker, eh?)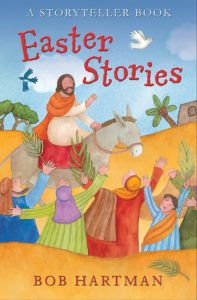 Age suggestion: 5-11
This is not technically a Lent devotion. But with 21 very short chapters, each beautifully re-telling a story from Palm Sunday to the resurrection, it's perfect to use during Lent with your family – or even just through Holy Week, reading three stories per day (they're very short, promise!).
It's also a great resource to dip into to teach specific aspects of the Easter story, with no pressure to read the whole thing. Our family has had it for years, and every Easter we find ourselves pulling it out of our Lent basket to read together over dinner or bedtime. Bob Hartman has a wonderful way of drawing you into a story, and it's a great way to prepare our hearts to focus on Christ's death and resurrection.
Don't use Amazon? Click here to buy this from Eden (UK only).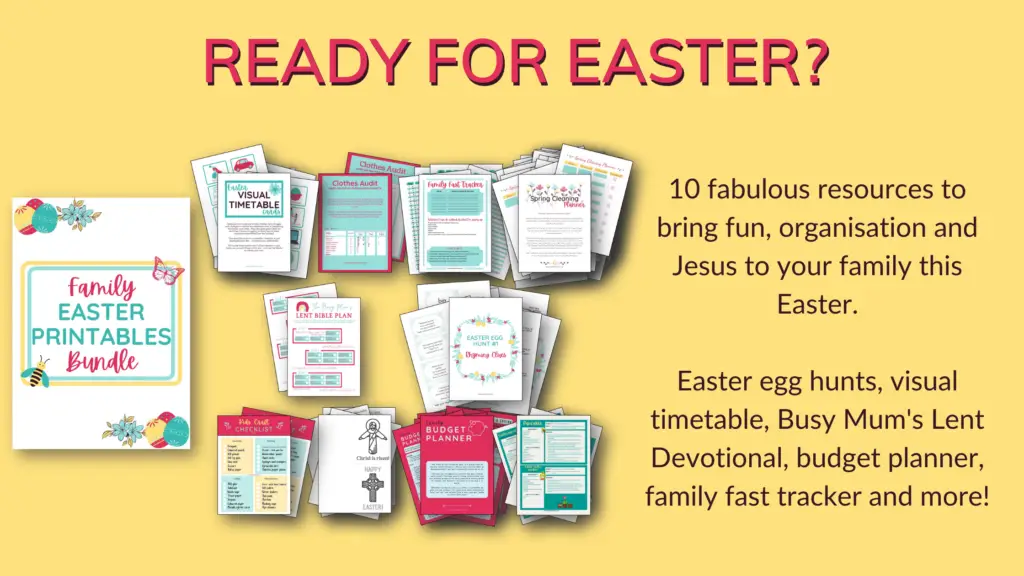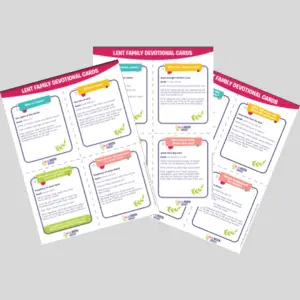 Age suggestion: 5-11
Another free resource, these devotions from GoMinno are your friend if you've left it till the last minute (hello me).
There are 12 – so just two per week during Lent (totally manageable for even the busiest family) and, more to the point, they're SHORT, just a simple Bible reading, a couple of questions and a prayer. Perfect for a family short on money, time and headspace!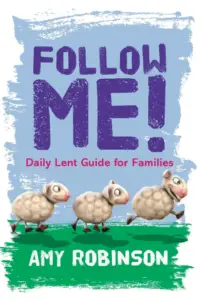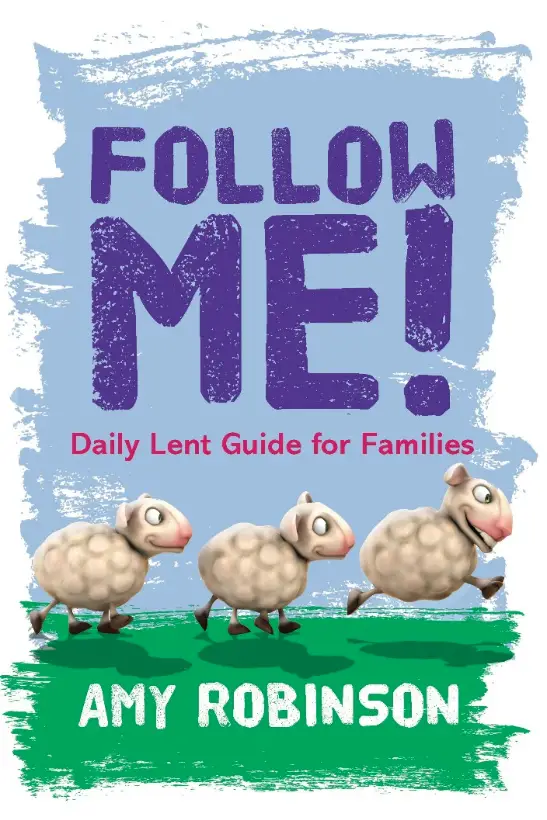 Age suggestion: 5-11
This incredibly thorough Lent devotion for families is beautifully imaginative, varied and flexible. Master storyteller Amy has offered lots of options for each day/week, including storytelling ideas, practical activities and thoughtful, open-ended discussion starters. You simply pick what works best for you and your family.
Do all the suggestions or just pull out one. Do something every day or every week. It's totally up to you – but either way, your family will get something beautiful out of this rich resource.
I wrote a full review of it a few years ago – read it here: FOLLOW ME! LENT DEVOTIONAL FOR FAMILIES.
Don't use Amazon? Click here to buy this from Eden (UK only).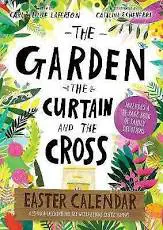 Age suggestion: 3-11 (younger ones will enjoy the calendar, older ones can follow the book)
This Lent devotion for families, based on the popular children's book The Garden, The Curtain and the Cross, features a countdown Easter calendar for the final 15 days of Lent (thus solving the problem of trying to keep your kids motivated across 40+ days…) AND a devotional book. The calendar has 15 doors to open, one each day, just like an Advent calendar (sadly no chocolate).
The book includes 15 days' worth of daily devotions largely aimed at the 5-8 age group. Each devotion is heavily word-based, featuring Bible passage, ice-breakers, questions on the passage and prayer suggestions.
When we did this with our kids (they were 10, 8, 5 and 5 at the time), we actually split each devotion into two and took a bit longer over completing the guide. For children with longer attention spans, each daily devotion would be manageable as it is – but for our family (and, I suspect, others) it was wise to split them. Fortunately each day is easily split in half if you wish to do this.
Overall, a straight-down-the-line, no-prep-required Lent devotion for families – not overly exciting, but not overly time-consuming either.
Don't use Amazon? Try the Good Book Company: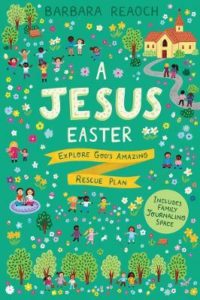 Age suggestion: 8-12
This 30-day family devotion will give your children an excellent grounding in the gospel, covering Scriptures from Genesis to Acts as children of all ages discover what we believe. Moreover, this resource will help train children in reading and understanding the Bible.
The downside is that it is very wordy and very long. Each day's devotional is 3 pages – for some families, this will be a cinch – for others (ahem, mine), it just won't happen. Each day includes a Bible passage, initial questions, commentary/reflection, further questions and prayer. There's also a page given to journaling for each day's devotion – but a larger family might squabble over who gets to use this space!
So if you have children who are thoughtful, enjoy reading and discussing, want to get into the Bible and have long attention spans, this is a good resource – otherwise, you may want to look for something more interactive.
I offer one more proviso: if you do use this resource, you may wish to follow it with a more open-ended devotional after Easter. This one is fairly black-and-white, with little space for asking questions or getting into deep discussion. However, for learning how to read and understand the Bible, you can't fault it.
Don't use Amazon? Try the Good Book Company: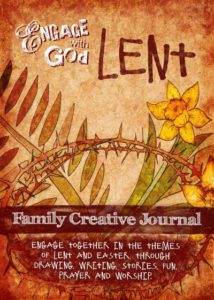 Age suggestion: 2-12
For families with children of mixed ages who favour a creative, interactive approach, this is a fabulous resource from Engage Worship. There are 20 Lent activities, including ones for Ash Wednesday, Maundy Thursday, Good Friday and Easter Sunday – but the rest could be done at any point during Lent.
There are art and craft activities, puzzles, play suggestions and so much more. Creative family devotionals such as this often require parents to prepare a load of things, but amazingly this is pretty off-the-shelf – although a little prep would be needed if you chose to do the Passover meal suggested for Maundy Thursday.
The best thing is that as this resource is no longer printed as a book, it is available FREE as a PDF download – perfect!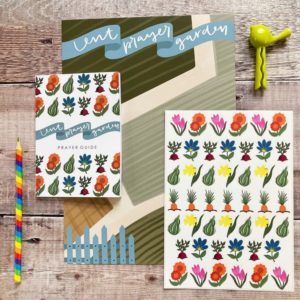 Age suggestion: 2-12
Our family has loved using Hope & Ginger's Lent Tree/Garden over the last few years. There's something totally joyous about seeing a garden come into bloom through your prayers – and which kid doesn't love a sticker?!
It's also really quick and simple, making it easy to fit into busy family life. You get a little prayer booklet, with a daily prayer prompt for every day of Lent. There's space to add the detail of who or what you're praying for if you wish, and then you simply pray for it! Add a sticker once you've prayed, and see the beautiful garden come to life.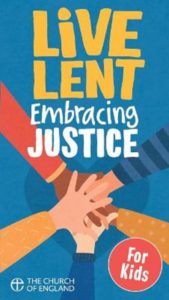 Age suggestion: 5-11
Live Lent is the Church of England's annual Lent resource – and there's a kids' version! It's a small, inexpensive booklet (cheaper in bulk, so often available through your church) featuring a suggested action for your kids to do each day, plus Bible reading, reflection and prayer.
Each year is themed differently, but with an emphasis on living well as stewards of God's earth. The theme for 2022 is Embracing Justice, 2021 was God's Story Our Story, and 2020 was Care for God's Creation. Back copies are available if you fancy delving into one of the past themes.
You can also access related free digital resources nearer the time right here.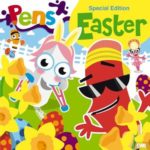 If you have pre-schoolers/early-schoolers, the Pens Bible reading notes are a lovely, simple way to get into a daily Bible reading habit. The Easter special edition is no exception: you get a parallel story (Denzil's Easter Garden) which introduces the themes of death and new life. Then you get seven days of short Bible readings, brief explanations, a question and a prayer. It'd be a great devotion for Holy Week, or you could start earlier in Lent and do one per week.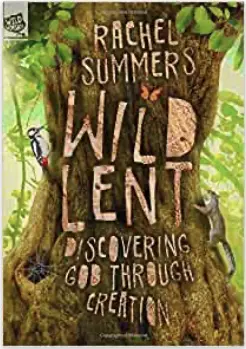 Age suggestion: 3-12
I'll admit that our family hasn't yet tried this wonderful-looking book, but for a family looking for something active, creative and outdoorsy to draw them towards Jesus this year, Wild Lent is the resource to go for.
Rather than sitting around a table discussing the Bible, you'll be getting out into the fresh air – come rain or shine – to venture, explore and make together, meeting the Creator through creation. Think Forest Schools, but with a Biblical bent!
Don't use Amazon? Click here to buy this from Eden (UK only).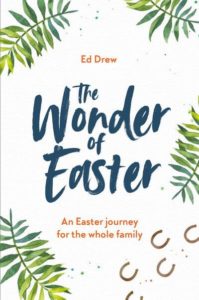 Age suggestion: 5-11
This book contains 34 family devotions to do during Lent (5 per week, plus three during the first week of Lent, and one for Easter Sunday). However, there's plenty of grace offered by author Ed Drew (of Faith in Kids) in the intro, followed by a helpful guide to the 'key stories' – which ones not to miss if you can only manage one or two devotions per week.
Each devotion is very thorough – but to some extent you could pick and choose which sections you do with your kids. Some are more active (e.g. drawing/writing/acting a story) for days when you have time to kill – otherwise you could simply read the passage and pick a couple of Ed's perceptive questions. There are different questions for different age groups: 3-4s, 5-7s, over 7s and teens – I particularly like this feature.
Yes, it's wordy, but I feel this is a resource which is flexible and not overwhelming. You can do as much or as little as you like, yet still feel like you've got into the Bible with your kids.
Don't use Amazon? Try the Good Book Company:
Any Lent devotions for adults?
I couldn't leave this post without recommending a couple of Lent devotions for adults – after all, why should the kids get all the fun? Here are a couple of recommendations for your own personal devotions.
This is my short, accessible Bible reading plan which takes you through the gospel of Matthew, a couple of verses at a time. It's ideal for busy people – as the name would suggest – and is available as part of my Easter Printables Bundle as a fun and motivational printable.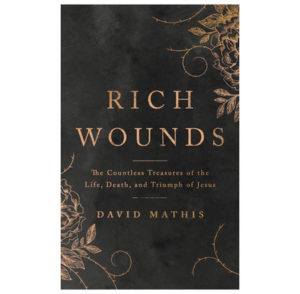 For a really in-depth, insightful commentary to your Lent period this year, why not try Rich Wounds? Authored by David Mathis (executive editor at Desiring God), this is a 30-day devotional (so you get some days off!) in four sections: Jesus' life, Jesus' death, Jesus' triumph and Jesus' Passion Week.
Each devotional (around four pages in length) is unique in that, although it starts with a verse from Scripture, and references Scripture throughout, the main Bible passage is not given until the end. I like this interesting format: you get to read Mathis' thoughts and commentary first, but then you can allow the (related) Bible passage to speak to you directly – and of course what comes out of it will be different for each one of us.
Don't use Amazon? Try the Good Book Company: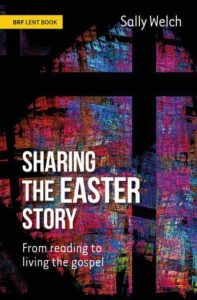 This BRF-produced Lent devotional covers each day from Ash Wednesday to Easter Sunday. Each week has a different focus: repenting, forgiving, hoping, trusting, sacrificing, loving and changing. Within those themes, each day features a Bible passage (written out in full), reflection lasting a couple of pages, questions and a prayer suggestion.
The tone is very much applying the Bible to our lives, with illustrations taken from real life and a strong focus on understanding Scripture. The questions can be used in a Lent study group, and there's guidance included for how you might do this.
A unique and fun feature is a series of free PDF downloads called Journeymakers, each one containing one A4 page of reflective material based on the book. These print-outs are designed to be taken on walks, thus turning them into pilgrimages. You could take these walks on your own, reflecting on the commentary and questions in your head, or you could walk as a group, chatting as you go.
***
Have you used a Lent devotional before – either with your family or on your own? Which one? What do you recommend? Let me know in the comments!