I use affiliate links in some blog posts. If you click through and make a purchase, I earn a small commission at no extra cost to yourself. Thank you for your support.
Last year, having heard about this 'Jesse Tree' thing a few times, I decided to go for it with my family.
We'd tried in the past, but our children were too young to really understand what was going on – and, if I'm being honest, I was pretty half-hearted about the whole thing. After all, who needs Extra Work at this already-busy time of year?
WELL.
Turns out it wasn't nearly as much work as I'd thought – AND the kids got really into it, making it a firm fixture in the Rycroft Advent Family Traditions Book.
(We don't have a book. But, you know.)
So I thought that this year, not only would we do it again, but I'd share our Jesse Tree ideas on the blog, so that you too can experience this fun, meaningful tradition with your family – with equally little work.
(If you're looking for Advent devotionals you can do with older children, teens or for yourself, make sure you check out my Best Advent Book recommendations!)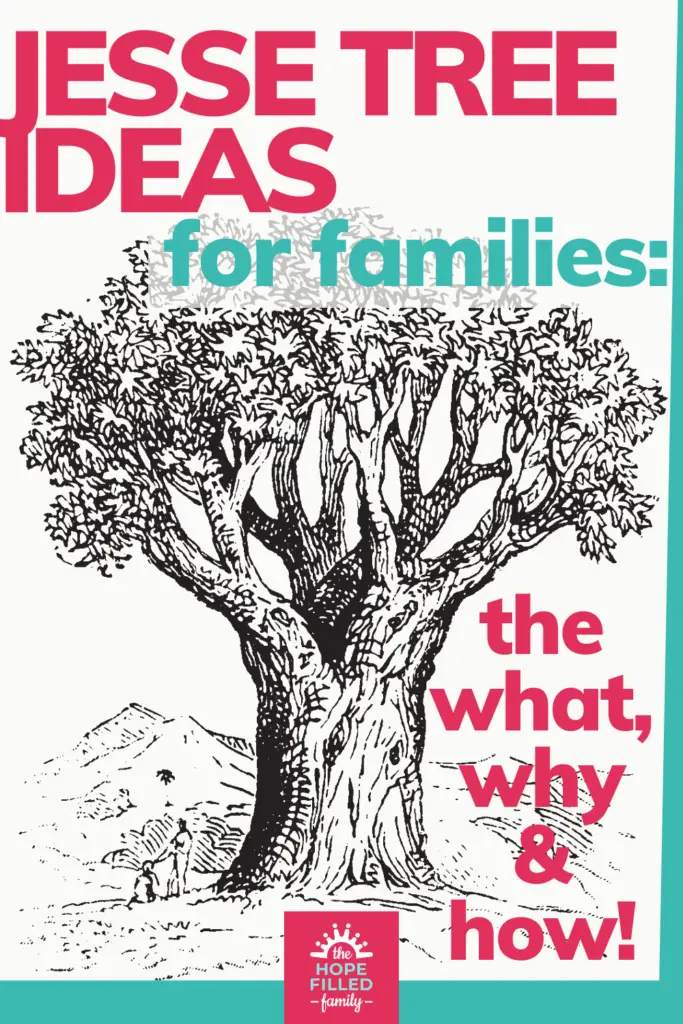 What is the meaning of the Jesse Tree?
Yeah, yeah, I know you're busy and are tempted to skip to the 'how' of Jesse Tree ideas, so I promise to keep this bit brief, but you do need to understand WHY you're doing this.
If nothing else, the kids will ask. (You know they will.)
The 'Jesse Tree' refers to a prophecy God gave to Isaiah, regarding the coming saviour/Messiah (Jesus). The prophecy begins with these words:
"A shoot will come up from the stump of Jesse;
    from his roots a Branch will bear fruit." (Isaiah 11:1)
Jesse was the father of King David, whose great-great-great-great….(insert many more 'greats')…..grandson was Joseph, the father of Jesus. (Technically the adoptive father of Jesus – click to read more!)
So God is saying that the promised Messiah will come from Jesse's line – from the royal family tree which counted King David! Pretty cool!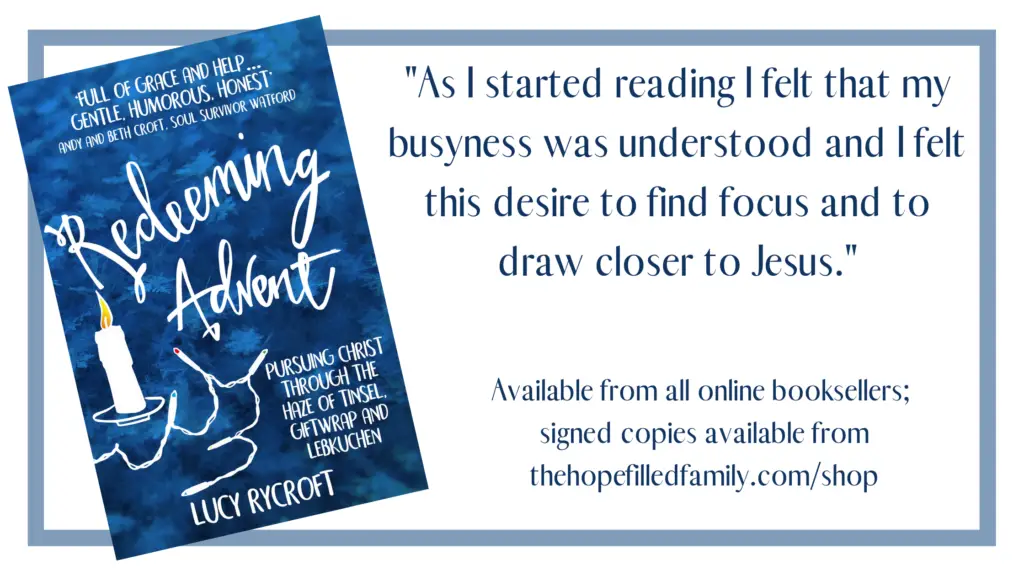 What is the purpose of the Jesse tree?
When we create a Jesse tree in our homes for Advent, we are sharing with each other that one, long, exciting family history belonging to Jesus.
We are finding a mixture of colourful characters in his genealogy – we may even notice ourselves in some of the people we read about.
And we are adding some context to the birth of Jesus, so that our children (and us grown-ups) develop a deeper understanding of who he was and is, and how he can work in our lives today.
For me personally, I wanted to introduce the Jesse Tree last year because our children (then 10, 8, 5 and 5) had heard the Christmas story so much over the years that they could tell it upside-down and backwards!
I could see that this incredible story was starting to become a bit stale and dry in their minds.
So I changed tack, and instead of spending December talking ad nauseum about Mary and Joseph, shepherds and kings, stables and camels, we used the Jesse Tree to talk about Abraham, Isaac, Ruth, Jonah, and so many other interesting characters.
It was awesome fun, and I encourage you to have a go too!
My recommendation is that this is a great tradition for primary-aged children upwards. You can certainly have a go with your toddlers and pre-schoolers, but from my experience, this age-group responds better to hearing the same story over and over again. The repetition helps to embed the story and encourages more engagement – so telling a new story each day may not go down so well.
However, life is rarely simple, and many of us have wide age ranges to accommodate in our families, so if you're looking for something to engage everyone, I'd definitely give the Jesse Tree a go. Older children and teens will find it stimulating, whilst toddlers will definitely pick up bits along the way!
Besides, like pretty much anything in parenting, you can modify these Jesse Tree ideas to suit your own family situation. You'll know your kids best, and you can make this as simple or as complicated as you like!
So how do I do a Jesse tree?
You'll need:
some kind of tree or item on which to hang 25 ornaments (stick a few branches in a vase if you don't have anything suitable)
25 Bible readings (see below)
25 Jesse Tree ornaments (see below)
You can choose to hide the Bible references and ornaments around the house, put them on your child's place at the breakfast table, or pop them in an Advent calendar. It's up to you!
And then all you do is read together the Bible story, and hang the corresponding Jesse Tree ornament on the tree.
You can read from any Bible translation you like – we use a variety of children's Bibles for accessible, succinct language (some of the readings are really long, e.g. the whole of the book of Ruth, so having an abridged version nearby is handy).
You can buy Jesse tree ornaments all over the place, but they get quite expensive.
For a cheaper, yet convenient, option, my Family Advent printables bundle contains 10 super-helpful resources for Advent, one of which is all the Jesse Tree readings and tree ornaments, ready to print, cut out and colour in. It can make a lovely, calming after-school activity too for children who like to colour – thus killing two birds with one stone!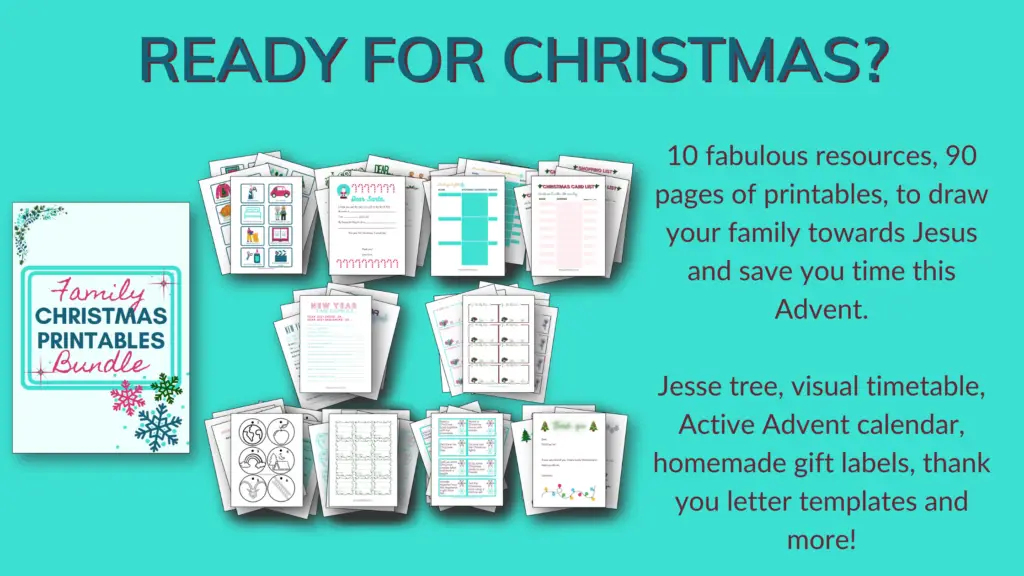 And for the cheapest option (although time-consuming), you could make them yourself.
How to make Jesse Tree ornaments
Take the list below as your guide, and make sure each decoration has a clear number on it for easy reference (and also in case you re-use your ornaments in future years).
We simply bought a pack of hanging cardboard hearts from The Range, and drew/coloured our designs onto them, writing a large number on the back of each one.
If you had a bit more time, and your kids were keen, you could roll our some air-drying clay or salt-dough, use a cutter to make 25 circles or hearts, not forgetting a small hole for the hanging ribbon, then leave them to dry. Once they're ready, draw or paint the pictures onto each one. You could even mould the actual objects themselves.
Or, if you enjoy collecting random bits, you could even try to gather together 25 small ornaments which represent each of these readings!
I hope this gives you a few Jesse Tree ideas to start with, but let your imagination go wild – there are so many ways you could create these ornaments!
What are the Jesse tree ornaments?
Here's a complete list of what goes on a Jesse Tree each day, and which Bible passage/story accompanies it:
December 1: Genesis 1 (creation) – the world
December 2: Genesis 2:4-3:24 (Adam and Eve) – piece of fruit
December 3: Genesis 6:9-9:17 (Noah) – rainbow
December 4: Genesis 12:1-7 and 15:1-6 (Abraham) – tent
December 5: Genesis 22:1-18 (Isaac) – ram
December 6: Genesis 28:10-19 (Jacob's ladder) – ladder
December 7: Genesis 37 & 50 (Joseph) – colourful coat
December 8: Exodus 2:1-4:20 (Moses) – burning bush
December 9: Exodus 12:1-42 (Passover) – lamb
December 10: Exodus 19:1-20:20 (The 10 Commandments) – stone tablets
December 11: Joshua 6:1-20 (Fall of Jericho) – ram's horn
December 12: Ruth (whole book) – sheaf of wheat
December 13: 1 Samuel 16:1-3 (King David) – star of David
December 14: 1 Kings 6 (Solomon's Temple) – temple
December 15: 1 Kings 18:16-39 (Elijah and Baal's priests) – fire/logs (on altar)
December 16: Isaiah 11:1-11 (Isaiah's 'Jesse Tree' prophecy) – tree stump
December 17: Jonah (whole book) – big fish
December 18: Matthew 3:13-17 (John the Baptist) – dove
December 19: Luke 1:26-38 (Mary) – lily
December 20: Luke 1:39-56 (Elizabeth) – mother and child
December 21: Luke 1:57-80 (Zechariah) – pencil
December 22: Matthew 1:19-25 (Joseph) – hammer
December 23: Luke 2:8-20 (shepherds) – sheep
December 24: Matthew 2:1-12 (wise men) – crown
December 25: Luke 2:1-8 (Jesus) – manger
I hope these Jesse Tree ideas have been helpful, and that you enjoy celebrating the real meaning of Christmas with a Jesse Tree this Advent. Do let me know how you get on in the comments!
Also, why not delight your family this year with an Advent basket? Click to find out how!
And check out how we celebrate Santa in our household (clue: it's not the 'norm'…).