I use affiliate links in some blog posts. If you click through and make a purchase, I earn a small commission at no extra cost to yourself. Thank you for your support.
I was so delighted recently to discover this lovely book for young-ish children.
Granted, I don't have a lot of time to research Christian books for kids, but the ones we have do vary in quality. (Actually, it's probably less variable than it once was, as I've chucked the awful ones!)
Sometimes it feels like our children have all these beautiful books, with lovely illustrations and poetic language – and then the Christian books which sit on their shelves are some kind of second-best, low-budget option.
While I know full well that Christian publishers do have smaller budgets, and a smaller audience, I do think that there are ways of getting round these obstacles to produce beautiful books – and Scripture Union has certainly achieved this with 'A Really Incredible Feast'.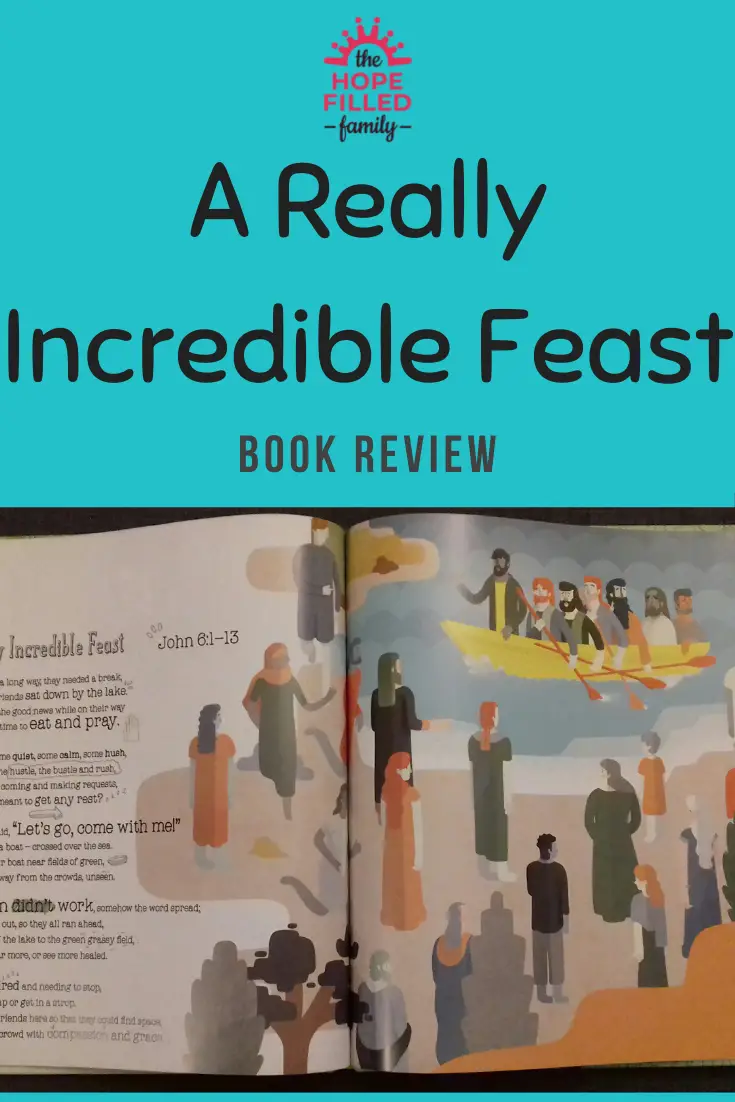 When I first opened the envelope, I was impressed by the book's size, look and feel. It's hardback – always a great start, as it just feels so weighty and lovely! – and the illustrations are bold and striking. Fabulous!
It's also incredible value for money, retailing at just 4.99 for a hardback book with six long-ish Jesus stories included. This makes it affordable and accessible for many – and SU should be applauded, again, for creating such a low price point.
Johanna Baldwin's poems are really lovely, and make for an engaging story. There are six stories from the life of Jesus, including calming the storm, feeding the 5,000, and healing a blind man. I love the way she brings these all to life with fun language, without resorting to 'extra' details or digressions which aren't in the original Bible story.
Bible references are given for each story, in case you want to look it up and read it to your child, but actually Baldwin's poems don't really leave out much. Still, it's worth noting as it can be good to help your child make the connection between a picture book and the Bible.
The blurb states that this book is suitable for 5s-8s. I read it to my brood of 8-6-3-3, and, unsurprisingly, it was my 6 year old who took to it the most.
My *slight* quibble is that there are rather a lot of verses on each page – which makes for great value for money, of course, but wouldn't perhaps engage a pre-schooler who needed more scene changes for that amount of words. I guess that's why the age range doesn't include under 5s.
However, the illustrations – I felt – were more geared to younger children. As such, Mister (8) didn't engage so much in the book. He listened, and he didn't dislike it at all, but as he's at the stage of reading smaller 'novel' sized books, with more text and fewer pictures, I can't see a situation where I would sit down and read this solely to him.
If you know a 5/6 year old, or mature 4 year old, this book would be excellent for them. The hardback cover, great illustrations and fun rhyming language make it a brilliant (and inexpensive gift) for a birthday, Christmas, or baptism/dedication. (Click here for other baptism gift ideas.)
Some other Christian books our kids have enjoyed include: