I use affiliate links in some blog posts. If you click through and make a purchase, I earn a small commission at no extra cost to yourself. Thank you for your support.
Have you ever had a heart-to-heart with your child and wondered how to encourage them to connect with God about it all?
Do you sometimes find yourself giving your kids a pep talk, but feeling it's all just a little bit hollow?
Would you like to offer your kids something more solid when they're struggling, but find it hard to know how to introduce God to the conversation?
Since doing the Parenting for Faith course, I've been wondering these things for myself and my own kids, so I was bowled over to hear about the Rosie books.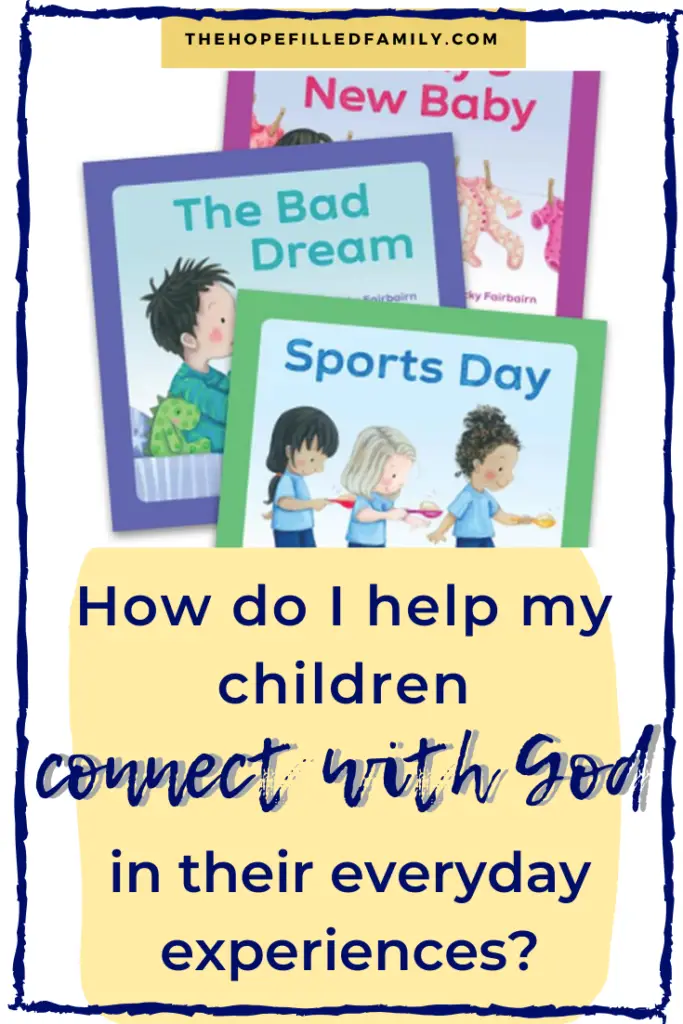 These cute stories were released in April by 10Publishing, and their whole design is to teach children how to apply their faith to different situations.
I hope there are more books to come, because the initial three are very promising. They look at three common experiences of small children: taking part in Sports Day, preparing to welcome a new sibling and having a bad dream. Each one is written simply, in language which appeals, with a really straightforward message of how what the Bible teaches us about God can help us when we're feeling proud, nervous, left out or scared.
The stories expand upon a problem encountered by Rosie or her brother. When things come to a head, either Mum or Dad are there to listen, provide reassurance, and point them to one or two helpful verses from the Bible.
I love the simplicity of these books, and I don't mean that in a patronising way. They don't try to do too much and thus go over the head of the children they're designed for. Each one has a very clear aim: a problem that kids will relate to, followed by a Bible passage which can be easily understood and applied.
The Rosie books have a subtler function too: they can provide us parents with some examples of how to share God naturally with our kids, how we can base their understanding of the world on what God has revealed in the Bible, and what kind of language we can use.
These stories appealed to my 4 year old boys, who loved the illustrations and could easily follow the clear storyline. Even my 7 year old, who realised she was probably a bit old for the target audience, admitted to enjoying them quite a lot!
I would suggest that 2-5s would get the most from the Rosie books, but for an older child with a lower emotional age, I'm sure they would go down well too.
The set of three are an absolute steal at £9.99 – they'd make a lovely Christening gift for a baby or toddler.
Check out some of the other books my kids have enjoyed: