I use affiliate links in some blog posts. If you click through and make a purchase, I earn a small commission at no extra cost to yourself. Thank you for your support.
Dear Son,
The other day you asked me whether your younger brothers were your step-brothers.
We'd just returned from school, and I was distracted, sorting through book bags, reading letters and signing permission slips, so I don't think I gave you a very good answer. (That's the problem with being a parent, you always get asked the Very Good Questions at a time when you're least able to give a Very Good Answer.)
So, here's my attempt at a better one.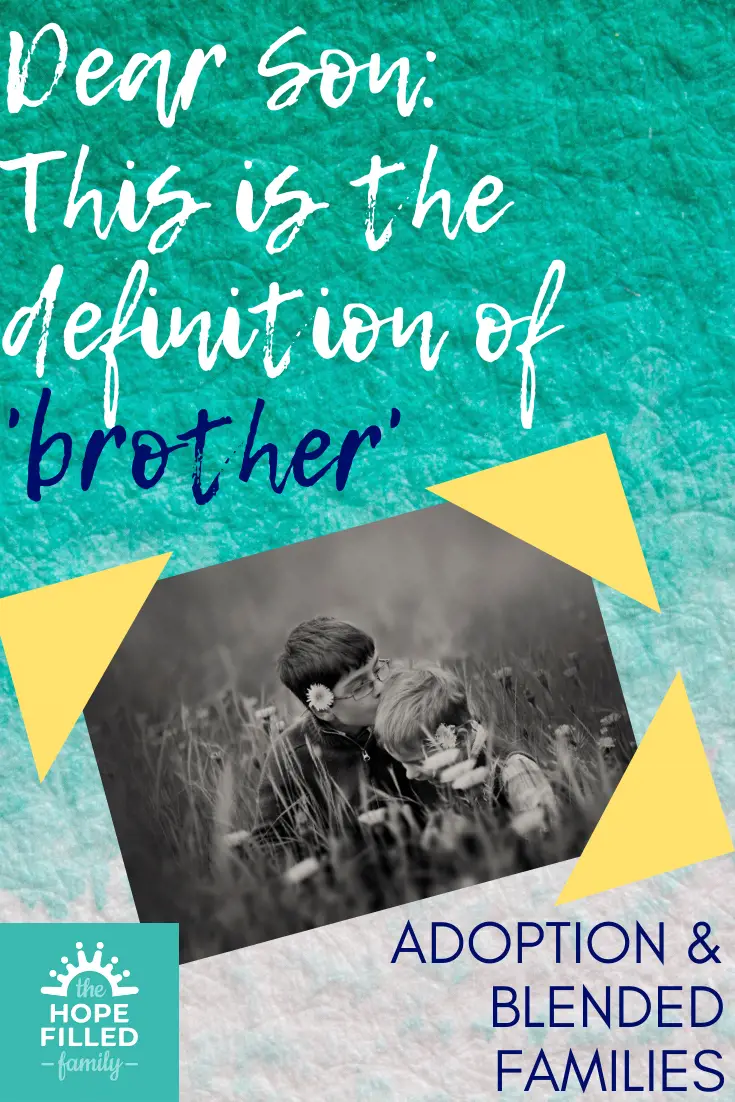 Step-brothers or step-sisters are the children of the person your parent has chosen to marry or partner. So, if your Dad and I split up (which, by the way, we're not planning to), and I married again, any children of the person I married would be your step-siblings.
But your little brothers are not your step-brothers.
You may not have the same genes as them, but let me reassure you that you are definitely, totally, 100% their big brother – which means that they are definitely, totally, 100% your little brothers.
It's you that they want to see first thing in the morning, and say goodnight to last thing at night. It's you that they run to hug in the playground when we pick you up from school. It's you who they want to chat to, ask questions of, jump on, argue with. It's you who is teaching them how to be a brother, a boy, a decent human being.
Every time you speak kindly to your little brothers, help them make breakfast, or hold their hand when we're crossing a road, you're demonstrating what a great big brother you are. Every time you chase them wildly around the house, give them piggy-backs, wrestle them or let them climb all over you, you're proving that you're their big brother. No one else does this for them like you do.
And they adore you. They look up to you. They want to be like you. Sometimes they even wear the clothes you used to wear. When they start school, they'll be looking out for you – for protection, for reassurance, for modelling how it is they're supposed to behave.
Sometimes brothers and sisters are made by their Mum and Dad (like you and your sister), and sometimes they're made in different tummies. But they become your brothers every time you play together, eat together, walk together, watch TV together.
And, ultimately, we believe that it's God who makes us all, regardless of whose tummy He puts us in. He made you, Missy, Monkey and Meerkat – and He knew you were going to be brothers and sisters way before we did. Isn't that awesome?
We are so proud of the fantastic boy and wonderful big brother you are. Thank you for being amazing.
And we never, ever want you to doubt that your little brothers are your full brothers – perhaps not by blood, but in every bit of love and life you share together.
Lots of love
Mum x
> IS ADOPTION SCREWING UP MY BIRTH KIDS?
> DEAR WORLD: MY ADOPTED CHILDREN ARE ALSO MY 'OWN' CHILDREN. PLEASE DON'T DIFFERENTIATE.