I use affiliate links in some blog posts. If you click through and make a purchase, I earn a small commission at no extra cost to yourself. Thank you for your support.
Each year, my kids get to choose their party theme. So far, this has resulted in much more interesting and quirky ideas than I could have thought of. Usually I hit Google with the themes they've chosen, and a variety of supermum blogs come up trumps and give me the ideas I need.
But this year, Mr Internet was not my friend. Type in 'Peter Rabbit party', and you get baby showers, christening parties, and 1st birthdays. You even get Prince George's 1st birthday celebration, which is a delight to read about, but not very helpful in this instance.
A baby's birthday is all about the cuteness – the decor, the food and the cake. A boy's 5th birthday party is all about activity: lots of running around and games and getting messy.
So, my challenge: create a Peter Rabbit-themed party perfect for a 5 year old boy and his friends. It's such a wonderful theme, with lots of endearing characters as well as dark moments – surely it should lend itself well to a morning's worth of fun activities?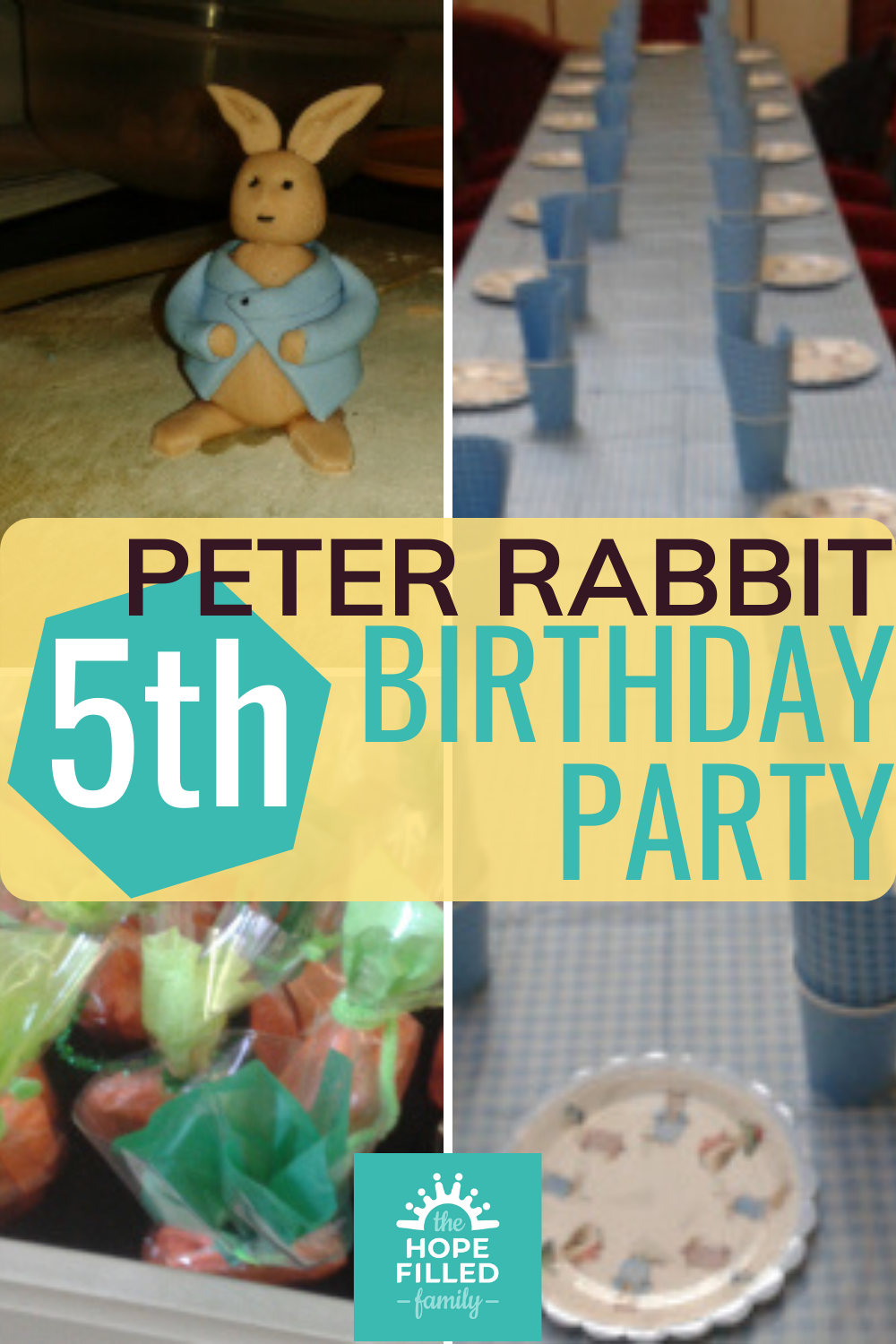 (Advance apology: I'm very sorry for the poor quality of these photos. I've been having camera issues. I may enjoy organising parties, but I sure as heck can't do anything else – like get a camera fixed – at the same time. Hopefully you'll get enough of an idea.)
We kept the decorations simple: white, blue and gold/brown balloons, to represent Peter Rabbit's colours, and some garden tools at the entrance. I dressed as Mrs Rabbit:
Al as Mr McGregor:
and our fantastically thespy friend Sam as the Naughty Fox:
Like Missy's fairy-themed 3rd birthday party, we held this one in our church hall, not our home – so there had to be some open-ended activities that the children could get stuck into when the games weren't happening, in the absence of any of our toys. It was good to have a variety of options, as small children are quite often very determined about what they Will and Won't do. So there was a craft table, where the kids could make rabbit ears or fox masks:
(These masks came from the fantastic Baker Ross. Sadly they no longer do these, but there's still a fantastic range of themed masks on their website here.)
We made a digging trough, full of carrots, radishes and onions to find:
There was an area in which to build as tall a tower as possible out of flower pots:
And, because it's always more fun to make something you can eat than something you can't, there was a biscuit decorating table:
The biscuits were gingerbread rabbits, baked by me and Missy a couple of days previously. Because there is always a huge amount to do in the evenings, after the kids go to bed, I love it when I can not only tick off a job during the day, but turn it into a fun daytime activity to do with one or both kids 🙂
I also set up a little 'chill-out burrow' with Peter Rabbit themed toys and books – this was mainly for the younger siblings of Mister's friends, but it's always good to have an option for kids who are just getting a little overwhelmed by 'activity'.
Of course you think through all these ideas in advance, but it's impossible to tell what will actually work until the day itself.
Given this, I was really pleased that all the activities seemed to go down well – particularly the biscuit decorating and vegetable digging. There was also plenty of putting fox masks on and running round the room roaring at each other! (Whoever knew that foxes roared?!)
It was so lovely to see Mister reunite with lots of friends he hadn't seen since the summer, all considerably more grown-up after a few weeks at school.
Games-wise, we had five: Pass the Parcel (obviously!), Mr McGregor's Footsteps (like Grandmother's Footsteps!), a wheelbarrow relay in teams:
Pin the tail on Peter Rabbit (using cotton wool tails, of course!):
and a vegetable hunt in teams. I printed out three each of ten different vegetables onto card, cut them up and hid them round the room.
The kids had to find them in teams – with the added challenge of not being allowed to collect more than one of each type of veg. This ensured that it wasn't simply the fastest/strongest child who got to do all the hunting and finding!
Once the games were done, we brought out the cake, for the sake of some friends who had to leave early. It was my first attempt at sugarpaste, and I was fairly pleased – PR looks a little fat, but he's recognisable, right?!
The Peter Rabbit sugarpaste success made me want to sugarpaste all the veg, but I decided they'd look more enticing made out of sweets, so that's what I did. (We are very blessed with sweet shops here.)
Then lunch. Very standard party food – but served in plant pots, of course. If my favourite restaurants can serve food in plant pots, why can't I?
I cut the sandwiches into rabbit shapes – because if you'd invested 79p in a rabbit cutter for gingerbread rabbits, you'd want to get the most out of it too, right?
The table was laid simply – pale blue gingham tablecloth and napkins from Asda, blue cups from Poundland, and Peter Rabbit plates from an online supplier.
As the children left, sugar-happy and Peter Rabbitted-out, they each got to pull a 'carrot' from a tub of soil.
These were cone-shaped gift bags, lined with tissue paper to look like carrots, and containing a few little treats:
Mister loved the party, and had a great time seeing friends and playing silly games with them. His chosen theme didn't disappoint…although he's already started thinking of the theme for next year!
Check out my £30 budget parties – robot-themed or doll-themed.