I use affiliate links in some blog posts. If you click through and make a purchase, I earn a small commission at no extra cost to yourself. Thank you for your support.
I'll be honest and tell you that this wasn't my son's first choice for birthday party theme.
He's known for picking quirky themes (like a Robot party for his 4th birthday, or his Peter Rabbit 5th birthday party), and this year he decided he wanted a Home Alone party.
Of course.
Like I'm going to take on responsibility for all his little eager-eyed friends for a couple of hours and then subject them to a series of booby traps including giving them ice on which to fall over, shattered tree ornaments on which to shred their feet, and hot irons with which to permanently scar their faces.
Or, alternatively, I could come up with a series of risk-assessment-friendly traps like throwing a bucket of pom poms over their heads as they walked through the door, and everyone would think it was the lamest party ever.
(Oh, and one mum would complain because her son was allergic to pom poms. Or surprises. Or buckets. Or some such bull.)
No, it was indeed right to steer Mister away from this theme – and he jumped at my suggestion of Minions. Well, I wasn't going to make this harder than it needed to be – Minion-themed paraphernalia is all over the shops, and Minion-based party ideas are all over t'Internet, so it was never going to be difficult.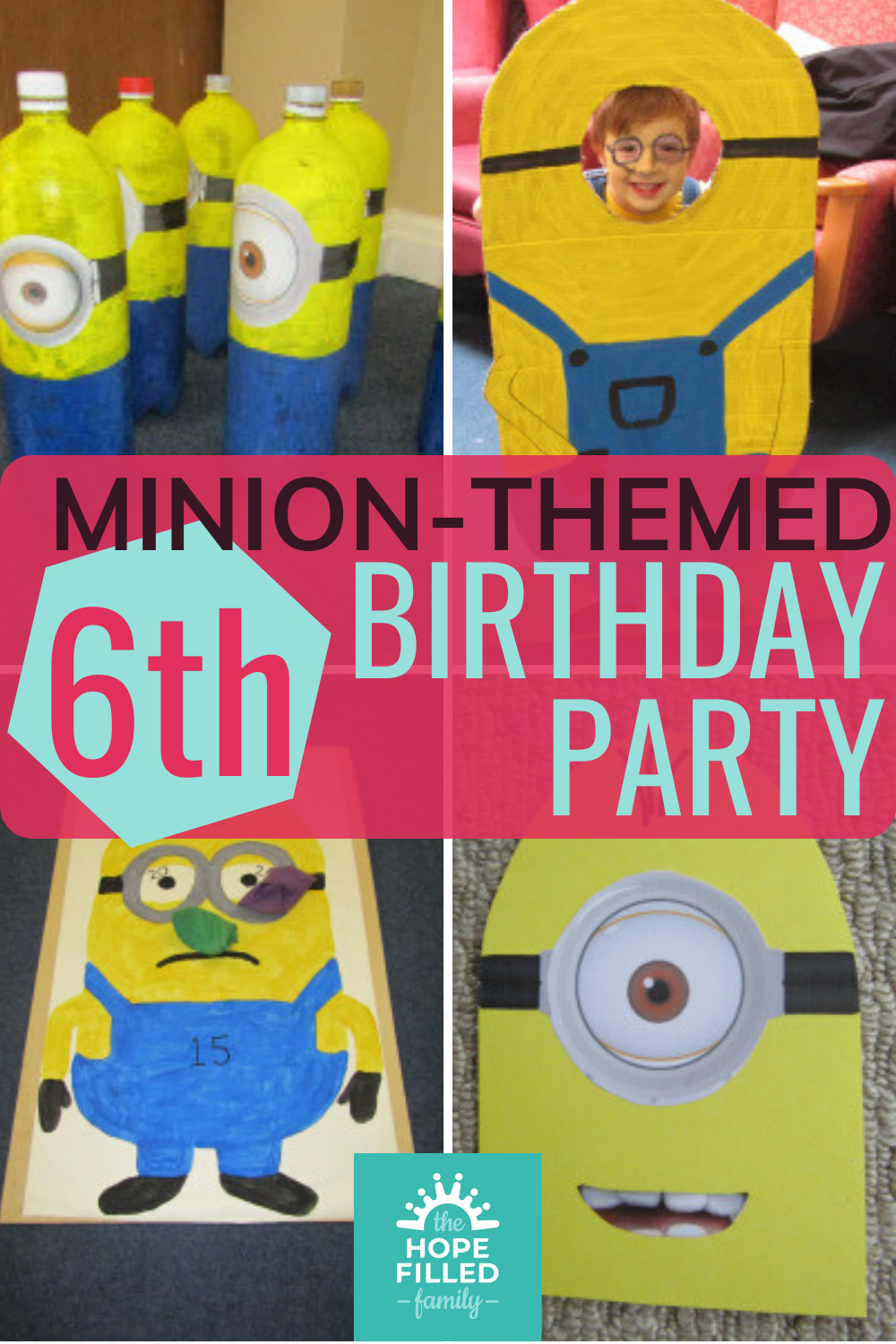 Invitations
The invitations were simple – some yellow card, downloaded Minion printables and a bit of glue. Hey presto:
Decorations
Decorations were easy: yellow and blue balloons, and yellow and blue bunting made in the quick and cheap way I did for Missy's Frozen-themed 4th birthday party:
Activities
We chose to hold the party in our church hall, because even three boisterous boys jumping around our lounge is one too many, and the Autumn birthday timing doesn't guarantee being able to use the garden. So I set up a few activities which the kids could get involved with as everyone was arriving.
Face painting and tattoos:
a Minion photo-booth:
Minion skittles:
a make-a-Minion craft table:
and a penalty shoot-out, because you can always have one of those when you're 6, Minion-themed or not:
Volunteers
I have to say that one sterling decision for this year's party was finding a team of kind friends who wanted nothing more for their Saturday morning than to rock up to a church hall and entertain 20 or so small children.
I'm indebted to my friends Izzy, Sam, Mike, Bethan, Leanne and Naomi, who did an incredible job of cooking the food, running games, painting faces, and generally encouraging the kids in the right direction.
Games
We played "What's the time, Mr Gru?", which everyone was incredibly good at – good thing I'd bought shed-loads of pound-shop prizes because pretty much everyone came in 1st place. Note to self: make this game harder next year. (Hopping?)
Here's my grumpy husband as Gru. He makes a good Gru, don't you think?
We did a bean-bag toss:
and pin-the-eye-on-the-Minion:
We also did a scavenger hunt, putting the kids into teams where they had to find a list of 8 easy-to-read items from around the church hall and outside area:
The kids played Traybash outside – a fantastic game where you try and knock over your opponent's tray using a newspaper club, whilst they're meanwhile trying to knock yours. Here's the hubbie and a friend demonstrating how violent it can get:
And here's Mister having a go:
Food
Lunch was chips, hot dogs, burgers and corn-on-the-cob (Mister's favourite) with a chocolate fountain for pudding. They ate fruit and they didn't even know it. Ha.
Of course there was a Minion cake – fortunately no biscuit towers for me this time round:
Party bags
I struggle with party bags and always have done. I don't want to spend a fortune, but neither do I want to fill them with plastic rubbish – much as the kids like it. (Check out my ideas for 50 Plastic-Free Party Bag Fillers!)
So this time I stuck to sweets, which will rot their teeth but maybe won't do as much harm to the environment, which will be around a heck of a lot longer (we hope).
Then everyone got to pick a lucky dip prize as they left – as well as the obligatory slab of cake, any prizes won from the games, and Minion craft.
And now I never want to see another Minion again.