I use affiliate links in some blog posts. If you click through and make a purchase, I earn a small commission at no extra cost to yourself. Thank you for your support.
When I wrote about why we were sending our son to a school in special measures last summer, it got a big response.
We're now half a term in to our son's school career.
Forget what he's learnt – I feel like I've been on a hugely steep learning curve since term began. And already God has graciously affirmed the decision He led us to make regarding our son's schooling – time and time again.
Here are some of the things I've noticed.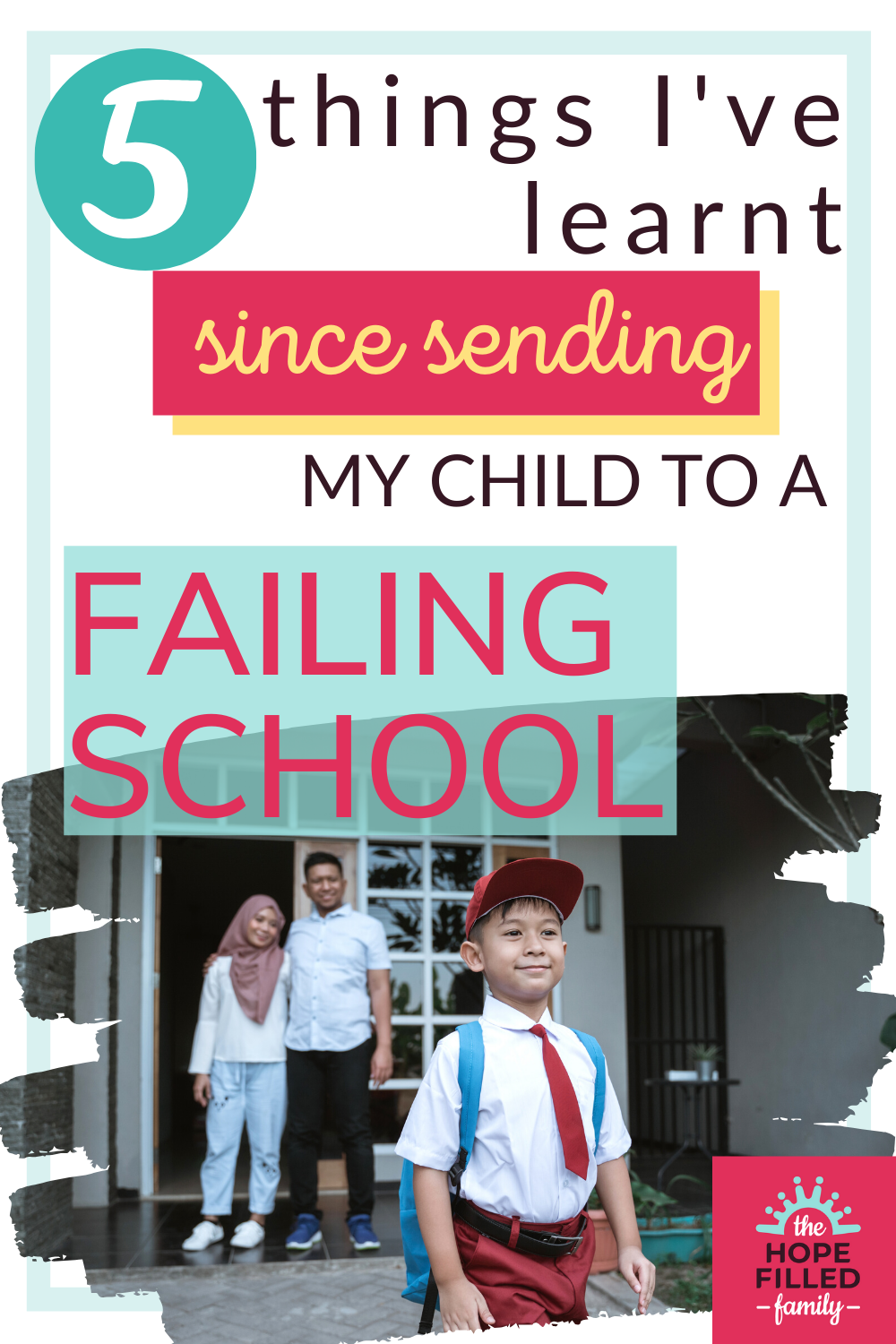 Those from tougher backgrounds are often more open and honest
We who have been lucky enough to have more advantages in life do feel the need for a facade, don't we?
All through life – whether on UCAS forms, CVs, in job interviews, on dates, and in social situations – we learn (indeed, we're conditioned) to hide our flaws and promote our positives.
This term, I've had people I hardly know share pretty deep and personal things with me during a brief exchange in the playground. I've had to learn how to hide my shock at what I may have been told, and replace with sympathetic nods and words.
There is no facade, no pretending that life is OK when it's not. I find it refreshing. I'm learning how to be open about my weaknesses, my mess, my falling apart. As new friends start to enter my home, I'm remembering that mess and dirt are OK – they're the reassurance that I don't have it all sorted. And hospitality is the ultimate display of our vulnerabilities.
I'm suddenly embarrassed by what we own
Exacerbated by the onslaught of new Stuff from the kids' birthdays, I'm seeing afresh just how much we have – not just the quantity, which we try and keep on top of, but the quality.
I've never been one for designer brands, and mainly buy my clothes from charity shops, but walking through the playground in my Hunter wellies while my kids ride their expensive scooters does make me realise how privileged we are. I wouldn't go back to leaky wellies, or heavy, hard-to-manoeuvre scooters – but where do I find a sensible balance?
Difference doesn't matter – integrity does
There is no shying away from it: I look different to a lot of the other parents.
On weekdays the ones who look like me trundle past our house to take their offspring to the More Middle Class School Down The Road.
But perhaps I'm not so different to the other mums I'm meeting after all. I'm not going to dress differently, disguise my non-local accent or pretend I don't live in the huge house opposite the school (although I will remind people, ad nauseum, that we don't pay for it, it comes with the job).
To do any of this would be ingenuine – it would be an insult to those I'm meeting, as if I were saying to them You couldn't possibly want to be friends with someone like me. How arrogant and patronising. If I'm open to getting to know other mums, then they will want to get to know me too. We will find there's more in common than we thought.
A simple greeting breaks the ice
I'll be honest: there have been times when I've stood in the playground and felt like some weird social experiment – a misfit, an oddity. What am I doing here? I imagine the worst of those standing next to me: they're looking at me weirdly, I've offended them, they hate me. 
If I'm brave enough to be the first to smile, the first to say hello, then I discover no such thing. In fact, perhaps they were thinking the same about me. We break the ice, we connect.
I can refer to 'my husband', not 'the kids' dad'
Our kids are so lucky to have an amazing dad who lives with them and is fully invested in every part of their lives. Not only that, but he's made a commitment to me and to them. He's shown us that he's in this for the long haul.
I've been reminded that this basic father-child relationship, which all children should have, is more the exception than the rule. For our kids to be living with the grown-ups who are actually their mum and dad – well, that's quite the novelty.
>>Check out Five Ways to Help your Child Succeed in School<<
I bet your kids have been learning loads at school this half term – but what have you learnt? Do share your thoughts…I'd love to hear them 🙂