I use affiliate links in some blog posts. If you click through and make a purchase, I earn a small commission at no extra cost to yourself. Thank you for your support.
Is anyone else scrabbling about, the day before Fathers' Day, trying to think of a suitable gift for their kids' dad?
Or is it just me?
DesertDad is incredibly difficult to buy for. He doesn't really want anything, bar a decent whisky, and then I'm caught between whether it's appropriate for kids aged 4-9 to gift a single malt, or whether something handmade (and, let's be honest, probably involving glitter) might be more suitable.
We've also been decluttering this past year, so are both aware of not wanting to add to our home with something unnecessary.
If you're in the same boat as me, I have a surprise for you this Fathers' Day weekend. Admittedly, it will make a late gift by the time it arrives, but hear me out: this book would make a wonderful gift for a special Dad in your life, especially an adoptive Dad, or a Dad who is considering adoption.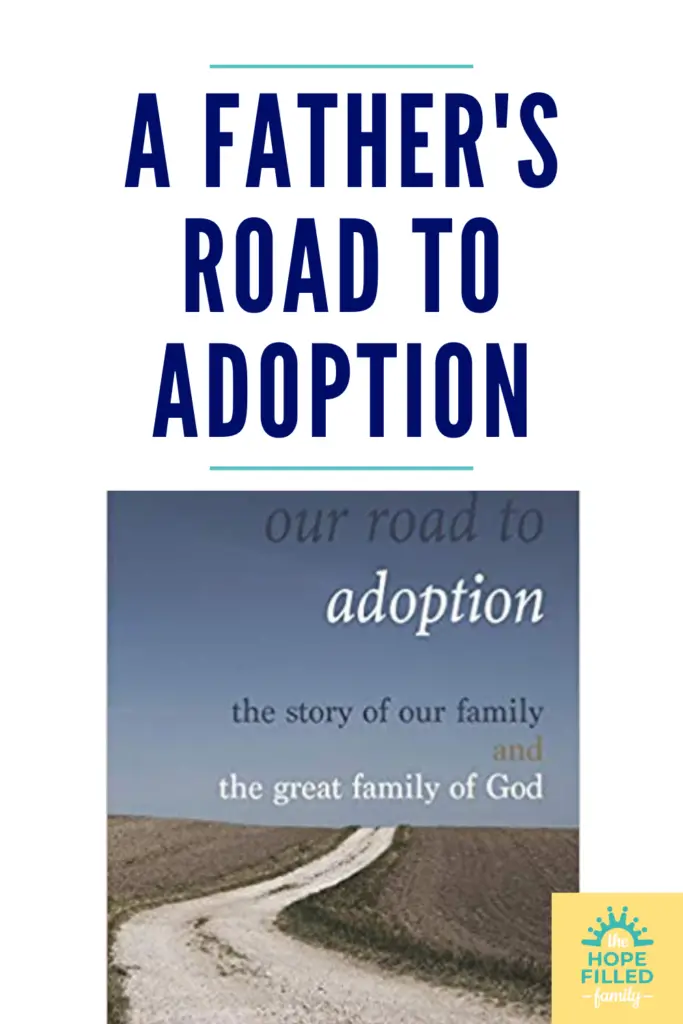 Earl Robinson and his wife Rebecca moved to the UK from the States over a decade ago to lead a church here. They gradually sensed a call to adopt, and the story of their journey has now been written up by Earl to encourage others. Being Fathers' Day, I thought it'd be apt to share a book written by a father.
Our Road to Adoption is full of interesting twists and turns; being US nationals living in the UK, the process was far from straightforward for the Robinsons. I don't want to give the game away, so I'll stay deliberately vague on the plot-line here, but suffice to say it's an interesting story.
Earl kept a blog during the three years that the couple were exploring adoption, and extracts from this blog appear throughout the book, giving a rawness to the emotions at every stage of the journey.
It's never a pessimistic read, though: I've not met Earl, but he sounds like an incredibly upbeat kind of guy – it's hard to imagine him getting stressed by anything. (Although perhaps by now, as the Dad of three adopted girls, he'll have had some Moments…) I love Earl's optimistic, hopeful edge throughout the book, particularly as the couple had to face long periods of waiting and uncertainty, times of great joy and times of disappointment.
The book is also interspersed with provocative reflections on different Biblical characters, drawing on Earl's experience as a church pastor and Bible teacher. I enjoyed these: they made me think and consider wider aspects of discipleship related to, but not restricted to, the theme of adoption.
I've recently been struck by how important it is to write up our stories, as well as those of others. In a world full of despair, injustice and political mindgames, we need to be encouraged – more than ever – by the fragments of light and hope which exist through normal people stepping out and doing something to make a difference.
That's what this book does: it tells a story of hope, of light, of encouragement, of two disciples being faithful to God's call. It tells the reality of the adoption process – the good stuff, the tough stuff and the in-between stuff – and would be of real encouragement to those in the adoption process, those considering it, and those – like us – who are a few years down the line.
Earl's written style is chatty and informal – it took me a little while to adjust, but once I did, I found it very endearing and readable.
And of course it doesn't need to just be read by Dads!
If you'd like to read some teasers of Earl and Rebecca's story, you can catch them on Home for Good, Country Child (parts one and two) and Adoption Now.
>>Read our adoption story here