I use affiliate links in some blog posts. If you click through and make a purchase, I earn a small commission at no extra cost to yourself. Thank you for your support.
I can't imagine how it would feel to have no father.
I can imagine a remote father – detached, preoccupied, no space in his life for children. I can imagine his regret and guilt at having been talked into a family he never really wanted – or, perhaps, the absence of regret and guilt, as time starts to justify the distance that's grown between him and his kids. I can imagine the loss, the sadness, the shut-down, the self-preservation of the children who long for his time and know they will never get it.
But I can't imagine no father at all.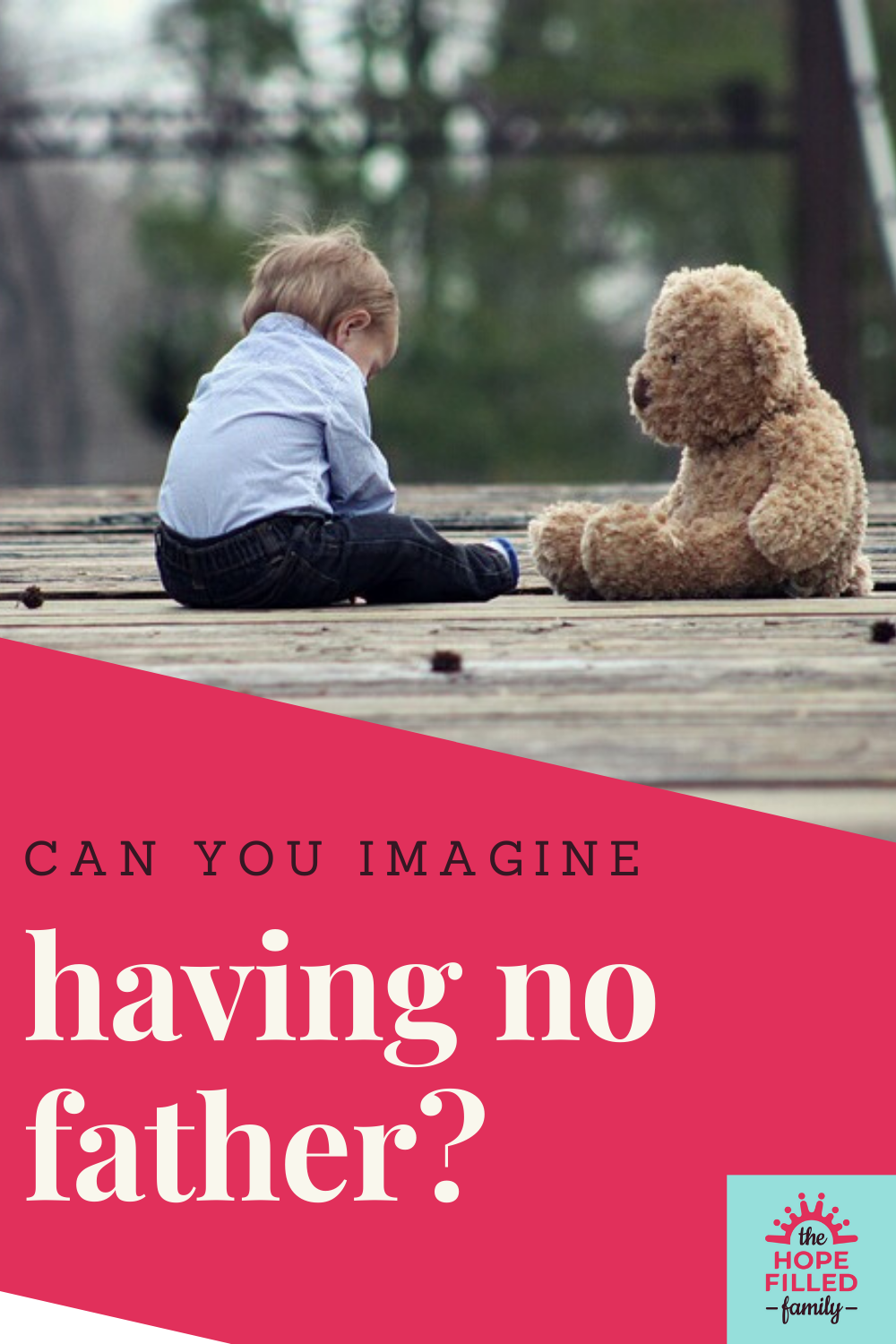 I can imagine an absent father – living in a different town now, perhaps with a new wife, new life, new kids – remembering birthdays (or not), sharing a week together every summer, occasional weekends. I can imagine the awkwardness for a child struggling to fit into a different family every now-and-then, having to adapt behaviours and routines for different sets of parents.
But I can't imagine no father at all.
I can imagine a neglectful father – leaving everything to Mum, putting his own needs first, not noticing the children who require his help to regulate their emotions, because he can't yet regulate his own. I can imagine the children who grow up thinking this is what family life is like: Mum raises the family, Dad does what he likes.
But I can't imagine no father at all.
I can imagine an abusive father – letting his anger control him, free-flowing with the insults, the lies, the manipulation, the fists. I can imagine – although it pains me to write it – a father who cannot control his lust, who does the unthinkable, who abuses the trust of those who have no one else to rely on.
But I can't imagine no father at all.
No father? Obviously, at some point, there must have been.
But was that a father? Or was that a few drops of bodily fluid, moving from one body to another? Two lucky sperm which made it, which kick-started two new lives, unbeknownst to the person who ejected them from their being?
And now, somewhere, that person walks free, unaware of the lives he has created. He may pass them in the street – or he may be living on the other side of the world – and we will never know. Was he old or young? Tall or short? Does he have other kids? A wife?
I can't imagine – because the possibilities are infinite.
What was his ethnicity? Was he unemployed, or was he a CEO? Was it a romantic liaison, or a one-night stand? Did he pay?
Okay, so maybe I am imagining. But imagination usually starts with reality – and here, there is no reality to know of. No clues, no evidence, no memories and no one to ask. With endless possibilities of what this sperm-donor may have been like, I'll likely never guess the real him.
And the kids – how will they respond? Not just knowing little, but knowing nothing. Future Fathers' Days, when they're old enough to understand. "Best dad" cards taking on a new meaning. Adolescence, and wondering whether emerging character traits come from him. DNA tests when they meet their future partners.
There wasn't really a father. What might have turned into one was actually just a couple of seeds, fertilising a couple of eggs.
But God likes seeds. Faith as small as a mustard seed can move mountains. Seeds planted in good soil will produce a healthy crop.
And a seed from a man can fertilise an egg, creating a life which God dreamed up many millennia before it happened.
You see, there is a Father after all. A Father who was intentional and loving from the start. A Father who wanted these children to be born into his world, to take their place in family life, to come into relationship with Him.
Yes, it matters that there is no earthly father. But no, it's not the end of the story.
> Dear World: My Adopted Children are also My 'Own' Children – Please don't differentiate