I use affiliate links in some blog posts. If you click through and make a purchase, I earn a small commission at no extra cost to yourself. Thank you for your support.
Pretty much every parent I know wants their child to love reading. And pretty much every parent I know hits a point where they're not sure what their child should be reading, what's good for their age group, or what they might be 'into' next.
We're constantly having these battles at Casa Rycroft. Mister and Missy, now aged 10 and 8 respectively, are tough cookies to crack when it comes to books.
Mister knows what he likes (The Diary of a Wimpy Kid series, any football-related books, and the entire David Walliams oeuvre), and reads them religiously. He's hard to introduce to a new novel.
Missy would much rather write than read (hello, gene pool) – so, despite being a confident and fluent reader, getting her to read anything is a challenge. She's a stubborn old mule, and when she finds what makes her tick, she goes for it head-first – but until then, she's happy to coast along.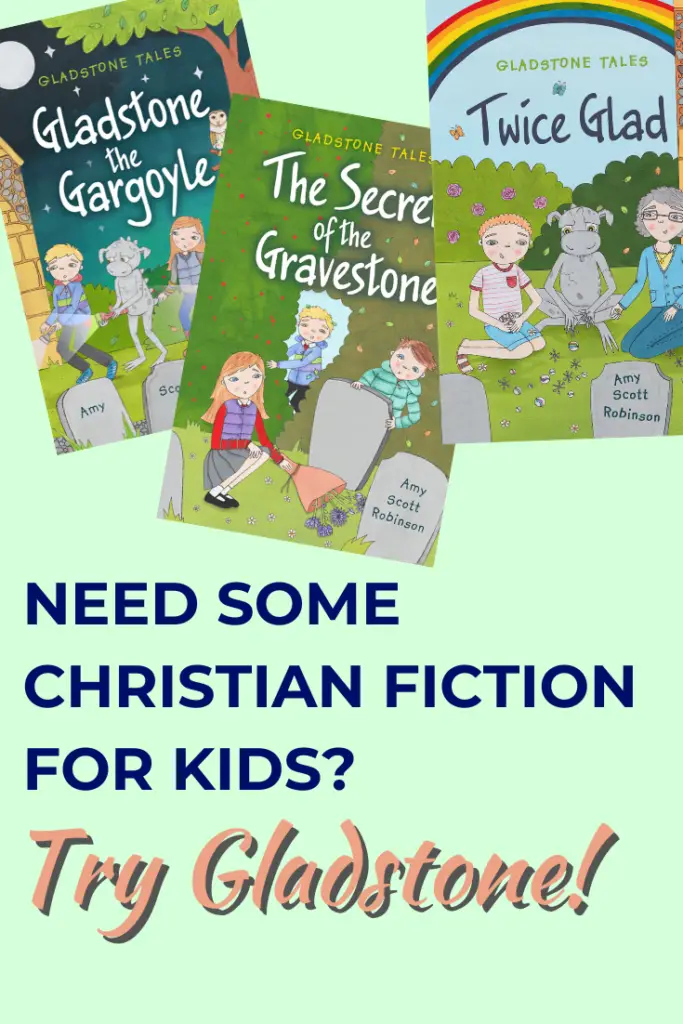 So when my friend Amy told me about her new Gladstone Tales trilogy, aimed at 6-8 year olds (but, let's be honest, any age suggestions where kids are concerned are to be taken with a huge pinch of salt), I was excited.
Amy Scott Robinson is a Christian author, and as our children have enjoyed Patricia St John books in the past, I was keen to introduce them to some more Christian fiction.
Knowing that neither Mister nor Missy would be persuaded to read a book by a new author by themselves, we read the first in the trilogy – Gladstone the Gargoyle – together as our bedtime story.
The story
Zach, 10, has recently moved from London out to the country, and is determined not to like his new life. Living opposite the village church, one day he spots a gargoyle who has fallen from the church tower, and is rather taken aback when said gargoyle turns out to be able to talk and walk!
The quest to put Gargoyle back on top of the church tower leads Zach not only to making new friends, but to the solving of a mystery from years ago, not to mention a gentle, subtle message about the role of church in our lives.
What I thought
Amy is a master storyteller. Not only does her incredibly vivid imagination conjure up such a unique plot-line, but she has the ability to tell this story beautifully, with carefully-chosen words to keep the narrative moving for younger children.
A particularly lovely aspect of the book is that one of Zach's new friends has some obvious learning difficulties which are never diagnosed – Amy leaves us to draw our own conclusions. However, it is this character's unique gifts and talents which are focused on throughout the book. For a child who struggles in similar ways, seeing themselves reflected in this character will only be a positive thing, and I applaud Amy for embracing diversity in a way which is thoroughly inclusive and 'normal'.
What my kids thought
The chapters are short, as is the whole book, and there are engaging line illustrations throughout. A 5-year-old would enjoy having this story read to them, yet my 10-year-old didn't feel it was too 'young' for him – in fact, he was very much engaged throughout the book, especially at the end when there's a rather exciting finale – I'll say no more!
Missy enjoyed the book too – it took her longer to get into it (this is typical of her with new books), but by the last couple of chapters she was hooked, and neither child would let me leave until the story was finished!
So what is 'Christian fiction'?
The 'Christian' element of this book was subtle and thought-provoking. As far as the reader is aware, none of the main characters are Christians. But Amy cleverly uses the existence of the church in the village to create a backdrop for some subtle messages of faith and belonging.
It's never preachy or blunt – and this is where I think Christian fiction has a really important role to play in the lives of our kids.
Yes, there is very much a space for children's Bibles, Bible reading notes, Bible story re-tellings and biographies of Christians. I love that our children have plenty of these books – and we often recommend our favourites to you on this blog.
But sometimes it's important to place our faith within the wider context of life, where our children are encouraged to view a familiar scene (for example, moving to a new school) through the lens of faith. This is where Christian fiction – and, in particular, the Gladstone Tales – comes in.
I'll definitely be popping books 2 and 3 in Mister's stocking this Christmas. Entitled 'The Secret of the Gravestone' and 'Twice Glad', I know he will be excited to read more of Gladstone's adventures!
What fabulous fiction have you and your children discovered? Christian or secular? Do tell in the comments below!
>>10 Stocking Fillers to Nurture Faith for 5-8s
>>Window on the World – book review