I use affiliate links in some blog posts. If you click through and make a purchase, I earn a small commission at no extra cost to yourself. Thank you for your support.
Here in the UK, we're coming to the end of our school year – some of you may have already finished, while others of us have another week to go (roll on, July 19th!).
I wonder how the last year has gone for your kids? Did they work hard? Exceed expectations? Cement some fabulous friendships? Develop a prowess for science, or history, or art?
Or did they struggle with difficult friendships, a teacher they didn't click with, academic expectations they couldn't quite meet?
If this sounds familiar, then I'm so thrilled to be able to offer you and your child the most wonderful of encouragements this weekend.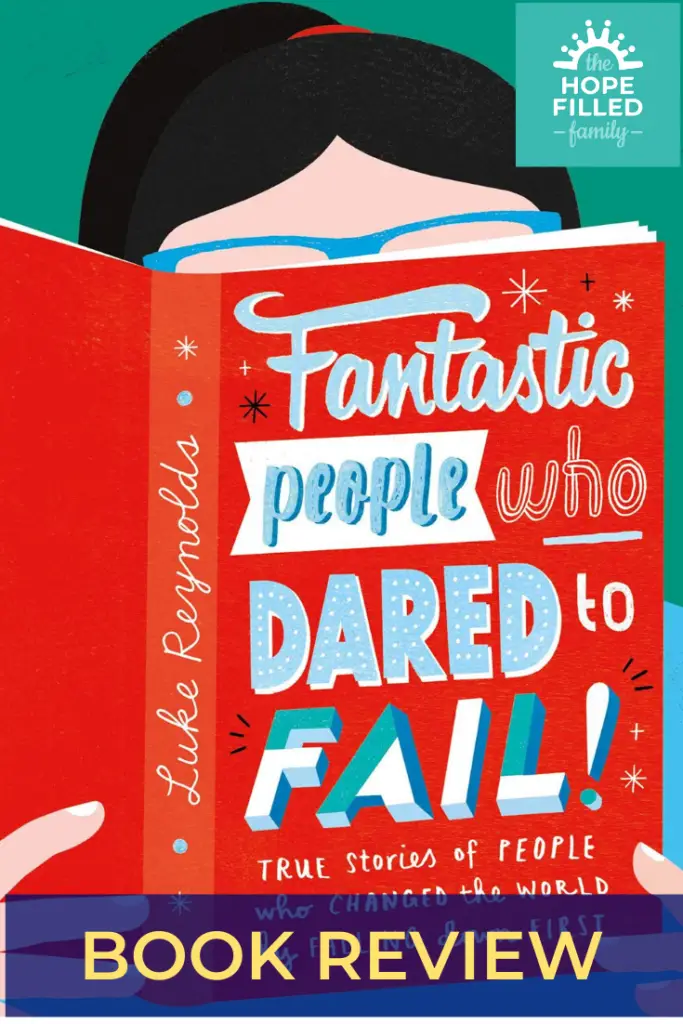 Fantastic People who Dared to Fail is a compilation of over 30 people who 'changed the world by falling down first', as the book's subtitle explains. These people have two things in common: 1) they've done something incredible in their field, and 2) they had to overcome massive challenges in order to get there.
We all know the story of J.K. Rowling being turned down by multiple publishers before finding success with the Harry Potter series, but how about Temple Grandin, who was expelled from school because her teachers didn't know how to deal with a student with autism – and yet went on to develop incredibly complex cattle technology, now widely used by farms across the US and Canada?
Or how about Shamayim Harris, who lost her 2 year old son in a tragic accident, but instead of wallowing in grief, chose to fuel her loss into transforming her deprived neighbourhood, starting transformation projects galore to ensure others would have the future her son wouldn't have?
Or Charles Dutton, who spent nine years in prison after fatally stabbing another man – but, while he was there, came across a book of plays, which inspired him, upon his release, to go back to college and study drama, eventually becoming a successful Broadway actor?
Each story is told engagingly by author Luke Reynolds, who then turns it into a challenge geared towards an older child or teenager: what can we learn from this person's story? Is there some way we can be encouraged through what we feel we've 'failed' at, or through the difficult times we've been through?
I love the way Fantastic People is so diverse. Those featured come from a huge variety of different countries, and represent different disciplines: sports, politics, film and theatre, writing, visual arts and more.
Another thing I really appreciated about the book was that not all those featured are particularly well-known. Initially, I was disappointed not to see more names I recognised.
But as I read on and on, I realised this was a huge advantage. After all, not many of our kids will become famous, but this book proves that you don't have to be known by millions in order to make a huge difference to society!
The book is aimed at 9-14s, but I'll let you into a secret: I've been reading it for myself.
Yup, that's right. And I've found it super inspiring too. So please don't feel you need to have a 9-14 year old to read it to.
Many of the stories would make great bedtime reading for a younger child too (although with a little censorship, as some of the stories discuss issues like rape which might not be so appropriate for a child outside the recommended age bracket). And I reckon older teenagers would get much from this book too.
You can get your hands on a copy or three right here on The Book Depository, Amazon or Wordery.
Check out other books my kids have enjoyed: