I use affiliate links in some blog posts. If you click through and make a purchase, I earn a small commission at no extra cost to yourself. Thank you for your support.
If you're wondering how you'll ever have time to read again since your child/ren came along, I'm totally with you.
It took me several years after becoming a mum to get into a regular reading habit. And I LOVE reading. But life as a new mum was so full-on that there seemed very little time left over for indulging in a hobby.
A couple of things changed. First: I realised that I need to make time for myself, and reading is one of those things which 'fills my tank' to be a better and more present mum.
Second: I remembered that we make time for the things we value. So I started to make time, even if only 10 or 15 minutes before bed. Even if it was already late, I'd say to myself, "It's not the book's fault I'm late to bed – I'm already late, why not relax for 10 minutes with a book?"
And third: I was blessed to find some excellent, easy-to-read and short (ish) books which I could actually read, absorb, enjoy and finish. (This last one is hugely important for me as a starter-finisher!)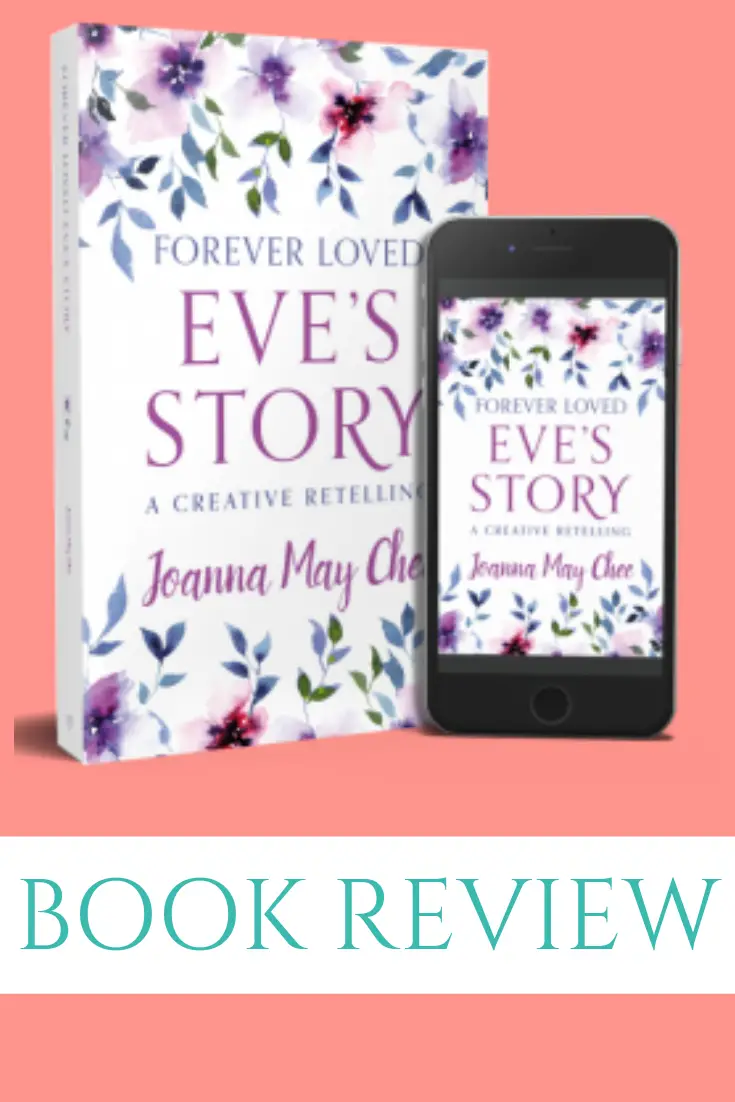 Forever Loved: Eve's Story is one book which meets all these criteria.
I enjoyed Forever Loved so much.
For one, it is short – and, before you dismiss this as an irrelevant point from a literary lightweight, remember that many people don't have lots of time to read. If God's word is to go out as widely as possible – and author Joanna May Chee certainly feels that the message of God's love for Eve is one which needs to be heard by women across the world – then length is important. Not all of us have the time for theological tomes on Genesis, thank you very much.
Secondly, it is highly thought-provoking. As I read it, I was confronted with aspects of Eve's story I'd never noticed before. I don't want to give spoilers, but highly recommend you get a copy and start delving into this rich narrative for yourself.
Thirdly, it is different from any other Christian book I've read. The chapters do not contain the author's commentary on the story of Eve, each headed with a different application point. There would be nothing wrong with this.
But this book is different: the majority of words are dedicated purely to the creative retelling of Eve's story, and so it reads like a novel, but a punchy one. There is an opening section of Joanna May Chee's own story, and the final section applies the story to our lives, but the bulk of the book is simply the story of Eve.
And there is power in this narrative – power in the Biblical story, with nothing added except details which help you pull out even more from the tale.
Honestly, I couldn't believe what I was seeing afresh about Eve's life! If you always thought Eve's story was a sad, discouraging one, Forever Loved will make you think again.
This book would make a fabulous Mothers' Day gift. Or maybe you can think of a friend in your church or small group who needs encouraging – why not surprise them with this? Buy a few copies and save them up to give your girlfriends on their birthdays. It's that good.
Forever Loved: Eve's Story is released TODAY and you can buy it from Eden, Waterstone's, Wordery and Amazon.
Here are some other easy-to-read yet interesting books I've managed to get through in the early years of parenthood: