I use affiliate links in some blog posts. If you click through and make a purchase, I earn a small commission at no extra cost to yourself. Thank you for your support.
If you're looking for some Christian quotes about mothers – perhaps to insert into a Mothers' Day card, or to encourage a mother in your life – then look no further! In this post, I've collated over 30 fabulous quotes by Christians, from the Bible, or linking motherhood to faith in some way.
I've even collated them into a free PDF of gorgeous printables to save you time if you were planning to make a card or create some wall art! You can grab that right here: Images of Christian mother quotes.
From Martin Luther to CS Lewis, Elisabeth Elliot to Sally Clarkson, these quotes are encouraging, challenging and moving. They share the influence of a strong, godly mother; the importance of her work; the legacy she leaves to her children and to the world.
Whether you're looking for something lovely to quote to a friend or stick on the wall – or have just popped on here today looking for a bit of motivation to keep going in the tough calling of motherhood, I hope you find it here within these Christian quotes about mothers!
(And if you're looking specifically for Bible verses about parenting, check out my post 10 Uplifting Bible Verses about Parenting Responsibilities.)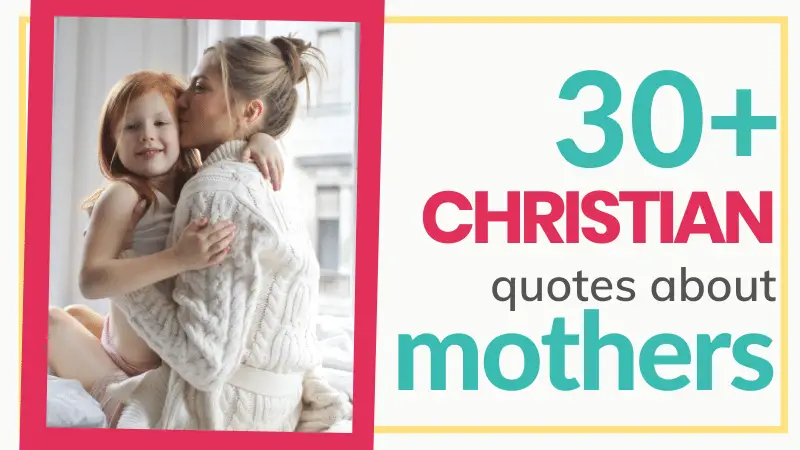 Free Printable – Quotes about Mothers
If you like the quotes on this page, why not download them as a PDF? Each one is unique and makes beautiful wall-art, or to slip into a card or letter. It's my free gift to you!
Christian Quotes about Mothers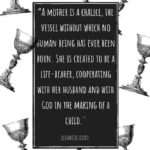 "A mother is a chalice, the vessel without which no human being has ever been born. She is created to be a life-bearer, cooperating with her husband and with God in the making of a child." Elisabeth Elliot
"The influence of a mother upon the lives of her children cannot be measured. They know and absorb her example and attitudes when it comes to questions of honesty, temperance, kindness and industry." Billy Graham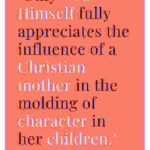 "Only God Himself fully appreciates the influence of a Christian mother in the molding of character in her children." Billy Graham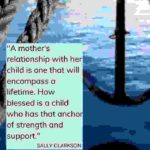 "A mother's relationship with her child is one that will encompass a lifetime. How blessed is a child who has that anchor of strength and support." Sally Clarkson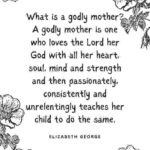 "What is a godly mother? A godly mother is one who loves the Lord her God with all her heart, soul, mind and strength and then passionately, consistently and unrelentingly teaches her child to do the same." Elizabeth George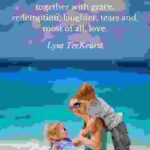 "Motherhood is a million little moments that God weaves together with grace, redemption, laughter, tears and, most of all, love." Lysa TerKeurst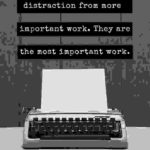 "Children are not a distraction from more important work. They are the most important work." CS Lewis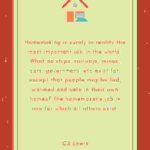 "Homemaking is surely in reality the most important job in the world. What do ships, railways, mines, cars, government, etc exist for, except that people may be fed, warmed and safe in their own homes? The homemaker's job is one for which all others exist." CS Lewis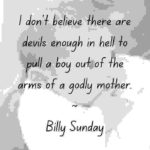 "I don't believe there are devils enough in hell to pull a boy out of the arms of a godly mother." Billy Sunday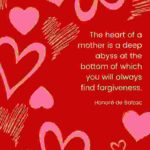 "The heart of a mother is a deep abyss at the bottom of which you will always find forgiveness." Honoré de Balzac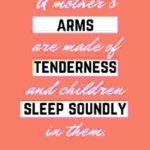 "A mother's arms are made of tenderness and children sleep soundly in them." Victor Hugo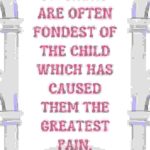 "Mothers are often fondest of the child which has caused them the greatest pain." Victor Hugo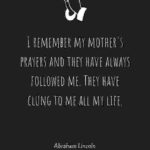 "I remember my mother's prayers and they have always followed me. They have clung to me all my life." Abraham Lincoln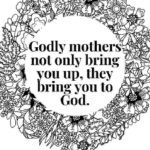 "Godly mothers not only bring you up, they bring you to God." Anonymous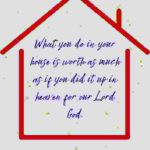 "What you do in your house is worth as much as if you did it up in heaven for our Lord God." Martin Luther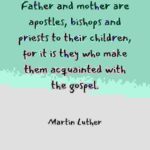 "Father and mother are apostles, bishops and priests to their children, for it is they who make them acquainted with the gospel." Martin Luther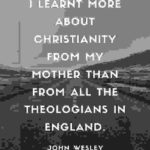 "I learnt more about Christianity from my mother than from all the theologians in England." John Wesley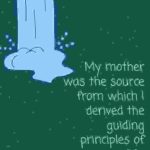 "My mother was the source from which I derived the guiding principles of my life." John Wesley
"Never could it be possible for any man to estimate what he owes to a godly mother." Charles H. Spurgeon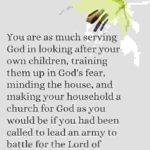 "You are as much serving God in looking after your own children, training them up in God's fear, minding the house, and making your household a church for God as you would be if you had been called to lead an army to battle for the Lord of hosts." Charles H. Spurgeon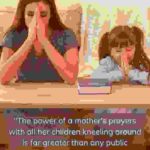 "The power of a mother's prayers with all her children kneeling around is far greater than any public ministry." Charles H. Spurgeon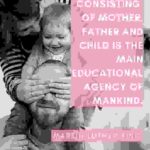 "The group consisting of mother, father and child is the main educational agency of mankind." Martin Luther King
Biblical Quotes about Mothers' Love
(Looking for memory verses? Make sure you check out 100 Short Memory Verses for Kids, along with How do you Teach Memory Verses in a Fun Way? for loads of creative ideas.)
"He settles the childless woman in her home as a happy mother of children." Psalm 113:9
"Truly I am your servant, Lord; I serve you just as my mother did" Psalm 116:16
"But I have calmed and quieted myself, I am like a weaned child with its mother; like a weaned child I am content." Psalm 131:2
"For you created my inmost being; you knit me together in my mother's womb." Psalm 139:13
"Do not forsake your mother's teaching." Proverbs 1:8
"For I too was a son to my father, still tender, and cherished by my mother." Proverbs 4:3
"May your father and mother rejoice; may she who gave you birth be joyful!" Proverbs 23:25
"Her children arise and call her blessed; her husband also, and he praises her: "Many women do noble things, but you surpass them all."" Proverbs 31:28-29
"Before I was born the Lord called me; from my mother's womb he has spoken my name." Isaiah 49:1
"As a mother comforts her child, so will I comfort you; and you will be comforted over Jerusalem." Isaiah 66:13
"Just as a nursing mother cares for her children, so we cared for you." 1 Thessalonians 2:7-8
***
How did you get on?
I hope these Christian quotes about mothers have supplied you with plenty of fodder for finding those perfect words that you're looking for! And if you're after theologically-sound practical teaching on how to connect with God in this hectic season of motherhood, make sure you check out my God-Connected Parent course.
Don't forget to download these brilliant quotes as printables right here!
Which quote is your favourite? Tell me in the comments!