I use affiliate links in some blog posts. If you click through and make a purchase, I earn a small commission at no extra cost to yourself. Thank you for your support.
Holy Week can be a tricky season to celebrate with children.
On the one hand, there is so much joy – Holy Week ends with Easter Day, the ultimate pivot point of all of history!
Easter gives us hope that one day there will be an end to all suffering. Easter reminds us that Jesus – and only Jesus – has defeated evil, once and for all. And Easter reminds us that there is eternal life for all of us – a life secure in heaven, God's Kingdom, with no pain, tears or sickness ever again.
On the other hand, there is a whole load of sadness, anger, betrayal and gory stuff which happens in the days leading up to it. It's not an easy story to share.
So here are some holy week activities you can do with your kids which will help them understand the tricky (and sometimes complicated) events of the days leading up to Jesus' death and resurrection – but which will also be enjoyable, engaging and spark conversation.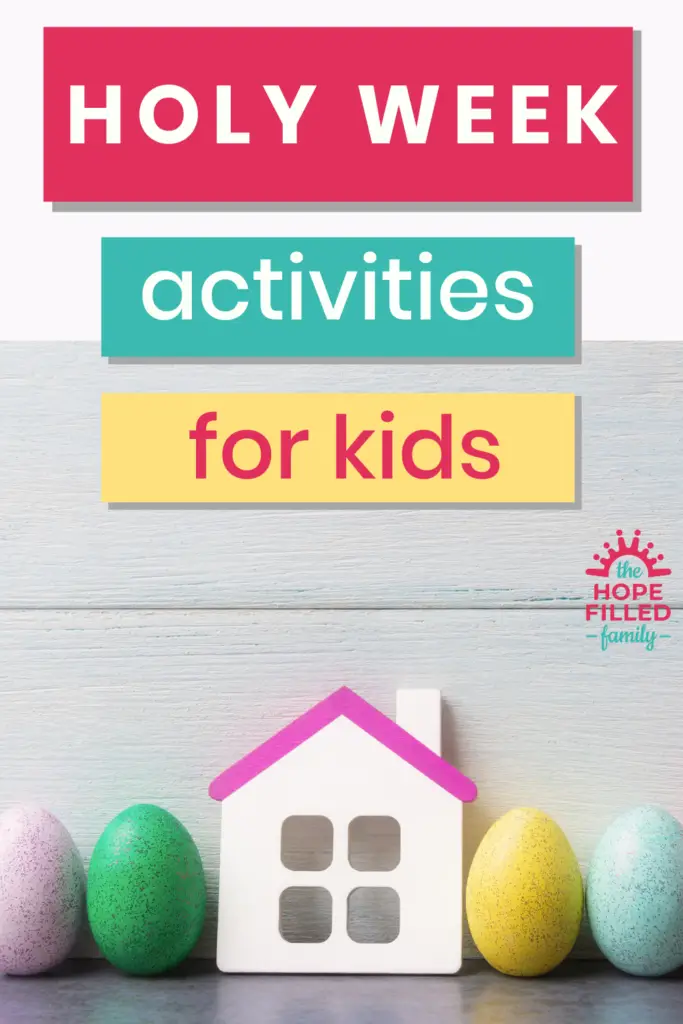 Things to read during Holy Week for kids
Starting on Palm Sunday, why not have a set time each day when your family reads something together to focus your minds and hearts on what you're going to celebrate at the end of the week?
Here are some ideas – but make sure you click the links for absolutely LOADS of ideas in each of those categories!
use a children's bible
read a Lent family devotional
read a different Easter story book each day (or find a favourite and read it every day!)
(for older kids/teens) go through the unabridged Biblical account of the week leading up to Jesus' death and resurrection
set up an Easter basket full of Easter books and resources – invite your kids to pick one each day for you to read together, or encourage older kids to read them in their own time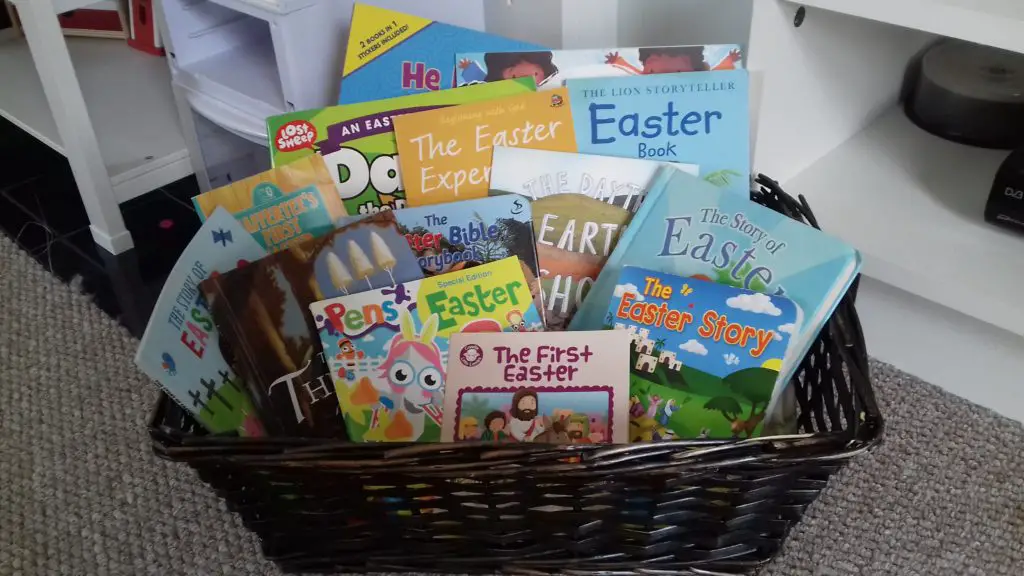 (I've written before about our Advent basket, and I know many of you put together something similar. Why not gather all your Easter books and resources to make an Easter basket?)
Things to make during Holy Week for kids
Pinterest is a minefield when it comes to actually finding decent, workable Easter crafts for your family, but the following have always gone down a treat with our family: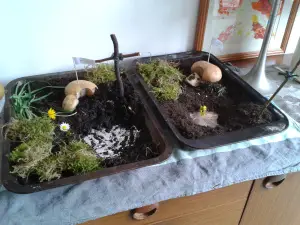 * creating an Easter garden using a tray, soil/compost, pebbles, stick crosses, flower-pot tomb (or a potato works well too)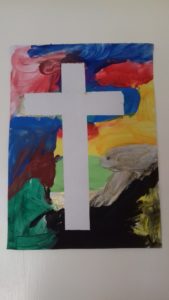 * masking tape crosses – simply use masking tape to make a cross shape, filling the paper, then paint bright colours over it. Leave to dry and remove the masking tape.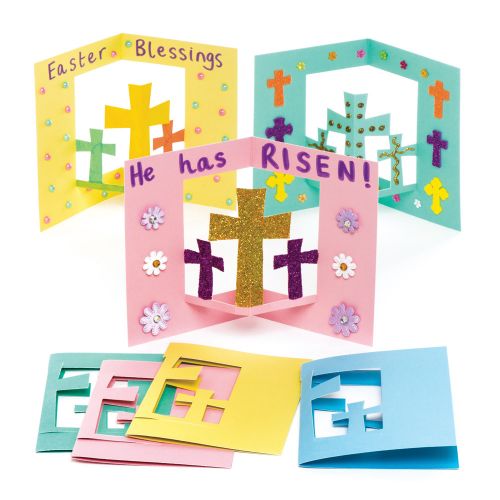 And you could always make Easter cards for friends and family too – your kids get to do something fun and Easter-themed, while those you love receive something special from you in the post. Win-win!
Things to do during Holy Week for kids
There are so many fun ways to tell the Easter story in more active ways. And the lovely thing is that there are events for nearly every day of Holy Week:
Sunday – Jesus arrives in Jerusalem
Tuesday – Jesus clears out the Temple
Wednesday – Judas agrees to betray Jesus
Thursday – the Last Supper; Jesus' arrest; Peter's denial
Friday – Jesus' trial, crucifixion and death
Sunday – Jesus' resurrection! The women at the tomb, the walk to Emmaus.
Why not act these out as a family, write newspaper articles, poems or acrostics?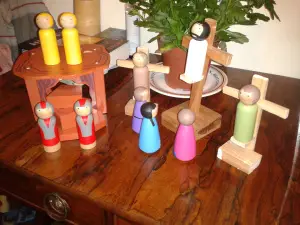 Or perhaps you could gather some Lego or Playmobil figures and create small-world Easter scenes for some or all of the days above?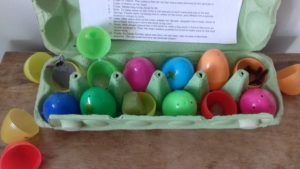 An idea which our kids love every year is resurrection eggs. In fact, as I've been writing this blog post, I've lifted our Easter boxes down to check my recommendations, and our three youngest kids have taken great delight in rediscovering the resurrection eggs!
My DIY Resurrection Eggs blog post shows how you can make a set. It doesn't take long, and even includes printables to make life easier.
Very small children may appreciate a sensory Easter story-telling – let them eat bread and 'wine' (grape juice!), roll some dice, smell some vinegar, do some hammering with a toy hammer or a pair of claves…you get the idea.
On Maundy Thursday, why not hold your own recreation of a family Passover meal? This link will take you to a marvellous guest post from Godventure's Victoria Beech which introduces you to the idea of Passover and how you can sensitively mark this important Jewish festival in a Gentile home. Victoria also hosts this amazing online Passover Workshop over on her site too – we have it, and I highly recommend it.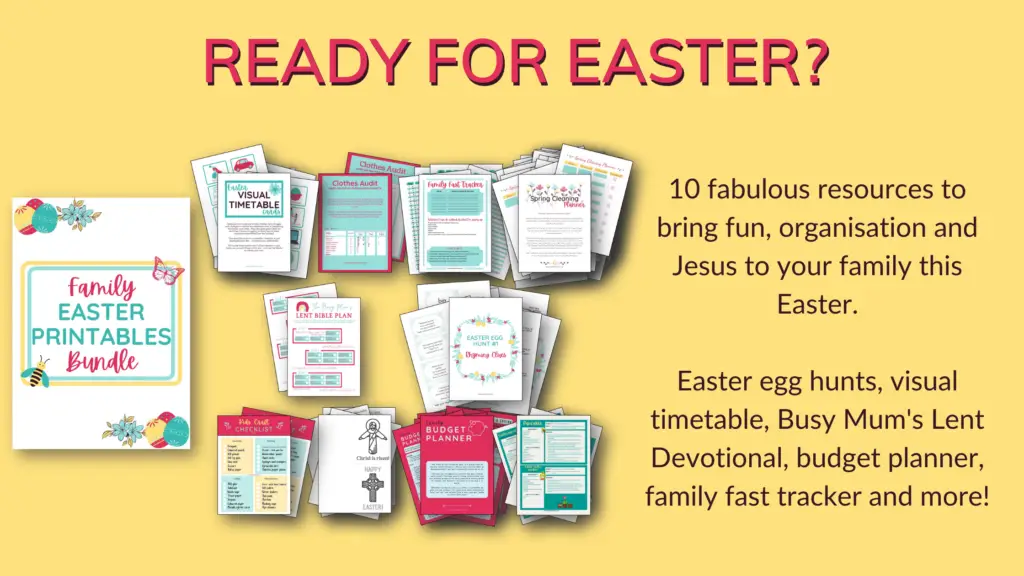 Things to cook/bake during Holy Week for kids
I love Easter cooking with kids – there are so many lovely things to make!
We always make Easter egg nests – they're pretty much a given. (Melt chocolate, mix with cornflakes/rice crispies/shredded wheat, spoon into cupcake cases and fill with mini eggs. Refrigerate until set.)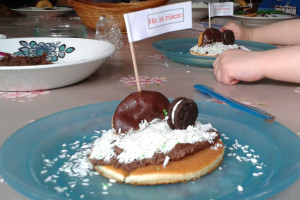 Edible Easter gardens are also fun: use a flat base like a digestive or rich tea biscuit, or a Scotch/American-style pancake. Cover with green icing (or sprinkle with green dessicated coconut if you like it). Use edible biscuits or sweets to make a tomb and stone – An Oreo and a mini egg work nicely, as do a mini chocolate doughnut and a mini Oreo! Add a 'He is risen' flag for extra impact.
(And if they don't turn out well, who cares? You can eat them straight away and no one will ever know.)
Resurrection cookies are so cool, as you make them on Easter Saturday night, leave them in a very low oven overnight, and they 'rise' on Sunday morning! There are different bits of the Easter story to share with every step of the recipe. We made them one year – they turn out a bit like flat meringues and are very more-ish!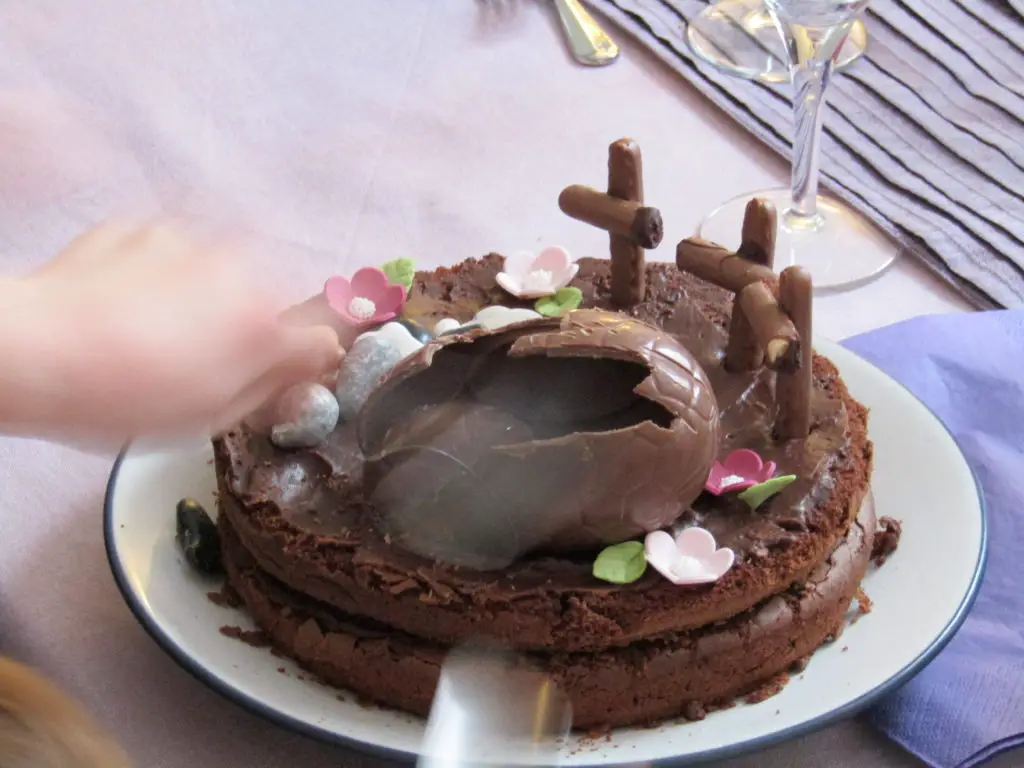 Our final piece de resistance, which has become a Rycroft family tradition, is making a resurrection cake! Any cake will do, but make a simple Easter scene on top using Matchmaker or chocolate fingers for crosses, edible pebbles (not essential but a nice touch!), and – the important thing – a large hollow chocolate egg to act as the tomb. After Easter Sunday lunch, the kids smash this open with spoons and remember that the tomb was EMPTY! Hallelujah!
Easter Egg Hunts for Holy Week
Surely every kid's favourite Holy Week activity is to go on an Easter egg hunt?
The simplest way is simply to hide small, wrapped eggs around your home or garden (or a nearby park) and invite your kids to try and find as many as they can.
But it's also fun to go on a bit of a treasure hunt. And, because we're all up to our eyeballs, I've saved you some work by creating three clue-based Easter egg treasure hunts that will work in any home.
One is a rhyming Easter egg hunt, another is based on the Easter story and the third one uses single word clues, ideal for any child who is just learning to read. You can find them in my Family Easter Printables Bundle! Muchos fun.
Easter Sunday
On the day itself, make it as special as you can muster. Why not share an extravagant breakfast together before you head off to celebrate with your church family?
When it comes to your main meal, have whatever your kids will consider a great treat. If that's pizza and chips, go for it! If a takeaway makes life less stressful, order with my blessing! Don't bust a gut over roast lamb if no one's going to appreciate it.
How about watching an Easter movie in the afternoon? The Miracle Maker is a great choice, or The Prince of Egypt (because of the parallels in the two stories).
Have fun!
I've shared even more ideas in my blog post 30 Simple Lent Activities for Families, so do go and check that out!
Whichever Holy Week activities you engage in this year, I hope that you and your family draw closer to God doing it. I hope that all of us will understand Jesus' victory in a more powerful way. And I pray that the foundations we're laying down now will pay dividends in our children's lives as they grow up with Jesus by their side.