I use affiliate links in some blog posts. If you click through and make a purchase, I earn a small commission at no extra cost to yourself. Thank you for your support.
It was never meant to be the case.
The kids and I often walked past the fag-smoking, obscenity-shrieking parents at drop-off or pick-up time, but I knew we'd not be living here when the time came to make a Decision. As a teacher, the school did provoke my curiosity – but there was no point wasting time or energy finding out about it.
And then, gradually, as God revealed plans for us to stay exactly where we are, ministering in this area and living in this Vicarage, the Hypothetical turned to Actual. We were Actually going to have to make a decision – and this establishment, with its poor test results and shocking attendance figures, was our catchment school.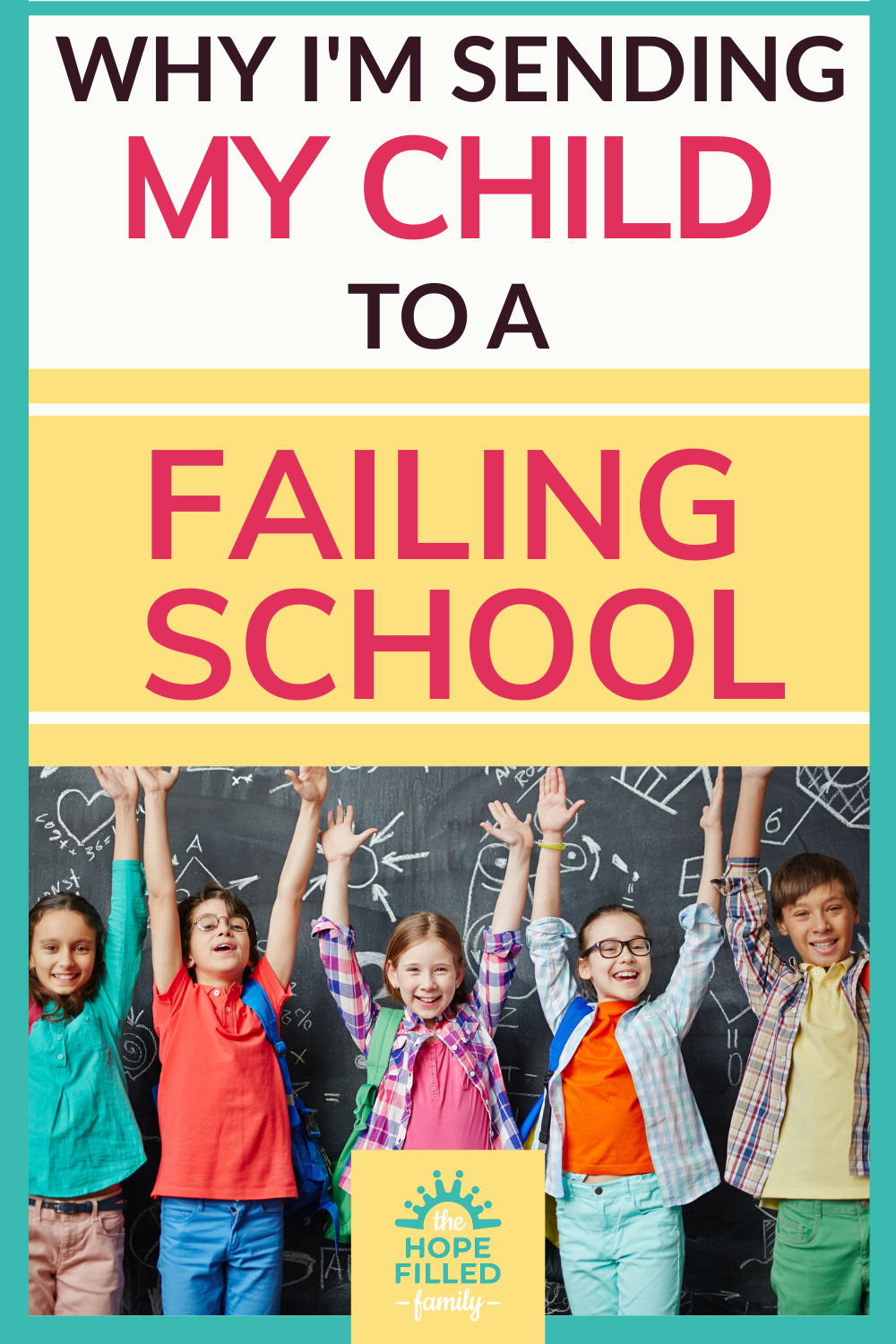 The head of Mister's preschool had warned us of the 'rough families' this school attracted, and advised not to go near it with a barge pole. Our next-door-neighbour's daughter, having spent a few weeks in the school, was told by one of the teachers that there was a "much better school down the road", with the implication that this intelligent young girl would be better catered for there. She promptly moved school.
With these less-than-savoury second-hand impressions, you might have wondered why two Oxbridge-educated, qualified-teacher parents didn't consider the 'better school down the road' – after all, the 'better' school is less than ten minutes' walk away. Hardly unjustifiable in terms of the whole Sending-Your-Child-To-The-Local-School ethic.
But, as we found ourselves falling more and more for this area, so we found ourselves falling more and more for the school over the road.
Going into special measures last year (the lowest rating given by Ofsted, the national inspectors for schools) was the best thing for the place. There's a new headteacher, new staff, new equipment, and stacks of funding for improving just about everything. The school has an optimistic feel. The children we've seen have been on task, polite and friendly.
This is one of the reasons we're entrusting our son to the school for the next few years. Another is because, as a teacher, I want to see this school improve, and know that it can only go so far unless it has a majority of parents who are committed to the place. We're hooking up to this increasing mass of supportive families, and can't wait.
But that's only a fraction of it.
For each loud-mouthed mum screaming at her many, many kids outside the school gates, there are ten others who we don't see because we don't hear. They support education. They support the school. They want to do what's right for their child. Actually, they're not too dissimilar to me.
And the loud-mouths and the invisible ones – well, that's just surface stuff. Underneath, there are a lot of hurting families living in poverty or chaos or both.
I know this because all Reception kids are given breakfast during the first part of the school day. This is not a Breakfast Club for rich, working parents – this is because not every child will get breakfast at home.
Also, we were told that it would be really good  if we could label all our kids' clothes – but not to worry if we didn't manage to do it, as the Reception staff would do it for us. In my sheltered Home-Counties upbringing, I never had to worry about my clothes being unnamed – but if you're attempting to raise your family in the midst of abuse, debt, relational breakdown or whatever, whether to go iron-on or permanent marker is the least of your worries.
We need to be in this place. We need to learn that privilege is the exception, not the rule. We need to get to know families who can educate us about what life is like for them. We need to develop empathy, and discover how we can best serve those who struggle.
We need to be here because Jesus would be here. It's time to stop ignoring the poor.
Now please understand that I'm not criticising anyone who, in the same position, would have made a different decision. We each have different and complex criteria surrounding the decision-making process when it comes to our children's education, and I'm not the one to judge.
All I know is that when Jesus returns, we will need to account for the decisions we made – and, on this occasion, we feel convicted that this is the choice God is calling us to make.
Am I concerned for my son? That he will learn to swear? That he will follow the wrong ringleader? That he will be bullied?
Yes – but no more than I would were he going to any other school.
In fact, the environment he'll be going into has made me pray all the harder for Mister: that he would be a leader, not a follower. That he would stand up for good. That he would be kind to others. That the prophetic word given at his dedication service – "touched by the hand of God for his generation" – would start to bear fruit.
God is in this school – and, we believe, wants to bring many of its students, parents and staff to know Him.
Sending Mister to this school was never supposed to happen – but, actually, it's no mistake.
<<Check out why, two years on, we were happy to be sending our daughter to the same school>>