I use affiliate links in some blog posts. If you click through and make a purchase, I earn a small commission at no extra cost to yourself. Thank you for your support.
Back in the days when I had two small, preschool-aged children, I used to dread the long summer.
Throughout term-time we enjoyed a range of toddler groups and classes (like our wonderful Suzuki Music group), but when it came to the summer holidays, these all closed down. The friends who I'd usually hang out with for playdates and catch-ups would be off doing family things for different chunks of the summer. And there wasn't always a holiday to look forward to, either. Not being bound by school terms, we'd usually have already taken our family holiday.
Now I love my kids, but I'm a sociable being who needs other adults in her life too – as the long six weeks stretched ahead of us, I could see an increasingly chaotic home, increasingly agitated children, and an increasingly exhausted Mama. I mean: who wants to spend six weeks with only cbeebies presenters for company?
Nope. This was not going to be an option for me. And for you too: if you're now dreading the prospect of six weeks away from your usual groups and structure, keep reading. I bring you good news, news of great joy for all mankind:
IT IS POSSIBLE TO SURVIVE SUMMER WITH YOUNG KIDS AND STILL POSSESS A FULLY WORKING BRAIN BY SEPTEMBER.
There. I've said it now, so I'll have to make good on it, won't I? Here are my tips on how to stay sane this summer with your babies, toddlers or preschoolers.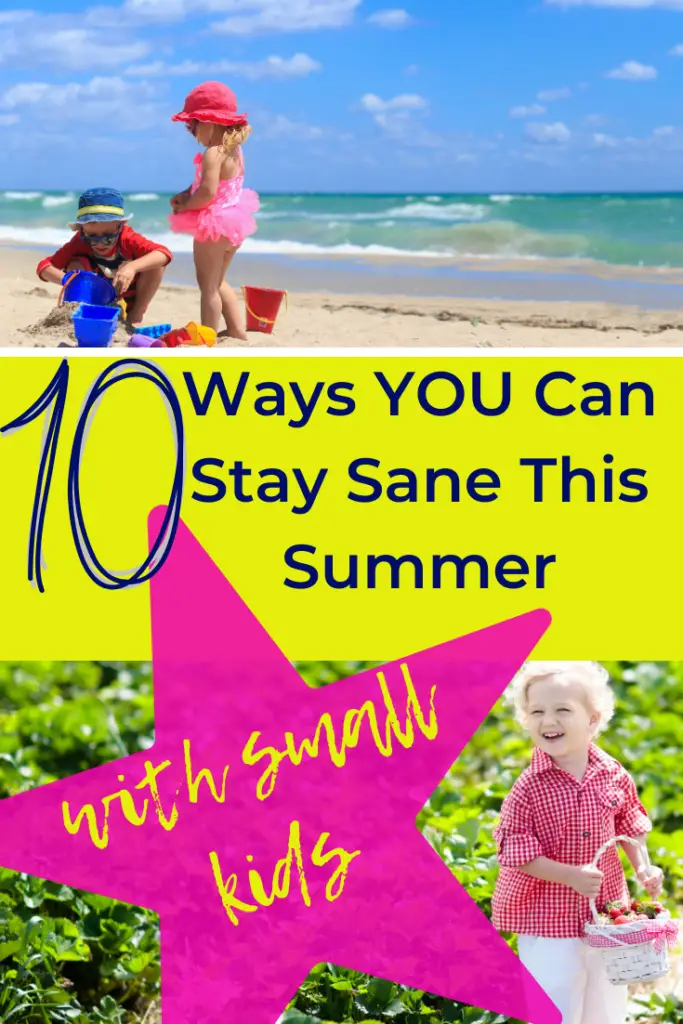 1. Draw up a summer schedule.
Listen, this doesn't need to be a fancy affair with brush lettering and different coloured pens (although for those of you with a stationery addiction, go right ahead).
All you really need, though, is pen and paper. Use your calendar to mark up what is already happening over the six weeks. And yep, there will already be some stuff in your diary: a weekend away, friends or family coming to stay, a special event or activity that's already been booked.
If your other half has booked some annual leave, write that in too, so you know not to make other plans for those days.
Well, what do you know? Some of those 42 days just filled themselves.
2. Look up local summer events for preschoolers.
OK, so your child isn't yet old enough to be fobbed off (ahem, 'want to go') to a football camp or music course, but there may be other events going on to which you can take your child, breaking up an otherwise dull day or week.
When my kids were little, I would literally write into my diary ALL the dates of ALL the summer storytimes that ALL the libraries I could easily get to were laying on. Yep, I'm a special person.
I didn't necessarily go to all of them, but knowing when they were gave me an option of getting out of the house on certain days, as well as saving me having to look up the times again.
Besides your library, check out any toddler-friendly/kids' club showings at your local cinema, plus check out your local families' websites and Facebook groups to see if companies which offer toddler classes in term time might be running free taster sessions over the holidays.
When you start to look, you'll see there are plenty of people wanting to help you survive summer with young children!
3. Plan in some play dates.
OK – deep breath. You might be new to parenthood. You may have just started to get out to groups and meet people. And here I am, asking you to invite near-strangers to your home. Am I insane?
Yes. But that's for another day.
Here's a secret: those parents you've started to meet at groups? I know they appear confident, but underneath they're just as nervous as you. They share your concerns about being a good enough parent for their child, whether they'll ever have something resembling a Normal, Ordered Life again, and how the heck they are going to survive summer with small kids and no other adults to speak to.
So: be brave! Send a message if that's easier than doing it face-to-face. Plan a park meet-up if you feel uncomfortable about inviting people into your home.
And, if you already have your Tribe, get in touch! Find out when people are around and start planning in some time to hang out. It doesn't have to be restricted to your home or theirs: aside from the park, you could meet at the library, the cinema, a local wood, free museum or attraction. Maybe there's a local event going on this summer that you could enjoy together.
4. Schedule some rest days.
Now you should have quite a bit of 'activity' scheduled in to break up the monotony, but you'll need some downtime too!
Looking at your plan, where are the busy days? Can you set aside a 'rest' day afterwards?
I mean, it won't actually involve any 'rest', right? Who am I kidding. But both you and your kids will need some downtime to recharge, and this could involve hanging out at home, watching TV, doing some craft, playing… If you want to stay sane this summer, don't overbook yourselves.
If you're looking for fresh ideas, check out my 100 Free or Cheap Summer Activities for Kids. (Or subscribe and receive them in a beautiful Summer Bucket list printable instead!)
5. Set a daily routine.
As much as possible, try to stick to what you usually do with your child in terms of daily tasks and meals.
You could also add in a few extras, like designated times for TV, or reading together, or independent play (if they will…). Routine is a top way to survive summer with small children – they really thrive on it, and it will help you break up your day too.
If you have time, you could even print off (or draw, if you're not me) some pictures to indicate to your child what's happening and when.
6. Introduce some household chores.
Not rushing out of the house each morning can be a great opportunity to start teaching kids some basic chores – yep, even from toddler age!
As soon as your child is willing and able, encourage them to help you carry the dishes to the sink or dishwasher after a meal. They can also help load the washing machine or dryer, or pass you the pegs if we get a sunny day for drying clothes outside (please, Lord…).
Around age 3-4, your child might be able to help load or empty the dishwasher.
(I don't need to tell you to be careful here: my habit was to remove the sharp knives first, and then take the breakable stuff myself while they put away the cutlery into the right drawers, or the plastic bowls and plates into the right cupboard. These days, at age 4 (5 in September), Monkey and Meerkat are great with breakable things too – although I still remove knives first!)
Not only does this start teaching kids valuable life skills, but who knows: you may even accomplish a few jobs quicker! And it's always better to spend time together where you can, even if it's just doing jobs.
7. Plan in a fun activity or two for yourself.
Looking after kids is exhausting, but particularly during the summer. These six weeks can get pretty intense.
So make sure you look after yourself! I recommend planning in some fun stuff for you, to make sure it actually happens. This might be some evenings out with friends, or a date night or two if you're married/in a relationship. (Check out my 25 Stay-at-Home date night ideas for inspiration!)
Or you could make a longer-term commitment to indulging in a favourite hobby. Perhaps you're going to sit down with a cuppa and a book after lunch each day. Even if it means whacking on Netflix for your child, I would totally recommend doing this! (And what better role model for your child when it comes to reading, than a parent who actually reads for pleasure?)
Maybe you have a craft or DIY project you'd like to get started on, or even complete. Book in some time NOW to make sure you actually get it done. And don't feel guilty if this means your kids have to play independently or watch TV: you can only care for them adequately if you're also caring for yourself adequately, and this means meeting your own needs for activity and fulfilment.
>>> HOW TO SURVIVE SUMMER (WITHOUT KILLING YOUR KIDS!) <<<
8. Do some childcare swaps.
If you have a friend with a similar-aged child, why not arrange a childcare swap this summer?
I never did this when mine were younger, as I always felt it was too much to burden my friends with, but now I have four kids, and many of my friends have three, I'm thinking 'What was I worried about?!' You – and your friends – may end up with several children, so get some practice now! Plus, having a friend to play is often easier for the adult in charge, as they're not the one doing all the entertaining!
9. Accept chaos.
I know we all have different tolerance levels when it comes to mess and dirt, but really – try and relax whatever your current level is down a notch or two.
Don't beat yourself up about the state of the house. While keeping on top of things now will ensure that you don't have a total wreck of a home to sort out come September, it really doesn't matter if the house isn't immaculate when you go to bed each night.
And, if you find that certain things in your home keep getting knocked, or damaged, or stained, perhaps this is the time to move them, or replace them – or at least make a list of jobs to do once September rolls round. Spending prolonged periods in our homes can really help us fathom how they could work better for us and our families. (This decluttering course has helped our family amazingly!)
10. Spend time with God.
Woooooaaaahhhh….you sneaked that one in right at the end! I saw you! As if I have time to hang out with God when this Small Person demands every minute of my day!
OK…breathe for a moment and hear me out. Remember I said that, in order to care for your children, you first need to care for yourself?
Well, all the spa days in the world won't do for you what a moment with God can. Spiritual refreshment is the ultimate in recharging your batteries to be the best kind of parent you can be.
And it doesn't need to be an hour-long devotional, complete with Bible commentaries and a Greek New Testament. (Although if you're into that, and your kids are excellent at playing by themselves, then go right ahead.)
It could simply mean putting on some worship music while you cook or do other jobs. Or reading a simple devotional when you can. Or just keeping your Bible out in a commonly-used place, and picking it up to read a few verses each day.
Have a wonderful summer, and don't forget to share your tips in the comments below!