I use affiliate links in some blog posts. If you click through and make a purchase, I earn a small commission at no extra cost to yourself. Thank you for your support.
Today I'm delighted to welcome author and mum Ruth Leigh onto THFF. I read Ruth's brilliant book The Diary of Isabella M Smugge recently, and it was un-put-downable! Any parent will recognise the hubbub of family life that Ruth so aptly observes: busyness, constant meal provision, playdates, sick bugs, playground politics and – at the heart of it all – some very firm friendships.
But these are not easy for us all to come by. Certainly Isabella is unused to the level of friendship she's about to experience. Over to Ruth…
Friendship, as CS Lewis once said, 'is born at that moment when one person says to another, "What! You too? I thought I was the only one."'
Can you relate? I know I've definitely had moments like these, when I had a conversation with someone which resulted in a friendship blossoming.
But friendship as a new mum can sometimes seem elusive.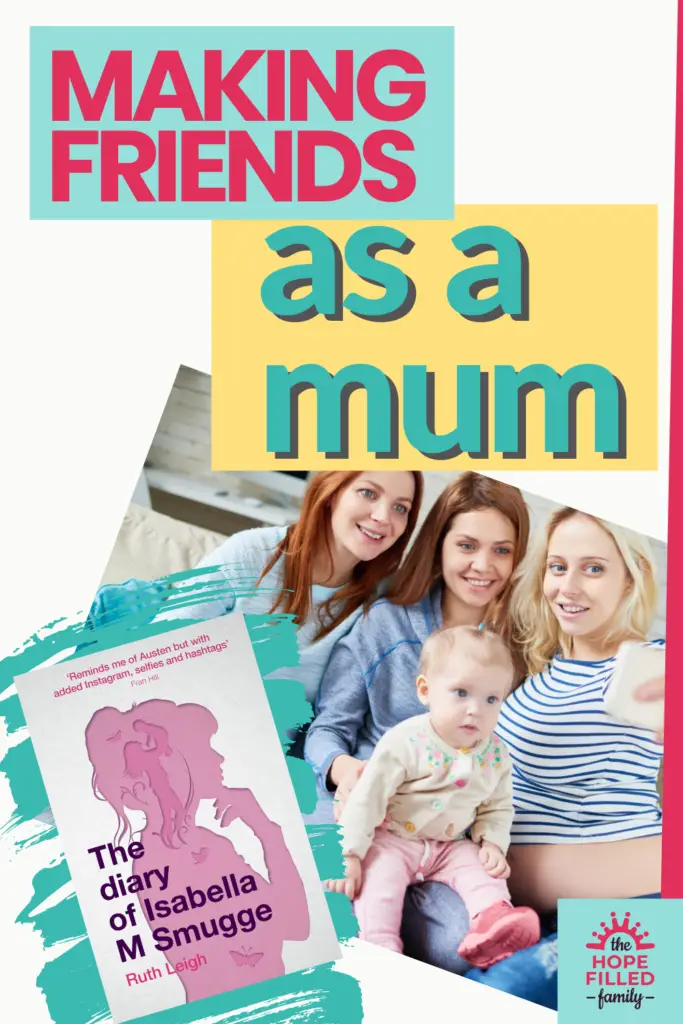 From child-free professional to paper-underweared mother
I came to motherhood relatively late; three days shy of my thirty seventh birthday. I'd always worked, was on maternity leave from a fairly stressful job in London and certainly wasn't ready to sit around talking about cake recipes and the best way to run up a pair of curtains.
This was prejudice on my part. Nobody at the toddler groups I attended talked about anything of the sort.
My church toddler group was justly famed for miles around and had a long waiting list (still does, in fact). I got myself in and appeared clutching a baby seat containing an angelic auburn-haired baby in September 2003.
I felt like an outsider in a strange land. I knew all the helpers and a few of the mums from church, but the Ruth they knew was independent, efficient, professional.
This version of her was wearing a dashing pair of paper pants (you read it here first) plus a well-used nursing bra packed out with breast pads. Let me reassure you that I was wearing clothes over the top of this disposable ensemble.
My friend Michaela was a stalwart of the toddler group. She already had two little girls and what she didn't know about the world of babies wasn't worth knowing. She was kind and generous, keeping an eye on me and making sure I was doing OK.
(Aside: Michaela now has eight children. As I was starting to get into a routine with Alex, I texted her saying "Do you fancy a run?" She replied, saying sadly not as she was expecting her third child. As she in turn was beginning to look to exercise again after her son was born, she texted me "Do you fancy a run?" I broke the news that I was expecting child number two, and this became code for "Guess what! I've got news." We now have 11 children between us and have never, ever managed to go for a run.)
From real-life to fiction
Isabella, the heroine of my new novel The Diary of Isabella M Smugge, is the opposite of me in nearly every way. She overflows with confidence, she's rich, slim, the proud owner of a large Georgian house, a top of the range coffee machine and every material blessing a woman could wish for. She's even got staff.
In the first chapter, she thinks she's got it all. Plenty of friends back in London, a devoted husband, a loyal au pair.
Pretty soon, however, her preconceptions start to wobble a bit and she finds herself making friends with women who differ widely from herself.
In London, most of her friendships were based on appearance and socialising. There was little trust or loyalty. In Suffolk, however, the few friends she does make treat her with respect and real affection.
From trivial to meaningful
I've often found that friendships start with something apparently trivial but deepen as time goes by. With church friends, we have faith in common, with friends made at the school gates, children.
Isabella is terribly judgemental at first, writing off pretty much the whole playground. It isn't until we're a few chapters in that we start to realise that this confident, beautiful, successful woman is really a scared little girl who yearns to be loved.
On week three of my toddler group journey, I plonked myself down on a seat with a loud sigh, adjusting the underwear and attaching my ever-hungry son to the environs of the nursing bra.
Next to me was a tired-looking blonde girl with a baby a few months older than mine. We struck up conversation. We agreed that broken nights sucked. We compared how much sleep we had both racked up over the past week (not nearly enough).
Somehow, we got on to the subject of disposable underwear.
And that was it. We were off.
Those babies are now a tall, beautiful eighteen-year-old girl and a 6 foot 2" well-muscled heavy metal drummer. Lisa and I are still friends. We hardly ever see each other, but when we do, it's as if not a moment has gone by.
From loneliness to friendship
When we had a toddler and a baby, we relocated and it was really hard for me to say goodbye to established friendships.
Back home, I could pick up the phone and have someone on the doorstep in ten minutes. Suddenly, I found myself in the middle of nowhere, where the only person I knew was the estate agent who'd sold us the house.
My attitude when I walked into the groups for the first time was exactly the opposite of Isabella M Smugge. I wasn't wearing designer clothing, I looked as though I had been dragged through a shrubbery at speed and I had virtually no confidence.
I needed friends.
I yearned for people I could text about parenting problems like copious weeing around the toilet, refusal to have a nap in anything except a musical vibrating chair and where to buy nappies which held more than an ounce of faecal matter.
Church and toddler group were the places which helped me to start making new friendships, and many of these women are still dear friends to this day.
From judgemental to grateful
I'm very fond of Isabella.
She is pretentious and a bit of a snob, but it's amazing to see what her friendships (with Claire the vicar's wife and Lauren her fellow school mum) do for her. It isn't long before she's blossoming, becoming kinder, funnier, more generous.
True friends can see us at our worst and still love us. A shared history of jokes, anecdotes, memories, ups and downs build up strong friendship foundations which can last a lifetime.
You never know who might become a friend.
Judging by appearances is a really silly thing to do. Everyone's got a story. These are lessons I've learned about friendship and I think Isabella has learned them too.
Enjoy your friends, more than ever in these strange times. Mine are more precious than rubies, more treasured than gold.
"Perfume and incense bring joy to the heart, and the pleasantness of a friend springs from their heartfelt advice." Proverbs 27:9.
Lucy says: "The Diary of Isabella M Smugge is an absolutely brilliant read – especially for anyone who's ever stood awkwardly on a school playground! Grab your copy here."
If you enjoy Isabella, you'll love The Diary of a (Trying to be Holy) Mum!