I use affiliate links in some blog posts. If you click through and make a purchase, I earn a small commission at no extra cost to yourself. Thank you for your support.
Disclaimer: These views are my own, and come from my 20-month experience as a Suzuki parent in a Suzuki Early Childhood Education (SECE) class, as well as a couple of days' observing SECE training this summer, and a few weeks under my belt as a Suzuki teaching partner. In short, this post represents my understanding of the Suzuki method, and the effect it's having on our family. I am not a trained Suzuki teacher, so this post doesn't necessarily represent the views of one. Thank you for reading!
Shortly after our boys came home to us (read our story of adoption here), I signed them up to a local Suzuki music class.
As a former music teacher, I'd always shied away from paying for something I felt I could do myself – but the Suzuki approach had intrigued me, and felt like something very different to what I would naturally do at home.
The boys seemed to like music – both in their foster home and once they moved to us – so I was very excited when they were offered a place in a Suzuki Early Childhood Education (SECE) class, for which there is usually a sizeable waiting list.
What I didn't realise was just how much the Suzuki method would support me as an adoptive mum – and my boys as adopted children.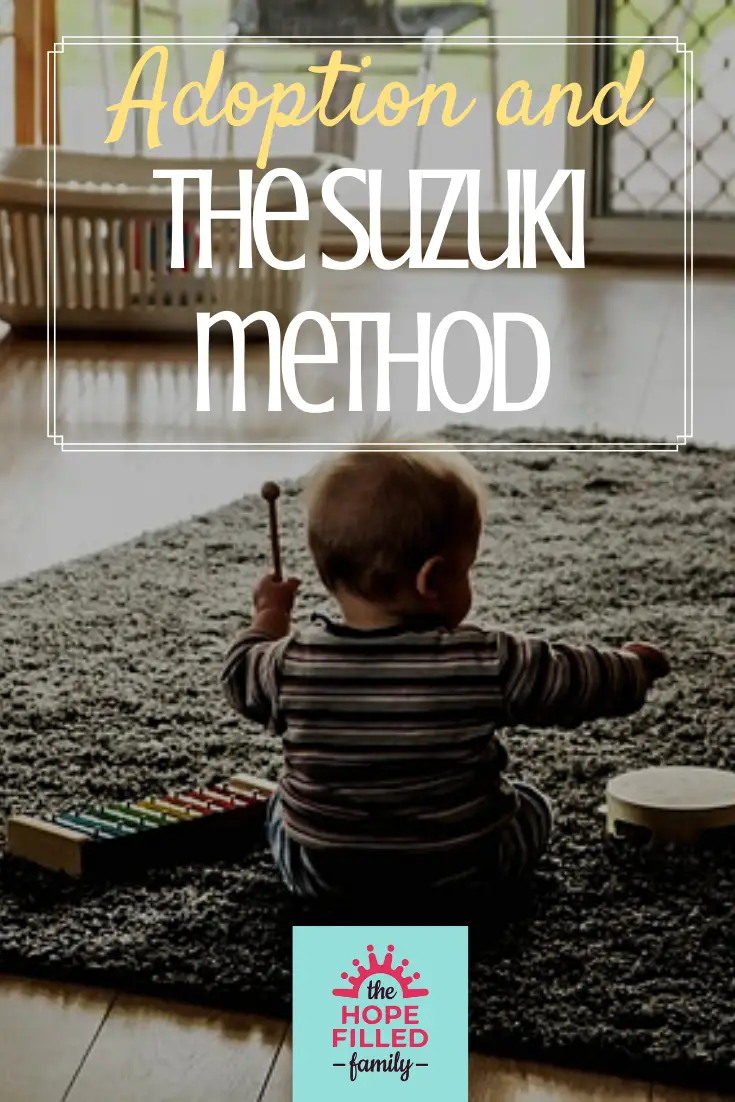 It will help if I briefly outline what the Suzuki method actually is. What it isn't is the method by which I – and probably most people – was taught to play an instrument. There are three main beliefs underlying the philosophy:
Every child can learn – the idea that there is no such thing as 'genius', that everyone possesses 'ability', and it is how this ability is nurtured which determines what we achieve.
Ability develops early – right from inside the womb, we are listening, growing, developing. You're never too early to start learning from your environment!
Environment nurtures growth – and therefore the environment has to be a good one – stimulating and engaging. Children must see excellent modelling from others in order to develop their ability.
These beliefs are implemented in Suzuki classes through four principles:
Children learn from one another (the classes are mixed age, from newborns up to school age – younger ones learn new skills by watching older ones, and older ones learn empathy by watching/helping younger ones)
Success breeds success (once you've felt the joy of doing something well, you want to do it again and again – and try succeeding at new things too!)
Parental involvement is critical (unlike many preschool music classes, parents play a full role in SECE classes – singing, playing and modelling all the activities so that their child can learn from them)
Encouragement is essential (sometimes the goals we set children seem too big and impossible to them, so they get easily discouraged, but with Suzuki, every small step is praised, nothing is overlooked)
A helpful way to summarise it is to think of it as the 'mother tongue' method. How do you learn your mother tongue? By listening to those around you as they talk to you, by copying, by listening and copying some more. It develops from the womb. In the same way, Suzuki believed that if a child was surrounded by music, he would learn it naturally.
Musical impact
Learning the Suzuki way has had a massive impact on Monkey and Meerkat's musicality.
They've just turned three and can sing in tune, clap/beat in time, and read simple rhythmic notation. They can pause, wait and anticipate when a particular sound or action is required in a song. They can respond to music with an awareness of different timbres and textures that many of my Year 7s used to struggle with. Their musical achievements have surpassed those of Mister and Missy (who weren't Suzuki-educated) at a similar age.
But I'm not here to tell you that.
I'm here to tell you the incredible impact that the Suzuki method is having on my children's wellbeing – and on me – as we navigate the tricky terrain of adoption.
Background
Dr Shinichi Suzuki (1898-1998) developed his philosophy following the Second World War.
Appalled by the awful acts he'd heard of, saddened that the human race could perform such despicable acts against one another, he believed that, through education, humans could become better people, and work to build a better world. And he felt that music, with its emphasis on encouraging empathy and mutual respect, could play a big role, saying "Music exists for the purpose of growing an admirable heart".
So it's no surprise to discover that, for my boys, the Suzuki method is helping them to develop their whole character.
1. Nurture over nature
This is not to ignore the genes that will obviously have an impact upon an adopted child's life, but it is to say that the 'nurture' (good or bad) that has occurred since birth will significantly shape that child's future. The genes do not need to be the end of the story.
Suzuki believed that there is no such thing as 'genius', that we all possess immense 'ability', and it is the nurturing of this ability which determines our futures.
This, of course, is an incredibly affirmative philosophy for any adoptive parent, as they're aiming to give their children great opportunities throughout life and encouraging them to raise their aspirations. I don't know how my boys' lives will pan out, but I do know that they're already surpassing my expectations of them musically, so why not socially/emotionally/academically?
2. The importance of environment
Adoptive parents know this only too well, having heard and seen many examples of a poor environment on a young and formative child. They never give up hope that the environment they are providing for their children will encourage them to grow and develop into all they were meant to be.
The environment of the Suzuki classes themselves is calm, respectful, joyful and encouraging, and this challenges me to reproduce this through the week as I play or eat with my boys, get them dressed or clean their teeth.
Before you start to imagine the calm, dream-like environment of the Desert household, let me tell you that I am, by nature, incredibly impatient, snappy and irritable when my children cross me. We are by no means a calm household! But, with the encouragement of the Suzuki philosophy, we are trying!
3. Parental involvement is critical 
A parent is the most important model a child has. Think about it: when an old friend comes to the door – someone you know but your child doesn't – and you greet them warmly, doesn't your child warm to them too? When the friend is invited in, won't your child be happy to play with them and get to know them, because they've seen you model that this person is 'safe' and 'OK'?
On the contrary, when a cold-caller comes to the door, and your manner is stiff and abrupt (well, mine is), doesn't that also breed anxiety in your child, who's watching you all the time, looking for signals from you as to how they should respond?
Suzuki strongly believed that, for children to see the value of something and want to do it for themselves, they first had to see their parents valuing it and modelling it. If you take your child along to a music class but refuse to join in any of the songs, do you really have a right to feel frustrated when your child doesn't either? They look at you, see that it's not something you value enough to do yourself, and think to themselves, "This is not important – I won't bother!"
But in a Suzuki class, parents are encouraged to play a full part in all the activities – singing, clapping, playing, dancing, moving – both to model how these things are done to a child who is not yet ready to do them for himself, and to communicate to their child, "This is of value – this is important – I rate this enough to be doing it myself".
Of course all parents need to consider what they are modelling to their children – but for adoptive parents in particular, who are aware that some of the behaviours and thought-patterns presenting in their children are very deeply engrained, the need to be a strong, positive and consistent role model in their children's lives is an urgent one.
The Suzuki approach has definitely affirmed my role in the lives of my boys – otherwise I may have started to feel quite helpless when confronted by some of their more challenging behaviours.
4. Every small step encouraged
There is a 2-month-old boy who attends one of the Suzuki classes I have the privilege of assisting with. He can't sit up, let alone sing or clap or dance; a non-Suzuki observer might think it ridiculous that he be there at all.
But every week he is becoming more awake and alert. Every week he is starting to respond to the music – either by turning his head towards the sound, fixing his eyes on the instrument being played, or watching the older children play and dance.
This might be overlooked by a non-Suzuki educator, but a Suzuki educator would know better. A Suzuki educator would know that, as we develop our language by being surrounded by it, so we develop musical ability by being immersed in it. I can't wait to see what this little boy is doing in a year's time!
Suzuki families are taught to be observant, noticing every small step, reminding their child of the small 'successes' they had that day, and encouraging them to keep watching, listening, learning. In fact, parents complete a journal at the end of each session, outlining a couple of 'positive' steps their children made during the class. This encourages us to stay focussed on our children throughout the session, and not plan meals or write shopping lists in our heads!
This process of observation has helped me to observe my boys outside Suzuki lessons too. It's not one of my skills as a parent – it usually takes me months, if not years, to work out what my children are doing and why – so developing a practice of careful observation in Suzuki classes has really helped me to spot trends and patterns in my boys through the week. I watch more, I listen more, I notice their play and interactions more – and this helps me to focus on what they might need from me and their Dad as they grow and develop.
Has anything about the Suzuki method jarred with my adoption training?
Well, aside from the back ache resulting from carrying two non-walking twins around in a circle for numerous songs in the early days when I couldn't allow others to pick them up, not much.
There is, however, an interesting idea within the Suzuki philosophy that we are not to 'over-praise' our children, the basis for this being that children ultimately need to be motivated by their own sense of pride/success, rather than doing things purely for others to pat them on the back. Over-praising a child, according to the Suzuki philosophy, can lead them to become demotivated.
While I agree with this from an educational perspective, when our boys arrived with us – and even now – I hugged and kissed them a lot, and used verbal encouragement/motivation as much as I could, partly to make up for lost time (the 14 months before they came home to us), and partly to build attachment, to reassure the boys that they were home and they were ours.
(More on the four types of attachment styles here.)
To start with, holding back on this during Suzuki classes felt unnatural. But of course this has to be balanced with 'encouraging the small steps' so, 20 months in, I feel we've now found a good balance, and I praise my boys when they need that encouragement, and hold back when they need to feel that surge of pride coming from within themselves. And the whole Suzuki approach is teaching me to know the difference.
The gentle Suzuki patterns of modelling, repetition and encouragement are transferable to so many parenting situations – but adoptive parents in particular will find the approach therapeutic for them and their children, giving them a philosophy to underpin their parenting, week-in, week-out.
***
For more info, please see:
Music at Heart – since writing this blog post, the teacher mentioned here has moved away from our area, and our Suzuki classes have been taken over by a non-Suzuki teacher. So they are technically not Suzuki anymore! But here is the website if you're interested.
Music Mind Games – developed by a Suzuki teacher, these are used in SECE and other classes. Fabulous for developing a strong musical language in all ages and stages, right up to Grade 8 and beyond.
Music in Practice – Sue Hunt, experienced Suzuki teacher, shares invaluable practice tips and games for children and parents, and you don't even need to be learning the Suzuki way to use them!