I use affiliate links in some blog posts. If you click through and make a purchase, I earn a small commission at no extra cost to yourself. Thank you for your support.
We've heard the story of Lizzie, who chose home education despite having worked in schools, and yesterday we heard Jenny's story of being converted to home education, having had her older four kids educated privately.
But the question of 'Should I home educate?' takes on a new meaning when your child is increasingly distressed by school life. Louisa shares her story…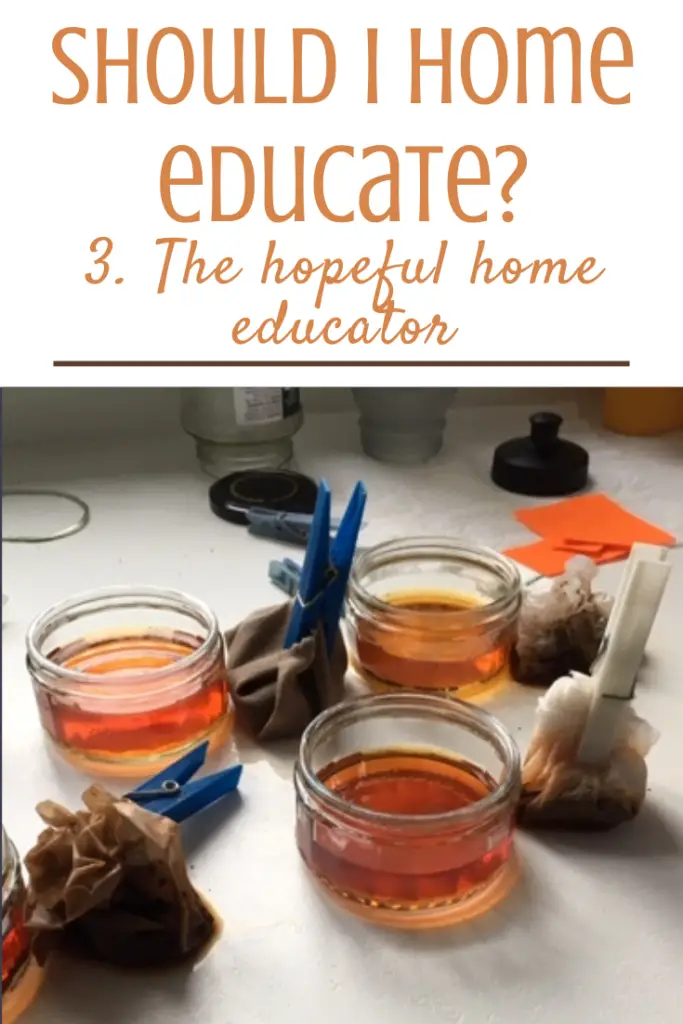 I adopted my son, as a single parent, when he was nearly five years old. He moved in with me in the October of his Reception year so his school start was delayed till January, on a very reduced timetable, working up to full time by Easter.
However, by June he was back on half days due to his behaviour in school and at home. By Christmas of Year 1 he was doing full-time again. I could see he was struggling with anxiety, but the school denied my request to reduce his timetable. Shortly afterwards he was excluded twice in one week.
Mornings were like treading on egg shells. From the moment he woke, he would complain of tummy troubles, and he hated getting dressed for school. He would often hit me at home or on the way to school. At the end of the school day, he was like a volcano and exploded the moment he saw me. Even at the weekends, he was affected. He never wanted to leave the house, and if we did, he was so full of anxiety that it was difficult to enjoy our trip.
A new start?
In early 2017 we relocated to be near family. My son started Year 2 in a new school, but unfortunately this school struggled to meet his needs and he became increasingly fearful and angry. He was regularly excluded, sometimes for five days, meaning I had to take a lot of time off work. Returning to school caused panic attacks.
I was torn between reassuring him that school was safe yet hating the impact it was having on his mental health.
I started to think that we both just needed to be together. After numerous exclusions, I called him in sick on a mental health day. That afternoon, I received an email advising me that my son was excluded for the rest of the week. Excluding a child who's not even in school is illegal! It highlighted the school's lack of understanding and compassion.
Whilst I did consider specialist schools, in the end I decided he would make better progress, both emotionally and academically at home. Finally, I submitted a formal application to home educate with a personal budget which was granted by our LA.
What home education looks like
Our pattern doesn't look the same now as it did when we started, and I don't expect it will look the same in a few months' time! But that is one of the advantages: I can be flexible and adapt to his interests, stages, and even the weather.
My son's current goals include writing five sentences in an email and writing a short story. He chooses his own reading material. I also expect him to complete Maths exercises four or five times weekly – he has short term memory difficulties, so we discovered that when he didn't do Maths regularly he struggled more.
He gets quite a bit of choice over when, and in which order, activities are attempted.
Recently, he has started setting his own goals, which has led to us learning about World War 2, Ancient Egypt, and lots of different animals. We use books, YouTube clips and craft like drawing, clay or junk modelling.
Our days also involve a high level of sensory breaks. Roughly speaking, for every 20-30mins of 'learning', my son then has 15 minutes of downtime – often Lego!
We also try and have 30 minutes together with a shared activity which isn't deemed 'learning' such as a Lego STEM activity, jigsaw or K'nex.
Currently, he does lots of extra-curricular activities: horse riding, trampolining, rock climbing, Lego club, outdoor navigation, science and English groups and so on. And on days when we don't have a planned activity, afternoons are deemed 'free time' for dog-walking, baking, cinema and so on.
Life saving
I couldn't possibly find the words to explain the difference home education has made to us – it's been a life saver.
My son's anxieties have reduced, meaning we have fewer battles at home. For a long time he struggled to leave the house at weekends, but now we have been able to start attending a local church, and my son also attends a Boccia club, Beavers and swimming.
There are lots of different Home Ed groups that we attend, so my son gets to meet other children with similar interests, but with different ages and different abilities, which I hope is giving him a better understanding and acceptance of others.
My son feels safe, and doesn't worry that I won't return at the end of the day. We enjoy lots of lovely time together – something we missed out on in preschool years due to the age at which he joined me. Not having to rush out of the house in the morning is a definite advantage, as is the flexibility of being able to work in places like Costa!
He enjoys lots of time playing with his toys, and gets to decide on a lot of his learning, which helps him feel in control. We can tailor things to his interests, meaning boredom is less likely to set in – something which can trigger his ADHD.
Being with him constantly, I can monitor his mood, helping to diffuse a situation calmly if I can see that he's starting to get wobbly.
We can visit tourist attractions during the week when they're quieter, which my son finds easier to manage because of his sensory needs.
And not having to do the school run, not being that mum who the teachers need to talk to at the end of the day, has made a massive difference to both of us.
The challenges
Home education has made life so much better for both of us – but some days feel overwhelming, with little time to myself. Once my son is in bed, there are chores to be done before I can relax. It can be difficult sometimes to find ideas and resources, although currently we feel we never stop!
Things like making a doctor's appointment, going for a hair cut or doing the food shop are all a challenge, like they would be for many working families.
Interestingly, lots of our Home Ed groups stop over the traditional school holidays, which can be tough.
Also, being both Mum and Teacher is difficult some days – like when my son gets frustrated and draws across his work, or refuses to come back after a break. On days like these, my thoughts will wonder as to why I gave up work – but, overall, the benefits far outweigh the challenges.
Financially viable
As a single parent, I was worried that I wouldn't be able to afford to give up work and home educate, but God has provided in numerous ways.
My son has an Education, Health and Care plan (EHC). Currently, parents of children with an EHC can request a personal budget from their Local Authority in order to home educate, if they feel this is a better option than a specialist school. We receive just under £800 per month, which pays for 90% of my son's extra activities and transport, although it must be spent on the agreed activities, so I can't just suddenly decide to spend it on something else.
My son also receives Disability Living Allowance, I receive a Carers' Allowance, and we also get Universal Credit. Currently I'm receiving an Adoption Allowance as well.
We also save money on things like uniform, school trips, and other school expenses, although have to watch our expenditure when we go out, as we have seven days to budget for, not most families' two days!
Not 'school at home'
Home education is enabling us to become a stronger family, hour by hour. I wouldn't change the life we have now for what it was like when my son was at school.
However, I would advise others to check out the local primary schools first to see what they have to offer and how flexible they will be – especially if your child is adopted. But then search Facebook for the home education groups in your area and ask questions.
Remember that home education isn't 'school at home'. Lots of people worry that they will let their children down as they aren't teachers, but you don't have to follow a curriculum. It's about giving your child an education appropriate to their needs.
Louisa recommends two websites that she and her son use and enjoy: Frugal Fun 4 Boys and Science Sparks.
Do you have questions or encouragements for Louisa?  Leave them in the comments!
>>The open-minded home educator
>>The individualised home educator
>>Should I home educate? Thoughts from a school mum