I use affiliate links in some blog posts. If you click through and make a purchase, I earn a small commission at no extra cost to yourself. Thank you for your support.
If you're wondering what to give for a baptism gift for adults, you've come to the right place. After all, it's not everyday that an adult friend gets baptised, is it? If you've been invited to share in this celebration, that's a big honour!
Perhaps you're even a godparent – in which case be sure to bookmark my post What is expected of a godmother or godfather? for loads of useful ideas!
Of course, there's no obligation to bring a gift.
Baptism – especially as an adult (often known as "believer's baptism", because it's an outward sign of the person's own belief in what the Bible says about Jesus) – is a spiritual milestone, an occasion for a believer to share what they believe with their nearest and dearest. I'm pretty sure they won't have invited you because they're expecting a present.
On the other hand, you may be looking for something special to mark your friend's celebration, and that's where I can help. I've curated the best baptism gifts for adults available in the UK and worldwide, to save you a ton of time trawling around the web. I'm certain you'll find something suitable in this comprehensive list.
(And a side note: this post focuses on baptism gifts for adults. I have separate suggestions if you're looking for baptism gifts for babies/young children and also if you're looking for baptism gifts for older children/teenagers. Do click on the links for a more tailored selection!)
Traditional baptism gifts for adults
Let's get this out of the way first: what is a traditional baptism gift for adults?
a Bible (or, if they already have one, a study Bible)
a Christian book, devotional or journal to help them on their journey (lots of ideas below)
a cross on a chain
These are all valid gifts, and all are mentioned below. Any of these would not only be gratefully received by your adult baptism candidate, but would be helpful in their walk with Jesus too.
But I've added a few more less-traditional baptism gifts for adults too, because it's nice to have a bit more choice, isn't it? Read on for ideas!
Baptism gifts for adults UK
I'm writing this in the UK, so I've given a UK option for everything you see below. However, if you're in the US or further afield, don't worry – I've also included links to brilliant US companies, as well as trusty Amazon, so you too can shop easily, wherever you're based.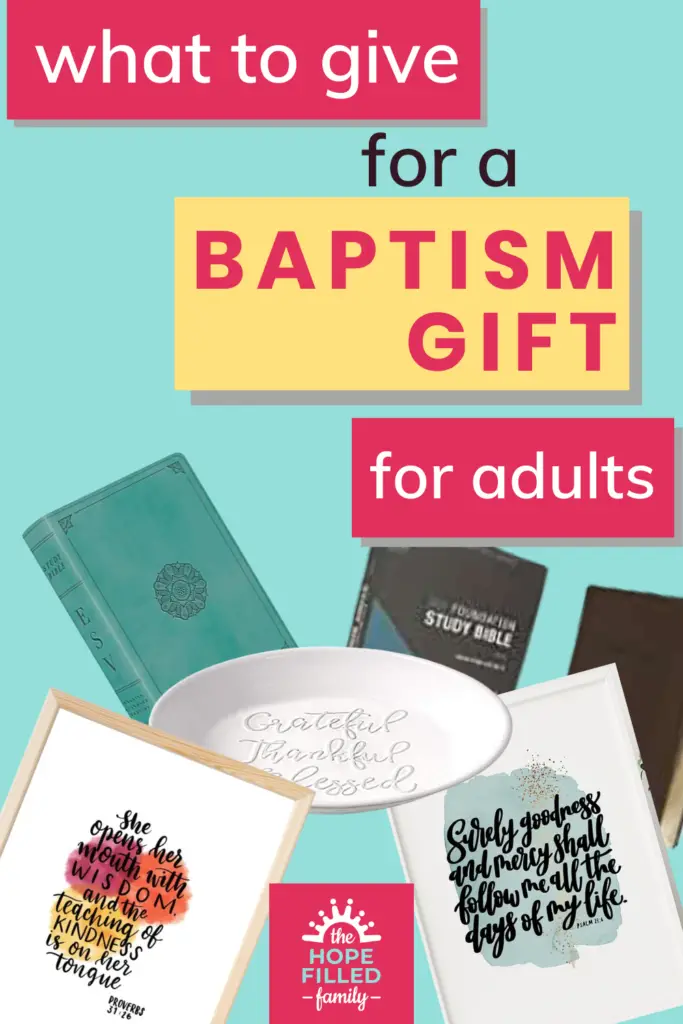 Baptism gifts for adults
What to give for a baptism gift for adults? Here are my top choices:
If your friend doesn't own a Bible at all, it'd be great to ask them if you can buy them one for their baptism (check first in case someone else is getting it).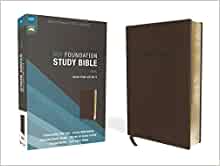 But assuming they may already have a Bible, a study Bible is a great next choice. With additional notes to help explain the text, plus maps and further background information, a study Bible is an essential aid for personal Bible reading, Bible study prep, and church Bible reading too.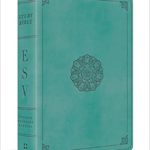 I recommend the good ol' NIV Study Bible, but also often use my husband's ESV Study Bible. Both are excellent baptism gifts for adults.
2. Christian book
If your friend already has a study Bible, or your budget is smaller, an excellent choice is a good Christian book.
If your friend happens to be a mum, I've got a great selection in my blog post 30+ Best Christian Books for Moms!
Other than that, I'd recommend anything by Pete Greig, Ann Voskamp or Philip Yancey. Check them out – these authors write excellent discipleship books to help your friend grow in their faith, and therefore make brilliant baptism gifts for adults.
3. Devotional
Reading the Bible regularly is an essential part of your growth if you're a Christian. Why not buy your friend a devotional to help them read and understand it?
If your friend is female, check out my reviews of 20 Fabulous Bible Studies for Women – many of them work brilliantly as personal devotionals.
I also recommend (for either sex): My Rock, My Refuge and The Way of Wisdom – both by Tim Keller.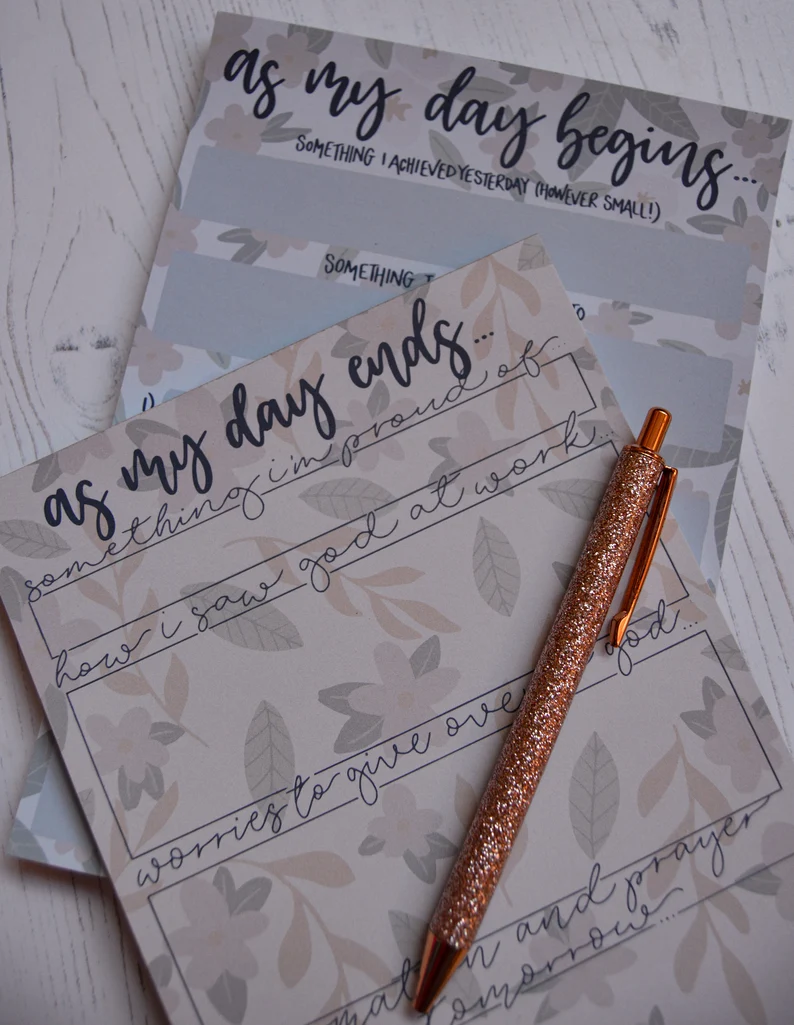 If you're in the UK, I love this devotional notepad from Faithfully Flourished – what a brilliant idea with which to end each day! You simply fill it in then either tear out and put in your regular journal, or keep on the pad, using the next page tomorrow.
Whatever you choose, daily devotional resources make super baptism gifts for adults.
4. Clothing
Perhaps you're wondering what to give for a baptism gift for adults which isn't a book?
There are so many fabulous companies offering genuinely nice T-shirts and hoodies which gently proclaim faith.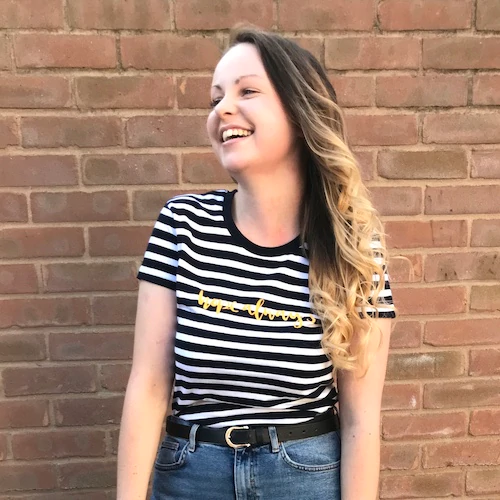 I love this "Hope Always" T-shirt from Hope and Ginger.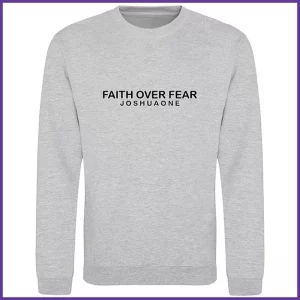 And Finding Comfort in the Word sell a wide range of fab Scripture T-shirts, sweatshirts and hoodies.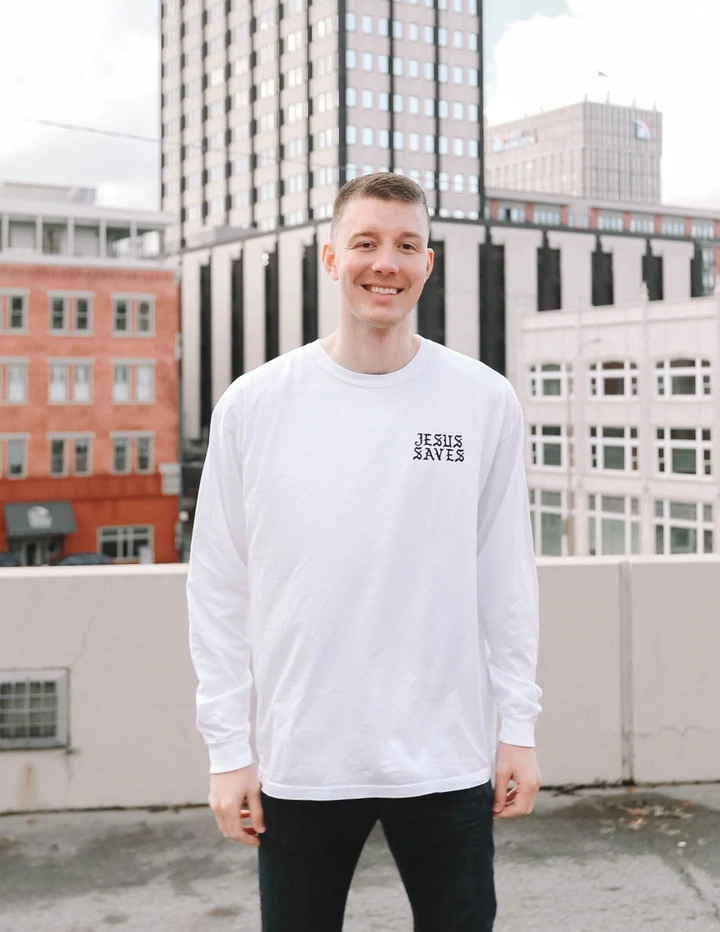 Or in the US, check out Elevated Faith. I love so many of their designs!
5. Mug
We all use mugs daily, don't we? Even I, as a non-tea-or-coffee-drinker, use them for hot chocolate, or for serving my children or guests! What a wonderful daily reminder, then, of the commitment our friend has made to Jesus, than a mug which proclaims something of what they believe.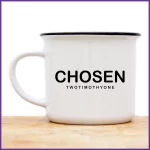 I love Finding Comfort in the Word's range here.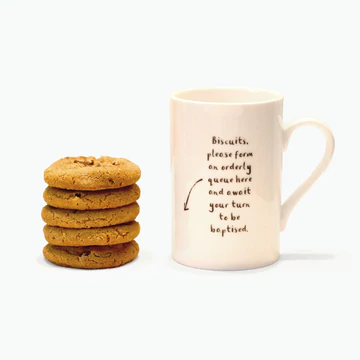 This quirky biscuit baptism mug from Frog and Gnome is sure to raise a smile on the face of all who see it!
And Cheerfully Given has a huge range of mugs from different designers too.
If your baptism friend is a jewellery-lover, there are so many appropriate gifts you can find to mark their special day.
If you're in the UK, Cheerfully Given arguably has the best selection of Christian jewellery. A simple cross on a chain is a lovely traditional gift, but here you'll find necklaces, bracelets and earrings all featuring verses, words or images associated with faith.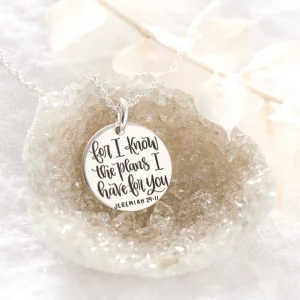 If you're in the US, check out Clothed with Truth, a fabulous Christian jewellery brand. There's so much choice, and it's all beautiful – like this gorgeous pendant necklace featuring these famous words from Jeremiah.
And of course, wherever you are, Amazon can always be relied upon for anything, including Christian jewellery gifts!
7. Bookmark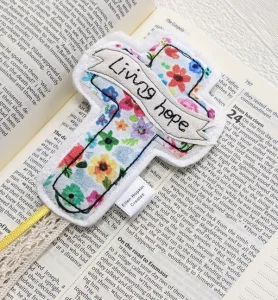 If you're asking what to give for a baptism gift for adults when you're on a small budget, or are looking for a little something to add to a larger gift, consider a faith-based bookmark which your friend can use in their Bible, Christian book or journal. This one from Ellen Hopkin Creates is sure to bring a boost whenever it's used.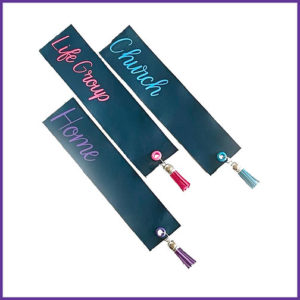 These bookmarks from Finding Comfort in the Word are such an ingenious idea: keep your place in the Bible passages you're working through on your own, in your life group and at church!
8. Christian art print
A beautiful work of art or lettering makes a wonderful baptism gift for adults. They can hang it on their wall or frame it and put it on their desk: a regular daily encouragement to them as they go about their lives.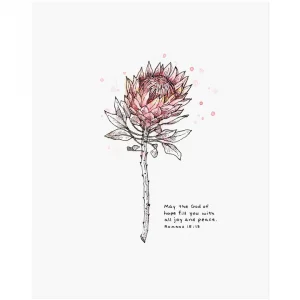 If you're in the US, I highly recommend God's Fingerprints, who have a wonderful selection of faith-based artwork. I love this gorgeous illustration of the blessing from Romans 15.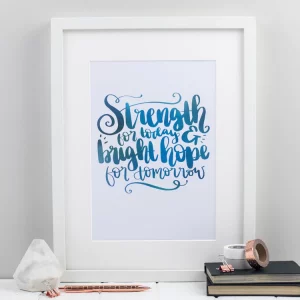 In the UK? Check out Hope and Ginger's fabulous range of worded prints.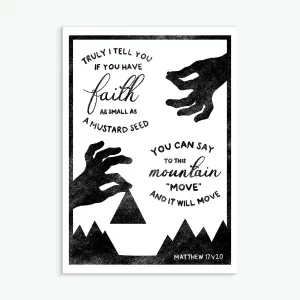 This beautiful print of the verse "Faith as small as a mustard seed…" is by Frog and Gnome.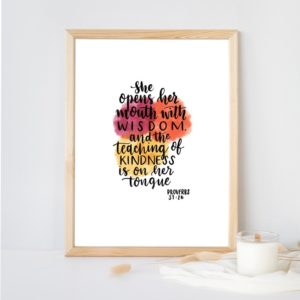 This print from Perish and Fade would make a gorgeous baptism gift for your female friend or relative, but do check out the whole selection of faith art prints.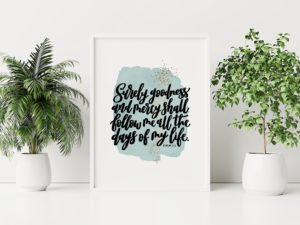 If you like this print of Psalm 23:6, it's by Izzy and Pop – go check out the rest of their range!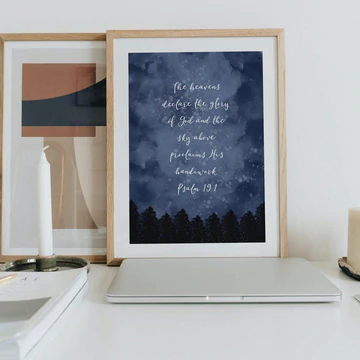 And I'd also recommend you'd check out the selection at And Hope Designs, including this fab setting of Psalm 19:1 – "The heavens declare the glory of God…".
9. Colouring book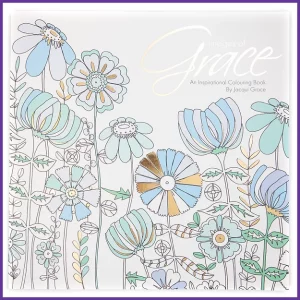 Colouring is an incredibly therapeutic hobby, and many adults have rediscovered the joy of putting pen to paper as an antidote to the busyness and stress of modern life.
Finding Comfort in the Word has some beautiful Scripture colouring books here. And Cheerfully Given has a wider range from different artists here.
Check them out on Amazon too!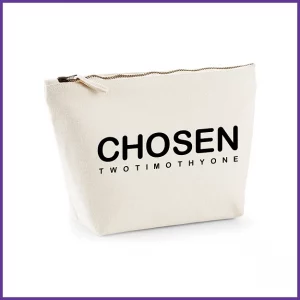 A bag or pouch like the one above makes a super practical baptism gift – slightly unusual, maybe, but definitely something which will be used regularly and will offer an aide memoire to fix your friend's eyes on Jesus. There are a few at Finding Comfort in the Word, and further options at Cheerfully Given.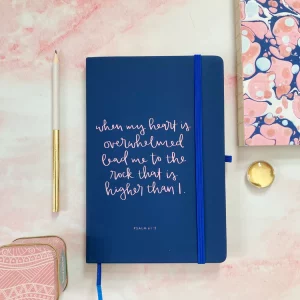 A beautiful journal makes a wonderful baptism gift. Many people like to record prayer requests, Bible insights and what they feel God is saying to them, and a journal is a handy thing to have around.
Check out Hope and Ginger's fab range if you're in the UK, or for the rest of the world have a browse on Amazon for prayer journals.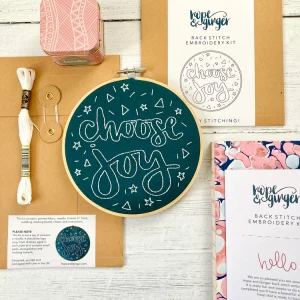 If your friend getting baptised enjoys embroidery or general craft kits, you can't go wrong with these lovely Christian embroidery kits from Hope and Ginger.
Not only will the making of them provide hours of pleasure and encouragement to your friend, but the finished product will be hung in the home with pride for years to come!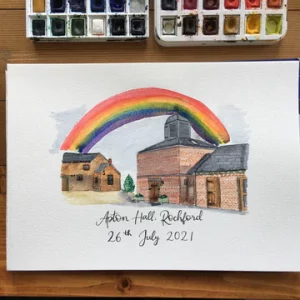 A lovely memento of your friend's baptism would be a hand-drawn watercolour or other print of the church or location in which they declared their faith. (Even better if they were baptised outside, in a lake, river or even the sea!)
In the UK, And Hope Designs will produce this for you, from a photo, at a very reasonable price.
Elsewhere, why not Google artists local to you, or ask an artistic friend if they'll accept a commission?
14. Cushion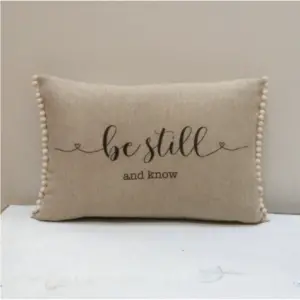 A cushion might seem like a random adult baptism gift, but think about it: we use them everyday and they're out on display 100% of the time. What a wonderful memento of a special day, as well as a talking point and perhaps even the start of a faith-based conversation with guests. If you're in the UK, check out this fabulous range from Cheerfully Given.
If you're elsewhere in the world, check out Amazon's selection of Christian cushion covers.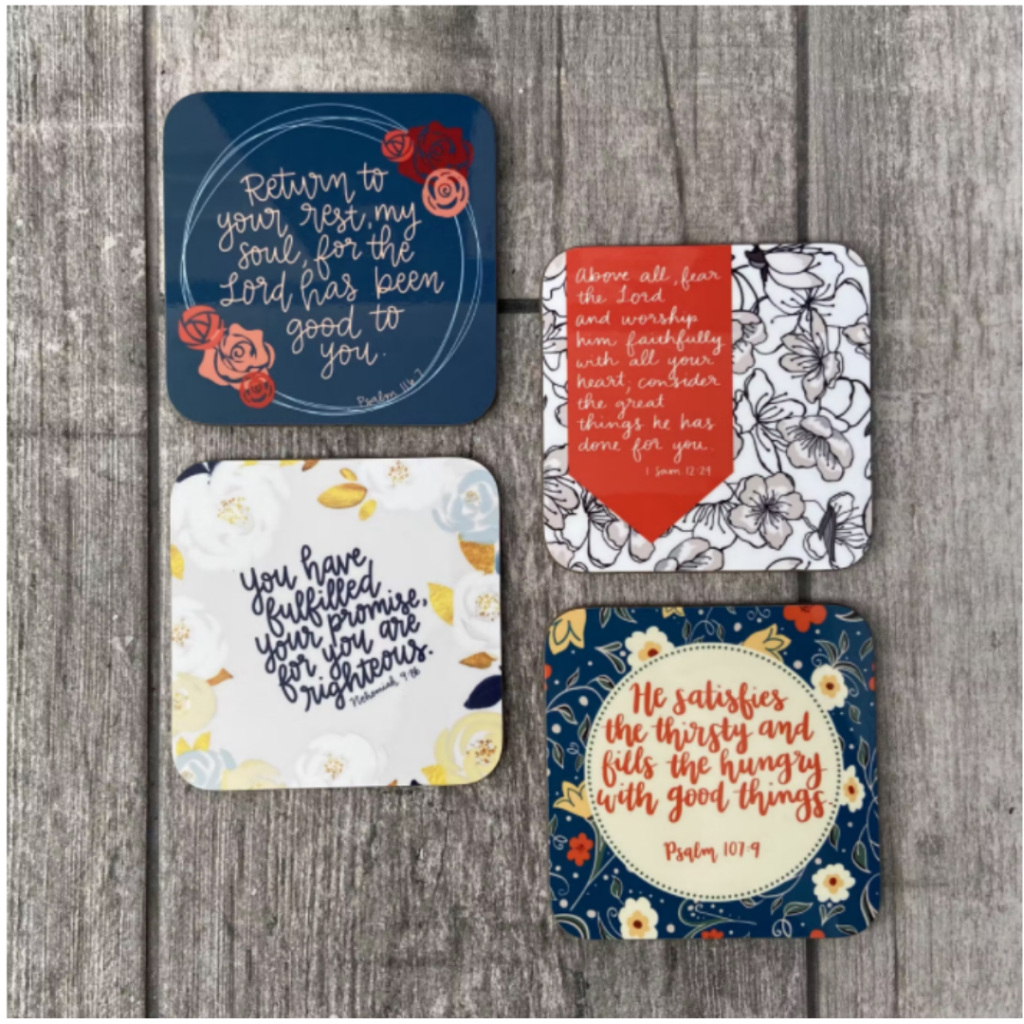 There are some fabulous faith-based coasters available, and they make a unique baptism gift for adults. I love the range at Cheerfully Given.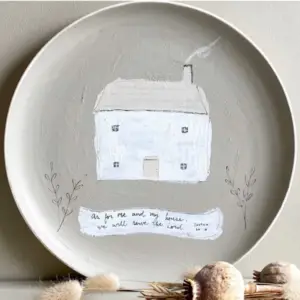 If you're in the UK and have a larger budget, this ceramic plate with the "As for me and my house" verse could make a very special baptism gift for adults.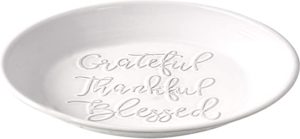 If you're in the UK, check out this "Grateful, Thankful, Blessed" plate on Amazon.
17. Cards
Please don't leave it till the last minute and end up with some shocker from Asda…I wouldn't want that for you.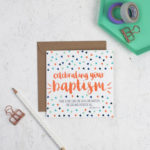 Nope! For one thing, Hope and Ginger offer first-class delivery, so it's nearly as quick as heading to the shops (or quicker, in my case), AND you'll find some much more beautiful cards – click here for their full baptism range.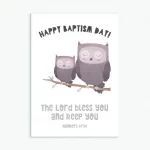 Frog and Gnome have some gorgeous baptism cards too, which are well worth checking out.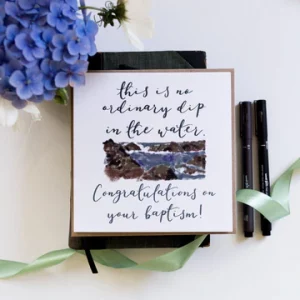 This quirky card comes from And Hope Designs.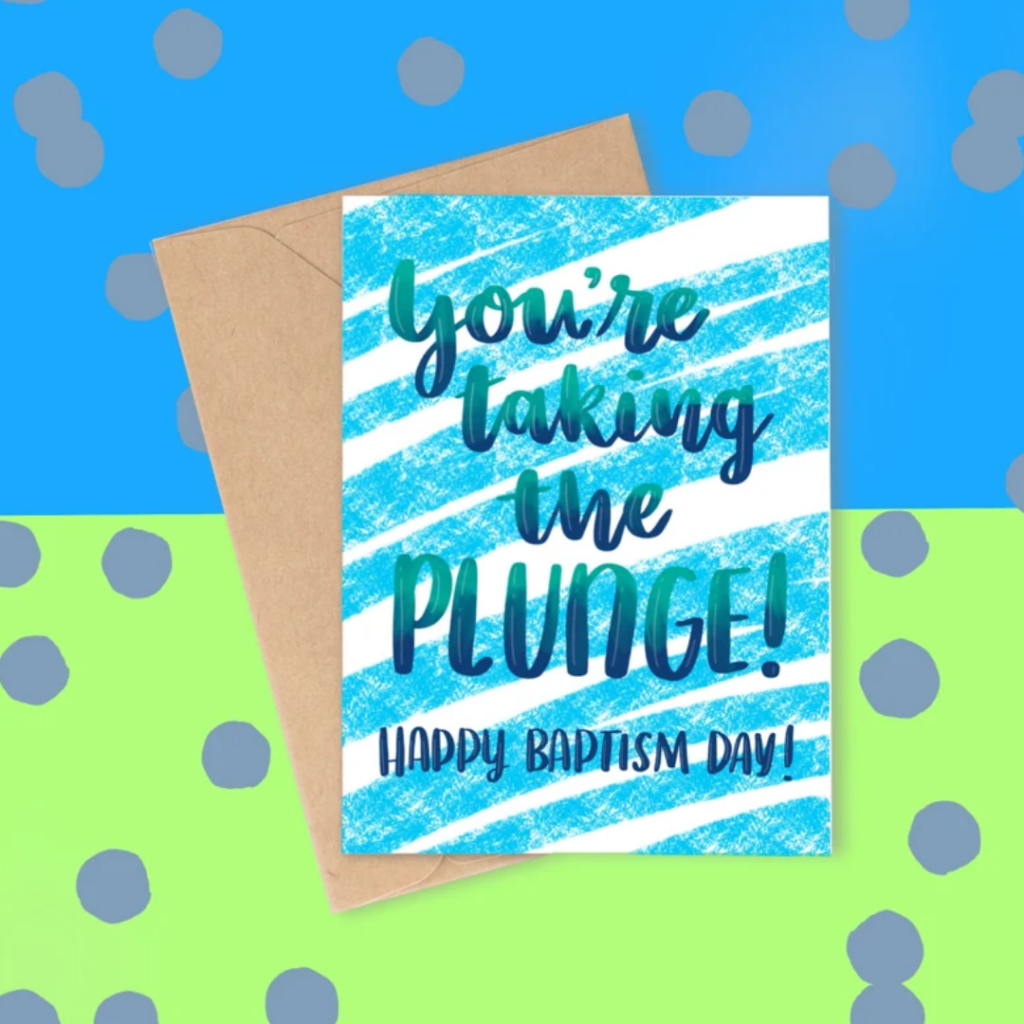 Check out this corker from Perish and Fade!
And don't forget to check out Cheerfully Given's wonderful range of beautiful baptism cards.
***
I hope this post has helped you consider what to give for a baptism gift for adults. Are you going for any of these suggestions? Or do you have other ideas? Share in the comments – I'd love to hear!