I use affiliate links in some blog posts. If you click through and make a purchase, I earn a small commission at no extra cost to yourself. Thank you for your support.
There are thousands of Christmas shopping tips on the Internet about saving money. Posts about buying second-hand, spreading the cost through the year, utilising sales, and so on.
But how about saving time?
Don't get me wrong, I'm not rolling in cash either. But this year, with four kids, church, PTA, this blog, my new book and myriad other commitments, I started to ask, How can I make Christmas shopping less stressful?
Adhering to the time-management principle of doing jobs all in one go (the theory is that they take less time because you're more prepared and more focused), I challenged myself:
Would it be possible to do all my Christmas shopping in one day?
I wasn't sure. I have a lot of people to buy for. We now do a Secret Santa for the grown-ups in both my family and my husband's family, so that has reduced this number, but it's still around 60, even if some of those gifts are very small.
In addition, I have four stockings to fill for my kids – and several friends and relatives have birthdays in December or early January, so my list includes them too, as if I don't buy their gifts now, they'll never get anything!
To get all of these gifts bought or ordered in one day seemed like madness!
But then again – I quite like a bit of madness! So, with a 'bring it on' attitude, I began…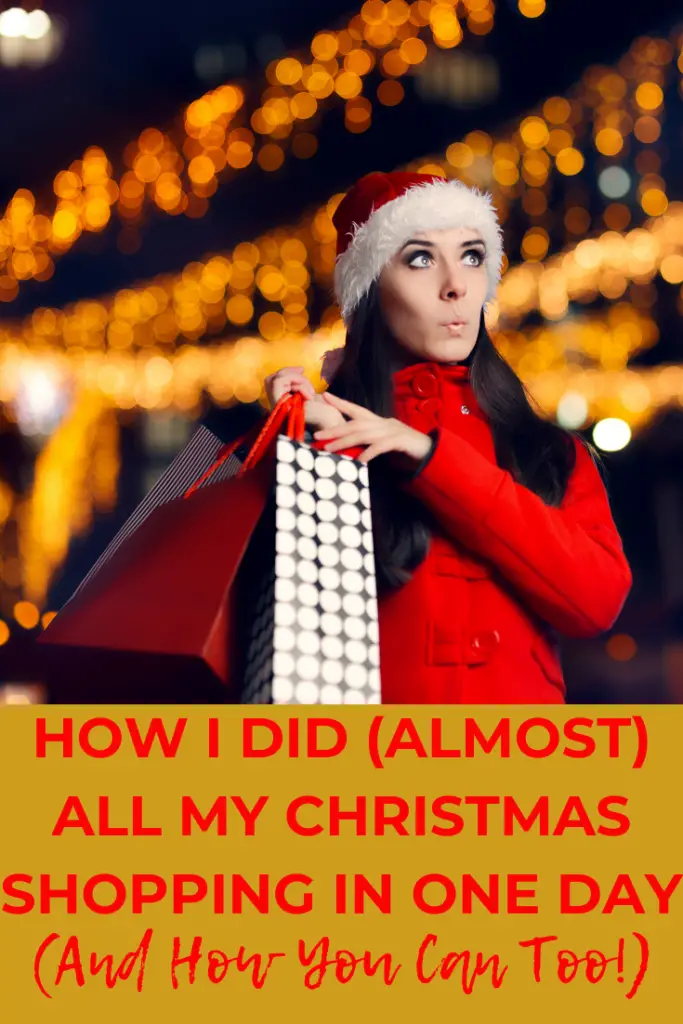 Christmas Shopping Tip No.1: Get Prepared
I looked in the diary to find a day when I had no other commitments and could get to the shops child-free. (If you're not in this stage of life just yet, then don't worry – that's why God gave us the Internet!)
With this day booked out as 'Christmas Shopping Day', and the evening booked out too (for online Christmas shopping), I wasn't going to allow any other commitments or jobs to creep in.
I also booked out the evening before, as I knew I would need some time to go through my list and plan what to buy for people (or, at least, where to browse).
And – very importantly – I sent messages to my siblings and in-laws, to see if my nephews and niece had wish lists for me to buy from. Us adults tend to be more spontaneous, but children usually have lists of things they want, and it's lovely to be able to help towards that.
Christmas Shopping Tip No.2: Plan the Night Before
I keep a list on my computer of who we give Christmas presents to, which definitely saves a bit of time each year, although it also needs regular updating, for example a new member of staff who's joined my husband's team, or different teachers.
In previous years I've forgotten about teachers or work colleagues until the last minute. So, to help you, here's a list of different groups of people you might be getting gifts for this Christmas.
It's not a list of who you HAVE to give gifts to!
We don't give gifts to our neighbours, for example – and I've already said that we don't do adults in our extended families other than the Secret Santa – but I hope it's helpful to you so that you don't accidentally forget about people you WOULD like to give to this Christmas!
For each of these categories, stop and think: is there anyone in this category I would like to give a gift to?
your children/children-in-law/grandchildren
extended families
godchildren
your children's godparents
friends
friends' children
neighbours
work colleagues – for you and your spouse
your children's teachers/childcare providers
anyone you'd like to thank this year
fellow committee members if you chair a PTA or different voluntary group
So, with this in mind, I wrote a full list of everyone we WANTED to give something to this Christmas, adding in requests from the various children in our lives, and thinking through what might be appreciated by the adults.
I will stress, again, that many of the people on our list only get something small, and we give these gifts because we WANT to, not because we feel obliged to.
You should never give to your children's teachers out of obligation – that's not why they do what they do! But I live to give to teachers as a sign of our gratitude for what they do for our children.
I then made three lists:
a list of the shops I could access on foot
a list of shops I would need to drive to
a list of presents to buy online
This whole process took just under two hours, so easily do-able in one night.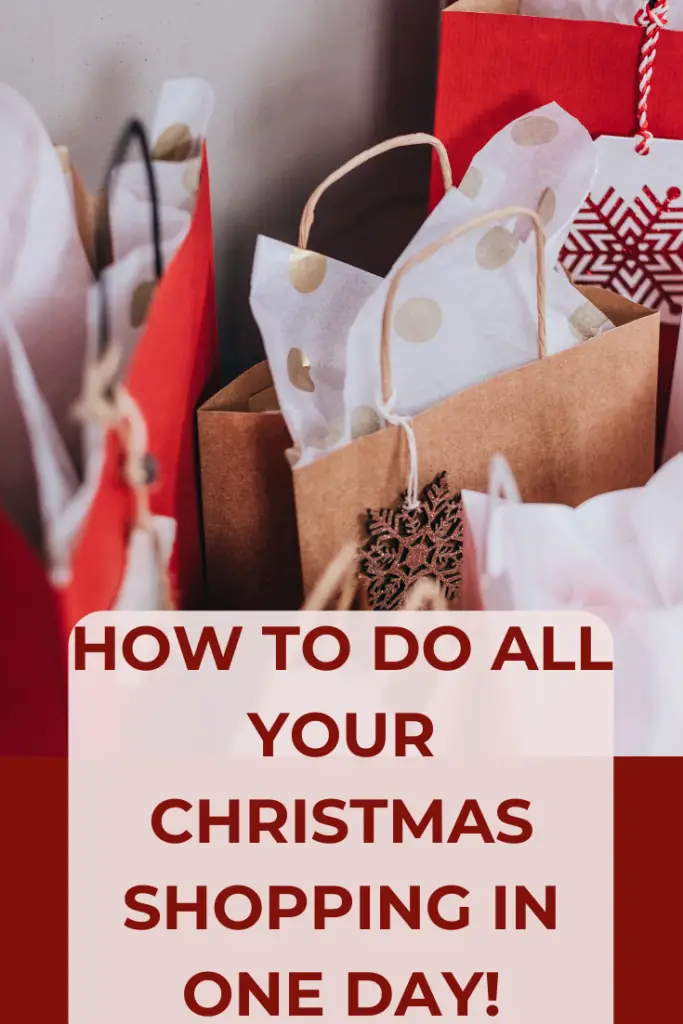 Christmas Shopping Tip No.3: Do it in One Day!
On the day itself I made sure I was ready to hit the shops as soon as our children were in school. I took a rucksack with me, which I felt would probably be sufficient in addition to a couple of shopping bags – but you may need a larger shopping bag on wheels if you have lots of larger gifts to get!
As I enjoy using independent shops and markets wherever possible (and we're fortunate to be blessed by many of these in York), I hit an obstacle straight away:
Most independent shops have later opening times.
There I was, walking through town at 9.15, and all my favourite shops were still locked up!
Still, not to worry, I went to Waterstone's and the other high street shops on my list. Having made this list the previous night, it was so easy to know exactly where I was going and who I was buying or browsing for.
Once I'd done the high street shops, I browsed our Christmas market, then came back home via the lovely independents – job done!
I was actually amazed to find myself home by 11.30 – it really hadn't taken me that long, although there were still many more gifts to source.
In the afternoon I drove out to one of our retail parks, to tick off another few gifts from supermarkets and other big stores.
I have one regret about this: I like to make a few homemade foodie gifts for various people. If I'd planned these gifts the night before, finding the recipes and making shopping lists, then I'd have been able to get all this shopping done too.
However, I did at least buy enough jars to supplement those I'd been collecting, and most of the ingredients I will be able to order very easily with my next supermarket shop anyway, so it wasn't a problem. Next year, however, I will get super-organised and include them in my Christmas Shopping Day!
I was home, done and dusted, well in time to collect Monkey and Meerkat from school at 3pm. I'd nearly booked them into after-school club so that I could have more shopping time. (Mister and Missy stay till 4.15 on a Monday for other clubs.) At just £6 per child, I thought it was well worth that extra bit of cash in order to finish the shopping. But actually I was glad I hadn't bothered, as the shopping took me less time than I'd expected – note for next year!
From 3-7pm I turned into 'Mum' again, as I do on normal working days. I closed the laptop, didn't think about Christmas shopping, and just got on with normal family life like chatting to the kids, making dinner and eating together.
I mention this, because I want you to know that although I did all my Christmas shopping in one day, it wasn't totally non-stop. In other words, it's actually very manageable! The key is in the preparation.
Christmas Shopping Tip No.4: Use the Internet
Once the twins were in bed, Missy was at Brownies and Mister was engaged with something, I was able to hit the online stores.
This is where I hit the main obstacle: I hadn't let my bank know quite how active my debit card was going to be on this day! A couple of websites in, and I found my card was blocked. I couldn't actually complete my Christmas shopping in one day, even though I was doing really well for time, and had my list right in front of me!
It was frustrating, to say the least, but obviously I'm glad that my bank are so vigilant when it comes to fraud. Next year I will give them a ring before my Big-Spend-Day so that they're expecting it and (hopefully) my card doesn't get blocked again.
Christmas Shopping Tip No.5: Contact your Bank
This seems an appropriate point to quickly mention money. Of course one disadvantage to shopping in this way is that you need to have your entire Christmas budget ready to go. For those of us who like to – or need to – spread their shopping out across a few months, this method of doing it all in one day may not appeal.
But with a little planning, it can actually work out well. If you have saved elsewhere for Christmas, then simply move the funds over to your current account – or whichever account you'll be using – in time for your Christmas Shopping Day.
Or pay on your credit card, then pay it off immediately with what you've saved so far, creating reminders in your phone to make more payments over the next few weeks if you haven't yet saved enough.
I actually found shopping in this way saved me money because I knew exactly what I'd got everyone, so wasn't likely to buy 'extras' through forgetting what I'd already bought.
I was able to use the funds in our current account through having deliberately lived fairly simply for a few weeks. Whilst what I spent pretty much stripped us dry, shortly after my shopping day we received my husband's salary and our child tax credits/child benefit – and, of course, there were no more presents to spend it on – so actually we've never felt richer in the weeks leading up to Christmas!
The following day, I'm happy to say, my bank unblocked my card and I was ready to complete my shopping.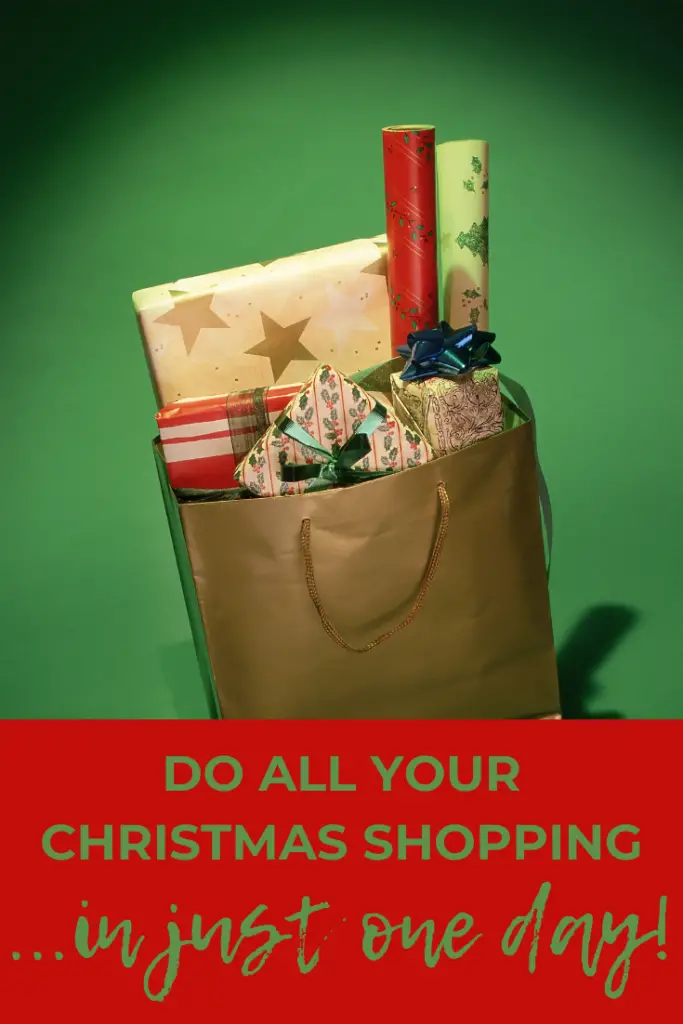 Did I get All My Presents in One Day?
No, not technically – but for good reason:
* my bank blocked my card meant that I had to wait until the following day to finish my online purchases – which I did, so all of these were completed within 48 hours
* I'd bought a few presents back in October, to support an independent Christian bookshop which was having a sale, and before I'd come up with this idea of doing it all in one day
* the homemade gifts are not completed – some of these are best left till nearer Christmas anyway, and I'm hoping the kids will enjoy making these with me through Advent. However, I bought enough jars, and we have enough labels and ribbon to make them whenever we have time. The ingredients will be ordered with our weekly supermarket delivery.
* some of my younger relatives haven't yet made lists. I'm happy to give them cash, but haven't yet put this in envelopes just in case they think of ideas between now and Christmas. So there may still be a few gifts to source here.
But largely – yes, I did complete most of my shopping!
And what's left to do is so small that it isn't going to occupy my mind or time during Advent, leaving me more time to focus on what's important – celebrating Jesus' birth! – besides planning for my family to come to stay, and any other Christmassy activities we want to do.
If you're looking for Christmas tips and tricks to save you time this year, I highly recommend this way of doing your Christmas shopping! It was fun, quick and has helped to shift some of the overwhelm I often feel at this time of year.
And, if you're looking for something to help you focus on the real reason for our celebrations at Christmas, why not check out my down-to-earth, accessible read Redeeming Advent?
>>DOES POCKET MONEY 'SPOIL THE CHILD' OR DOES IT TEACH INDEPENDENCE?<<