I use affiliate links in some blog posts. If you click through and make a purchase, I earn a small commission at no extra cost to yourself. Thank you for your support.
March 8th has become a stalwart in the calendar of festivals and holidays as International Women's Day (IWD).
Growing in prominence, and with a different theme each year, it's a chance to celebrate how far we've come in gender equality, and raise awareness of situations in which women still have far fewer rights than men. If you Google it, you'll find plenty of resources to use for children to use on and around IWD.
But as Christian families, are there specific things we can be doing with our children to help them see the significance of gender equality from a Biblical perspective?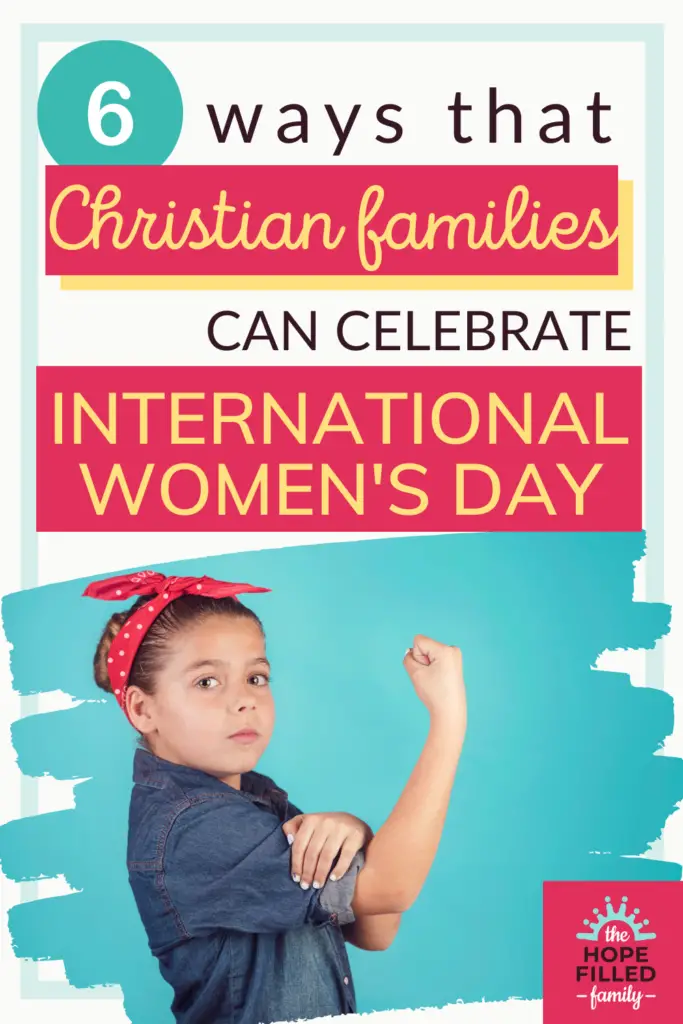 Here are six ideas to start us off:
1. Books and resources
Surround your children with books and resources which champion women. I'm delighted to report that there are increasing numbers of these, including my own, Deborah and Jael.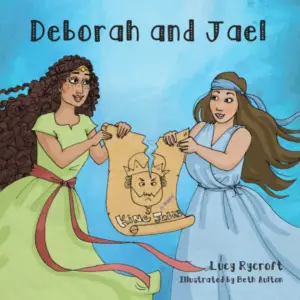 You can get it from Amazon, Eden, and anywhere books are sold – but for a signed copy, plus an exclusive gift-set option, you can buy it right here, at my shop!
Other Christian, female-focused books you could buy are:
2. Pray for discrimination hotspots
There are so many unjust situations involving the oppression of women worldwide: not being able to access an education, being married off young against their will, female genital mutilation (FGM), sex trafficking, poor maternal healthcare.
CHECK OUT –> #shetoo: Can I protect my daughter from being a victim?
Depending on the age of your child, choose an issue which affects girls (either one of the above or one you know about), get reading about where it occurs, and get praying!
Younger children will be able to understand and pray for those who aren't allowed to receive an education, whilst older children might be able to get their heads round enforced marriage or poor healthcare options for women.
An excellent resource for helping children pray for others around the world is Window on the World, produced by Operation World.
3. Reflect on your own attitudes
IWD is a really great opportunity to reflect on what your children see modelled in your own behaviour as you live, work and play together.
If you are in a relationship, do your children see mutual respect between the two of you? Do they see sharing of tasks, where possible, and that each parent's contribution is valued and praised?
How about the language you use to each other and in front of your children? Is it full of kind words about others? Do you slip into sexist jokes unaware? (Remember that sexism works both ways!)
If you have sons and daughters, are you giving the same opportunities to both?
4. Be discerning with 'feminism'
There are many, many great aspects to the feminist movement – but we would be wise to remember that only Jesus is the ultimate example of how to treat each other equally, without preferential treatment. Every philosophy or movement which has come since Jesus has its flaws, because every other philosophy or movement is created by humans – and we are all flawed!
For example, campaigning for equality is a good aspect of feminism. But if we are not discerning, then we will mentally raise the status of women above men, or make jokes about a man's ability to – for example – care for a child or clean a house.
Also, while feminism strives for women to be able to do anything men can (a good aspect!), it can unwittingly create an unhealthy focus on our achievements, potentially making life harder for those of us who feel we haven't 'done' anything valuable in the world's eyes.
And when feminism puts women's rights at the heart of the agenda – which is often much needed – we also know that so often the rights of one human can clash with the rights of another (for example, in abortion).
God designed us to live in community, where sometimes we have to forego our 'rights' in order to live with others as He commanded, knowing that true equality and balance will only be achieved once we get to heaven.
So – view feminism through the lens of the Bible, not the other way round, and teach your children that the leader to follow is Jesus – not Sylvia Pankhurst, Germaine Greer or Ruth Bader Ginsburg.
A great book to help us grown-ups think through this is Jesus Feminist by Sarah Bessey.
CHECK OUT –> Can I be a feminist and a stay-at-home mum?
5. Focus on identity not achievement
As mentioned above, feminism can potentially (and often involuntarily) make us prize human achievement over anything else.
But as Christians, we know we are dearly loved by our Father in heaven simply because He created us! We are valued even before we 'do' anything.
And our identity comes not from anything we may do later in life, but in what Christ has done on the cross. Our identity is fully loved, fully forgiven, fully adopted and bought-for-a-price.
Whether we manage to shatter a glass ceiling or not in our lifetimes, we already have as much value and identity as we ever could, in the loving embrace of the Father and the Son.
The more we teach our children – girls and boys – that they are this loved, the more secure they will be to follow whichever path God sets for them as they grow older.
It is good to take every opportunity to model to our kids that they don't need to 'earn' anyone's approval. In showing them that they already have ours, 100%, they will come to understand that they already have God's, because it was bought for them on the cross.
CHECK OUT –> How do Christians parent for gender equality?
6. Include your sons
We so often gear any child's form of IWD towards our daughters, granddaughters, nieces and goddaughters.
Why?
I grew up in the 80s, and I'm pretty sure even then us girls were being told we could do anything, achieve anything, be anything.
What stopped us?
Many of my generation, of course, have been able to fulfil their dreams and ambitions. But for those who haven't, a huge factor has surely got to be the attitudes of men around them – whether in the workplace or in relationships.
As Christian parents, we have a responsibility to teach our daughters AND our sons to respect each other, to be one another's cheerleaders, to open doors for those who are gifted, and to call out examples of discrimination where we see it occurring – whether in the workplace or in a relationship.
There are plenty of men and women who already do this. We just need more!
And it is with a healthy combination of ALL of the above – the books, the intercession, the attitudes, the discernment and the identity – that we will be able to train our children in something of God's perfect design for gender equality.