I use affiliate links in some blog posts. If you click through and make a purchase, I earn a small commission at no extra cost to yourself. Thank you for your support.
When we arrived at our current church, a little over four years ago, our two children (then aged 4 and 2) were the only regular kids attending.
Some weeks it was just the two of them – and other weeks, they had one or two friends join them – but, with such small numbers, they always had the run of the church.
And, when I say 'run', I mean 'RUN'. My husband and I were frequently both involved in any given service, and our kids hadn't yet got to know the other adults well enough to sit happily on their laps – so we let them run.
As our church started to grow, we realised that we'd inadvertently set a precedent. New families coming into the church only had our model to follow.
It's not that it was a bad model necessarily, it's just that we'd done what we needed to, given the circumstances, and it hadn't really been thought-through – theologically or practically.
So now that we have four kiddoes (8, 6, 3 and 3), and our wonderful church welcomes nearly 30 children each week, the issue of what we should expect from kids during services is regularly on my mind.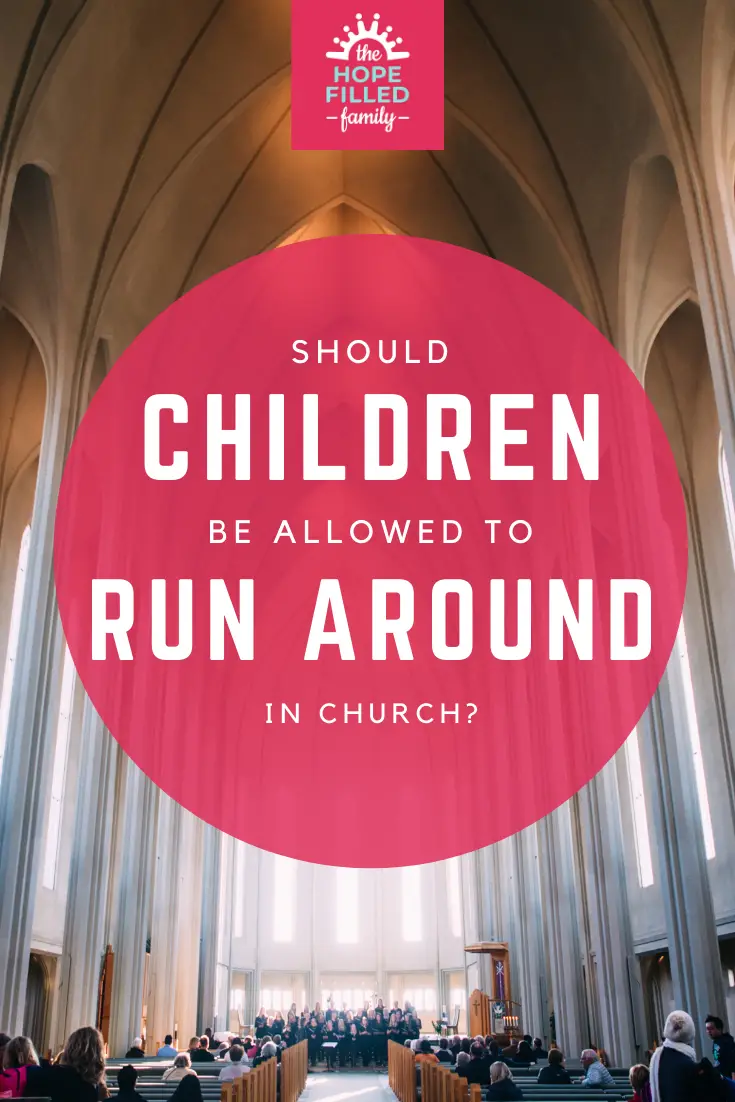 On the one hand – I love that our church is so welcoming and non-judgemental, and wish all churches were like that. (I'm aware many are, which is brilliant!) On the other – I wonder when kids should start engaging with the service, and how that's supposed to happen when we haven't developed that culture with them.
>>Parenthood and Church: Is it worth it when it's so hard?
May I answer a question with a question? (I'm not going to wait for your answer. Jesus answered questions with questions, so I reckon I'm fine.)
In response to the issue of whether children should be let loose in church, I'd like to ask, What would they be doing if they weren't running around?
And here are some possible answers to that question:
They might be screaming, tantrumming, or banging the pews/chairs. (An aside: for all their frustrating inflexibility, pews are SO much more satisfying to bang, right? A much more resonant sound. Thank you. As you were.)
Mainly, this applies to toddlers. Let's be fair: when do we ever expect a 2 year old to sit still and quietly for more than a couple of minutes in any context apart from church? (Mealtimes don't count – you can't strap a child into a highchair in church, and you can't feed them for the entire service either, not unless you want to raise a child reminiscent of the Michelin man.)
This might also apply to older children with additional needs. These beautiful human-beings, who God created and loves and wants us to welcome graciously, may not yet have the emotional understanding or ability to meet the kind of expectations we might put upon other children. Are we to place impossible, stressful demands upon them and their parents?
Quite honestly, if it's a toss-up between a child roaming freely around church, or having a screaming fit because they're feeling restrained in a pew – I'm with the first option.
But here's another answer: if the children weren't running around, they might be actually engaging in worship.
I'm speaking now of school-aged children primarily – children who do regularly sit still in class at school, and in assemblies. By allowing them to run amok, are we denying them of the opportunity to absorb Scripture through learning hymns and songs, taking part in the confession, and hearing Bible passages read to them?
John Piper gave a thought-provoking interview a couple of years ago on "Should children sit through 'big church'?" I don't agree with everything he says, but I do love his emphasis on our role as parents when it comes to modelling church for our children:
"The greatest stumbling block for children in worship is parents who don't cherish [it]…They don't love it. Children can feel the difference between duty and delight. So, the first and most important job of a parent is to fall in love with the worship of God…You can't impart what you don't possess. And this is what you want your children to catch. You want them to catch authentic worship…The cumulative effect of 650 worship services spent with mom and dad in authentic communion with God and his people between the ages of 4 and 17 is utterly incalculable."
If we don't allow our children to authentically engage in worship – first by observing us, then by taking part themselves, then by believing, questioning and really owning it themselves – what are we hoping for their futures? That they won't know how to cope with services which aren't specifically tailored to their age group? That they will never own their faith for themselves?
It doesn't sound very optimistic!
I do think our services need to be free and relaxed enough to accommodate children in all stages of life, with all sorts of different needs, on all sorts of days, in all sorts of moods. But I also think that us parents have a responsibility to develop a healthy model of communal worship with our own offspring.
A final answer: if children aren't running around in church, they'll be running around at home, at the park or on a football pitch.
None of these options are bad – in fact, they're all lovely ways to spend time. But ultimately it's a joy to have children in our churches! Do we really want to lose them to other activities because parents have felt judged or frowned upon when they've come through our doors?
>>Is church just another one of your family's extra-curricular activities?
Regardless of our own feelings, if our words and actions make parents feel uncomfortable and unwelcome when they show up, then they simply won't return.
Sometimes, we'll just need to bite our tongue or smile when we don't feel like it – but if these small actions help people to know God's welcome, God's love of children, and God's huge desire to see them come to know Him, they'll be worth every piece of our energy.
How Can I Parent my Children for a life of Faith?