I use affiliate links in some blog posts. If you click through and make a purchase, I earn a small commission at no extra cost to yourself. Thank you for your support.
For those of us on the go 24-7 (and, let's face it, who ISN'T these days?), daily devotional apps are a brilliant idea.
As long as we have our phone with us then, through apps, we're able to stay organised, order groceries, check the bank balance, stick to our fitness schedule – and even grow in faith.
Downloading one of these Bible apps for women means you can engage with Scripture wherever you are. You don't have to carry your Bible or devotional book around, you don't have to remember where you are in the Bible, you don't have to figure out yourself what the words are saying – as long as you have your phone handy, you can spend some meaningful time with God, guided by experts.
There's a big variety of Bible apps for women available – from those which simply read Scripture aloud to those which offer some kind of commentary. And this commentary can be a short, simple reflection, a longer meditation or a more in-depth theological slant – you choose.
But how do you know which one will suit you best?
Fortunately, I've done the hard work for you: I've downloaded and tested 17 Bible apps for women (plus an additional couple of prayer apps) so that you can see at a glance what they're like. I hope it's helpful for you as you narrow down the choice to one which serves you well in this season!
I've listed them alphabetically, so make sure you go through the whole list! (Oh – and yes, they're ALL available for both Apple and Android – joy!)
Women's daily devotional apps – a warning
Bible apps are BRILLIANT in so many ways – they are incredibly handy, take you through a planned devotional and give you access to some amazing Bible teachers.
BUT…the very nature of an app means it's easy to disengage.
For example, audio functionality (the option of listening to the Bible or a devotional being read) is helpful, but encourages multi-tasking in a way that's not conducive to a rich and meaningful time with God.
Having a set devotional to work through and tick off can also turn your quiet times into a dry to-do list, rather than a time which is alive and exciting!
I'm not saying don't use a Bible app. What I am saying is: beware of the potential pitfalls, and then use one intentionally!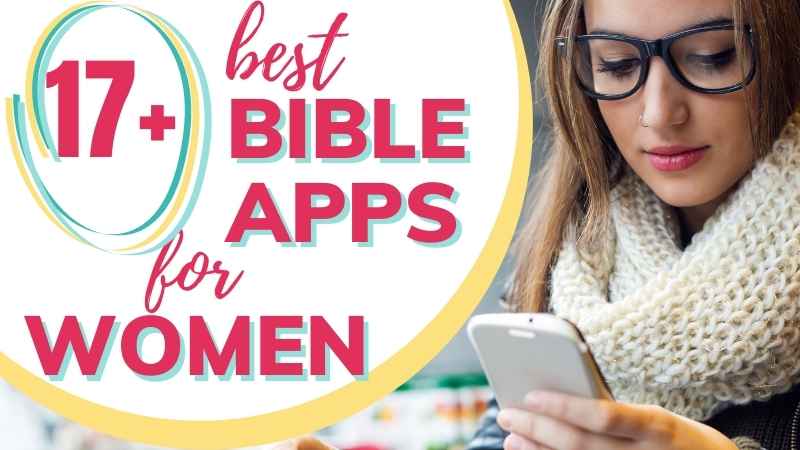 Women's Devotional Apps – free?
If you're looking for a free Bible study app then you're in the right place. Many of the following apps are free – I've noted it in the bullet points underneath each app.
But if you're looking for a quick list of the best free daily devotional apps, here they are:
The Bible Project

Blue Letter Bible
CFL
First 5
Lectio 365
Lectio Divina Meditation
Read Scripture
Redeeming Time
She Reads Truth
Testimonio
Through the Word
You Version
Scroll down for more details on each!
Bible Apps for Women
Please note: the 5* rating listed is the app's current rating on iTunes at time of writing, and does not reflect my personal opinion of the app, which you can find in the prose below each app.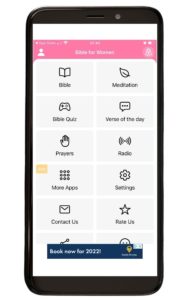 Free (with in-app ads – to remove them, subscribe from £2.79/mo)
5* rating: 4.9 (43.9K ratings)
Features: adjustable font size, reading progress tracker, Bible reading plans, meditations, Bible quiz
This is one of the nicest-designed Bible apps for women. Unless you pay for a subscription, you may get annoyed by the ads interrupting most features – but a subscription will hardly break the bank (£17.99/yr).
However, in my desire to provide you lovely people with the most thorough review possible, I felt it my duty to try out every single feature – which includes a Bible Quiz. I have no idea how many questions you have to answer in order to leave this Dante's Inferno of Bible apps, but having spent several minutes being asked why Balaam's donkey stopped, or who Joseph was sold to, I literally had to delete the app and reinstall it as the only way of exiting Groundhog Day. Maybe this glitch disappears upon subscription?
Quiz aside, however (DON'T TRY THE QUIZ), there are a few other little features which are nice: verse of the day, a prayer board to share requests, and four different Christian radio stations to enjoy.
You can also watch five basic Biblical meditations consisting of background music, images and Bible verses (worry, love, faith, marriage, prayer) – certainly not the most user-friendly meditations available in daily devotional apps, but they're fine if you're happy to keep your eyes on your screen.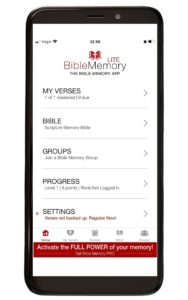 Free (full version: one-off payment of £8.99)
5* rating: 4.5 (12 ratings)
Features: select verse by theme, group accountability, memorisation games, progress tracker
This is a clever little Bible study app if you're looking to memorise Scripture. You can choose a verse to learn from their long list of themes, then it gives you little memorisation games to play in order to properly learn that verse. You can even join a group to learn the same verses together, for maximum accountability.
There's a progress tracker, and it's easy to see how many verses you've mastered. I like the fact there's a 'Review' section, for going over the verses you've memorised (if you're anything like me, they go out of your head pretty quickly once you move on to another verse).
There are obviously benefits to signing up for an account, and also to buying the full version (such as being able to back up your verses, or use different Bible translations), but as a free Bible memorisation app this is pretty good.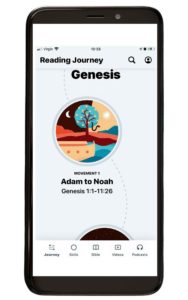 Free
5* rating: 4.9 (1.3K ratings)
Features: huge video library; tools to help you read the Bible; five Bible translations included; skill-building rather than knowledge-building; alarm/reminder functionality
I first came across the Bible Project on YouTube – their videos really make it easy to understand tricky books of the Bible, themes, patterns, or even whole sections. The app is just the same: you can follow a book through chronologically or click on links which interest you, in order to follow an idea through the entire Bible.
Each daily devotional consists of a 5-minute video, incorporating Scripture passages which you can read in full by clicking on the links. And the app doesn't stop with devotionals: there are plenty more tools to help you understand how Scripture functions, how to read it and how it fits together.
It's maybe not the app for people like me who prefer to follow one linear path, as there are so many different trails – but these follow logical steps, so once you're in them, they're fine! It's great for those who aren't sure where to start with the Bible, as you can just dive in and explore what interests you.
You can go as quick or as in-depth as you like with this app. It provides an overview rather than fine-toothcomb style reflections, but the depth comes from understanding how Scripture was written and designed to be read.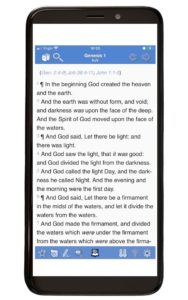 Free
5* rating: 4.9 (184.6K ratings)
Features: four Bible translations, eight different Bible-reading plans (either 1 or 2 years), facility to make notes, search function (like a Bible concordance)
If you're looking to read the whole Bible in a year or two, BLB is your best bet. You can choose from four different translations of the Bible (CSB, KJV, NKJV and NIV), and from eight different reading plans.
However, there are no devotionals, so you might find yourself craving a little commentary on the passages you're reading. There are some basic study tools – such as a search function (search for any word or phrase through Scripture) and the ability to make, and save, your notes.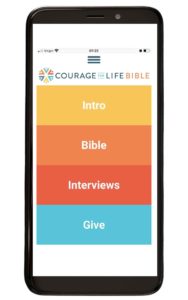 Free
5* rating: 4.9 (36 ratings)
Features: The only all-female voiced audio Bible app, explanation of the gospel, links to further studies and devotions
The rather long intro audio (16 minutes) about the Bible and how we can come to know Christ makes more sense when you realise that the chief motivation behind creating this app has been to reach women in prisons or otherwise at-risk. Courage For Life is an organisation which works with female prisoners, leading them to the life-changing power of God's Word. So this initial explanation of the gospel could be hugely transformative for a female inmate who'd never heard it before.
But the app is suitable for all women!
You can select to read or listen to any passage of Scripture – and each book or the Bible comes with a user-friendly helpful intro to aid understanding. There's a link to Bible studies available on the CFL website (some more Bible-based than others), as well as some of founder Ann White's own devotional blogs. It would be great to have these available right in the app, but as an entirely free app where you'll never be asked to upgrade for a fee, and where any ads are surreptitiously placed at the bottom of the screen, it's pretty good.
And if you're interested in how this project came to be, there's a fascinating video right in the app of interviews with the 12 actresses who provided the voiceovers.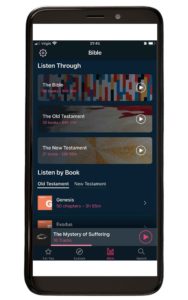 7-day free trial, then £34.99/yr
5* rating: 4.9 (29.4K ratings)
Features: listen, read or both; choice of different background music, volume controls, 14 voices to choose from, Spanish and Portuguese Bible translations included
If you're serious about using a Bible app for daily devotions, then £34.99/yr is not a huge investment, but Dwell really does deliver.
With a huge choice of voices, accents and translations to choose from (it's like your Sat Nav, only better), a variety of musical backgrounds (or silence, if you prefer), Dwell is a brilliant app if you just want to soak yourself in Scripture.
There are stacks of Bible reading plans, playlists for all eventualities (try "I'm feeling stressed" or "The Mystery of Suffering"), and seasonal readings. (I reviewed it during Holy Week, for example, and could see both a Lent plan and Holy Week plan available to me.) You can choose to listen to a particular book of the Bible, or to go through the Old or New Testaments.
There are no commentaries or reflections here – it's pure Bible. But if you're looking for a daily devotional which immerses you in Scripture, this is the one.
First 5 ** THFF choice **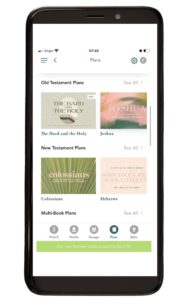 Free
5* rating: 4.5 (710 ratings)
Features: six different Bible translations, daily devotionals, access to past devotional series, all female-authored
First 5 is a part of the Proverbs 31 ministry, which also includes a wonderful podcast. (Check out my Christian podcasts for women blog post for more deets!) The concept is to spend the first five minutes of each day with God – or, as founder Lysa TerKeurst puts it, "We must exchange whispers with God before shouts with the world".
This really is an excellent daily devotional app for women in that you get daily devotional readings to go alongside Scripture. If you want to use the app simply to read the Bible, you can do that two, with a choice of translations, but the daily devotionals are really helpful. Plus, if the current series isn't speaking to you, you can select previous plans – and there are A LOT to choose from.
The concept is simple: get into the Word with the help of some gifted female Christian authors. There's no audio, no music, no meditations, no prayer facility (other than comments below each devotional) – but this no-gimmick approach is a gift to someone looking for a good Bible app for women.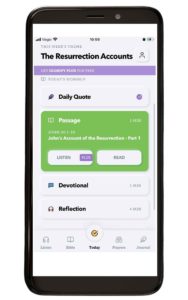 Free (but with an option to pay for a "Glorify Plus" subscription)
5* rating: 4.9 (23.6K ratings)
Features: daily quote, Christian worship music, Christian meditations searchable by theme (sleep, anxiety, healing etc), three different Bible translations, interactive guided prayers
I seem to be hearing great things about Glorify at every step right now, so was excited to see what all the fuss was about. At the outset, you need to know that whilst Glorify is a free Bible devotional app, several key features are unlocked only by subscribing to Glorify Plus. However, you still get a pretty good deal without paying a penny.
The best way I can think to describe Glorify is a one-stop Christian well-being Bible app. You don't just get daily devotionals (quote, Bible passage, devotional – plus reflection and stretch goal if you subscribe) but Christian spoken-word meditations, worship music, the Bible in three translations, interactive prayers and space to journal.
I particularly like the prayers. You can select what kind of prayer you're praying, and then get meditative music and some helpful Bible verses to guide you. Afterwards, if you wish, you can record what you prayed for – either for your own benefit, or to share with others who may also be praying for the same thing. As someone who regularly forgets her own prayer list, this is a fabulous feature!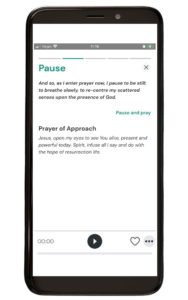 Free
5* rating: 4.7 (264 ratings)
Features: two daily 10min meditations, text and audio options, variety of contributors, night-time meditation is a lovely way to switch off before sleep
Lection 365 is one of the most popular Bible apps available – every other person I know seems to use it! And now I've downloaded it, I can see why: it's so easy to get into a daily Bible-reading habit with this user-friendly app from the 24-7 Prayer team.
Each meditation (there are two per day, morning and evening, but you could just do one if you wanted) lasts around 10 minutes. If you don't have time or struggle to read it, you can listen to the audio. There's a variety of contributors from the 24-7 Prayer network, and therefore a variety of voices, which makes for an interesting diet.
You can download the devotionals for up to 60 days if you need to access them offline, and you can also access any days in the current week – good for if you want to catch up, or read ahead. Each day's meditations are structured around lectio divina (a way of meditating slowly on Scripture so that we can better hear God speak to us through it). The morning meditations use the P.R.A.Y. acronym: Pause, Reflect, Ask, Yield, whilst the evening meditations are loosely based upon the ancient practice of Examen, or reflecting upon your day with God.
If you have a family, you may want to explore the Lectio for Families app – a well-recommended app for family devotions.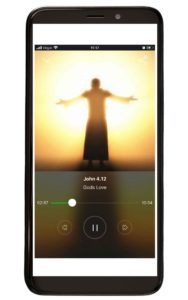 Free
5* rating: 5.0 (1 rating)
Features: audio lectio divina meditations each day, dozens of different Bible translations to read,
If you've never tried lectio divina, you really should – and this app will do it all for you! With a helpful introduction page teaching you what this ancient practice is all about, and daily audio meditations to practise it, you'll find yourself really soaking in Scripture.
Each day there are three short passages – do one or all three (they're 10-15min each). The passage is read a total of four times, with space in between and meditative background music throughout. If you prefer to read the Bible rather than listen then you can simply take the suggested daily verses and head to the Bible section of the app, which gives you every translation you could wish for.
A fabulous daily Bible app for women – or men!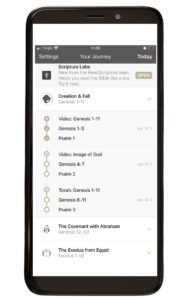 Free
5* rating: 4.8 (1.6K ratings)
Features: start when you like, whole Bible in less than a year, big picture narrative, instructional videos
I kid you not when I say that this was one of the few Bible apps I tried which properly got me excited about reading the Bible. In fact, once I've finished my current devotional, I think I'll start with the plan on this app.
Every aspect has been well thought-out, from start to finish. Using the accessible ESV Bible translation, with a whole host of Bible Project videos included for extra help and context, Read Scripture is an app which splits the Bible into 16 chapters, slightly rearranging the order they come in the Bible so that they make sense as one overarching narrative. If you read from start to finish, you'll complete the Bible in just under a year – reading the Psalms two-and-a-half times throughout that year too.
Whilst there aren't devotionals as such for each reading, there are helpful Bible Project videos along the way to help you understand PLUS links to "Scripture Labs" – 20 minute online cocktails of video, animation, words and quizzes to help you understand particular sections of Scripture.
Possibly the most helpful feature is something so simple that other Bible apps have overlooked it: the ability to tell the app what date you're starting the plan, for it then to automatically assign dates to all of your readings. No more having to start from January 1st when it's actually May!
Get a bit behind? Just reset the starting date – no sweat.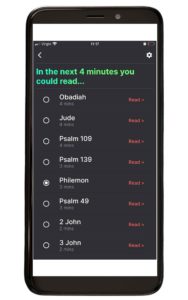 Free
5* rating: 4.9 (16 ratings)
Features: gives you quick Bible passages to read in the time you have
Redeeming Time is a different sort of Bible app. It's designed specifically to help you 'redeem' the time you'd usually spend scrolling social media or YouTube cat videos. If this is a specific issue for you, then this is the app you need!
(Check out Parenthood and Bible Reading – Where Can I Find the Time? for more on this.)
It's totally free (with a few surreptitious ads), and lets you enter a number of minutes of free time you have. It then tells you which books of the Bible or which Psalms you could read in that time. Tapping the link leads you to Bible Gateway, where you read the passage and engage in three simple questions at the end if you wish.
It's certainly a user-friendly way of gradually changing our mindless scrolling time into powerful Scripture time. I like it!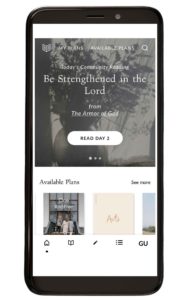 Free
5* rating: 3.4 (1.1K ratings)
Features: seven different Bible translations, numerous Bible reading plans available, easy to highlight/underline/make notes on different Bible verses
She Reads Truth is one of the most popular Bible apps for women, along with its podcast, website and physical products. I can see why: the quality is high, provided by a stellar team of female devotional writers.
The app itself is free, but you pay for the devotional plan that you want. This seems fair, and at only £1.50-£3 per plan (which usually lasts several weeks), no one's being ripped off. But for an incredible bargain of £2.49/month, you can access ALL the plans, whenever you like!
As long as you create a (free) account, the app lets you highlight or underline certain sections, make notes or even share with a friend. The chosen Bible passages are laid out clearly (choose one of seven different translations) – you can even tap on them to read more, or to see the context – followed by an excellent, accessible and truth-filled devotional from one of the SRT team.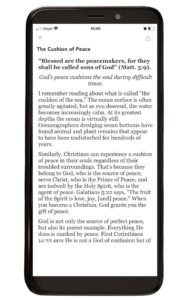 Free (full version £4.99)
5* rating: 4.9 (10.8K ratings)
Features: audio option, bookmark function, four different devotional plans, ESV translation
This app comes from the ministry of John Macarthur. The full (paid) version gives you access to his study notes for the whole of the Bible, plus book introductions, articles, charts, maps and illustrations.
But the free app still gives you access to the entire ESV Bible translation, plus options to change font type, style and size to suit you. A feature I really like is the option of placing up to three bookmarks in the text – brilliant if you're reading several passages of Scripture at once (or, for example, to keep your place in your church sermon series, small group study and personal Bible reading).
You can read or listen to the Bible – and there are four different devotional plans to follow, from reflections on 1-2 verses each day, right through to the Bible in a Year. The full version allows you to highlight and make notes too.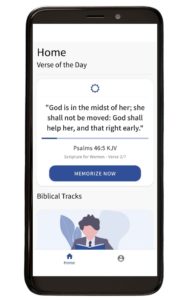 Free (although you need to set up a free account to access the app)
5* rating: 4.2 (14 ratings)
Features: Bible memorisation app, different levels (5, 10 or 15 minutes a day), KJV
Looking to memorise Scripture daily? Testimonio is the app you need. You can select how long you're likely to be able to set aside each day, and the app will give you a verse of the day to learn, along with several games to help you commit it to memory.
There are seven tracks (including Scripture for women, Scripture for men, Giving Generously to Others, and Jesus on Love), so you can choose your preferred one, and then you get seven verses to learn – one per day of the week.
The downside is that the only translation on offer is the King James Version (KJV) – not the most accessible or widely-used translation, which (I found) made memorisation harder – lots of 'thee's and 'thou's! It would be helpful to have the option of using a more modern translation.
The app keeps track of how you're doing by telling you your winning streak, and you earn points for all the Bible memorisation games you play.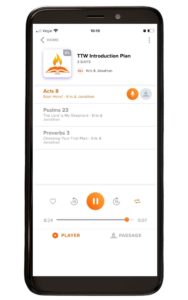 Free (although you need to set up a free account to access the app)
5* rating: 4.9 (2K ratings)
Features: accessible audio Bible commentary, NIV translation, huge range of Bible plans including each book of the Bible plus different themes
Don't be put off by having to create an account for this one – you can log in with Facebook, Google or Apple anyway, and it's well worth the extra few seconds of your time to do so.
Developed by Pastor Kris Langham, this excellent Bible app has specifically designed for those who want to read the Bible but struggle to find time to do so. Its aim is to help you do this in just 10 minutes a day, and there are currently five Bible teachers (including Kris) to guide you through.
The friendly intro video and über-clear 'Start here' audio devotional make it really obvious what the app is about, and save a lot of faffing about trying to work out what everything is, and where to go first. The introductory devotional plan is just three days long, and cleverly combines Bible commentary with showing you how to use the app.
After your three-day induction, simply choose whichever Bible plan you like from an impressive selection. There's a plan for every book of the Bible (yep, you read that right), plus a whole host of thematic Bible plans such as Holy Week, Marriage, Faith, Anxiety – as well as 19 'Bible Journeys' (great for those wanting to get into the Bible for the first time or returning to it after a gap).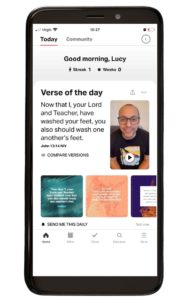 Free (although you need to set up a free account to access the app)
5* rating: 4.9 (7.8M ratings)
Features: access any Bible translation, huge range of Bible reading plans, connect with friends, search function, audio available
One of the most established daily Bible apps around, You Version boasts an impressive range of different Bible reading plans on all sorts of varied and interesting topics, by an international team of writers. There's even a Kids' Bible Experience with short daily videos, so if you want to start your tweens on a Bible app, you could download this for them.
I love the search function, which enables you to find a Bible reading plan on any topic or Bible book you're exploring right now. I tried 'depression' and 'Matthew' – and, for both, I got a huge range of options.
Each plan can be read, listened to, or both. A highly accessible Bible app with a huge range of devotionals – recommended!
***
The following aren't Bible apps, but prayer apps. I thought they'd be helpful to include for anyone looking to develop a better prayer life!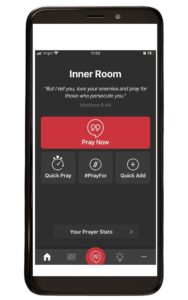 Free
5* rating: 4.6 (44 ratings)
Features: add prayer requests in different categories, set your own length of prayer times, reminders to pray
Developed by the 24-7 Prayer team (the same team who brought us the Lectio 365 app), this app lets you pick different categories for prayer (friends/family, church, country, etc), then add as many names as you wish. You can update each prayer request with 'notes' – for example when you get a text from a friend updating you on their situation, or when a prayer request is read out from the front of church.
The app then encourages you to pray (you set the length of time), with those very same prayer prompts popping up on screen as you go, helpfully reminding you of who and what you're praying for.
There's also a 'thanks' list – great for adding answers to prayer, or just things to be grateful for!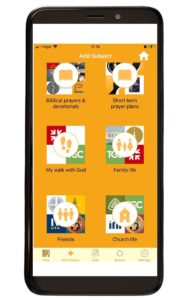 Free
5* rating: 4.8 (152 ratings)
Features: add your own prayer requests, gives you the Lord's Prayer and several other helpful prayers, Open Doors world updates, reminders to pray
Prayer Mate is great for expanding and widening your scope for prayer. Not only does it give you space to add your own prayer requests, but it also uploads information from Open Doors to equip you in praying for the world, plus many other prayers and Bible verses (including the Lord's Prayer) to aid your prayer time.
You can share your prayer requests with a small group of people also using the app, and access all sorts of prayer resources from a variety of different organisations. Brilliant!
***
I hope you've found this post helpful in choosing a Bible app for women (or men – loads of these would be great for both!). Which one did you choose? Are there others you would add to this list? Let me know in the comments!
And if you're looking for great devotions for families, check out my post on that for 16 brilliant ideas!
Don't forget to sign up to be the first to hear of more faith-based resources for Christian parents: