I use affiliate links in some blog posts. If you click through and make a purchase, I earn a small commission at no extra cost to yourself. Thank you for your support.
This article is written by Liz Carter.
Life for teenage girls in our society is tougher than ever, with constant social media leading them to feel like they have to measure up, to be more, to compare, compare, compare.
Matters of identity can be confusing and scary for them, and they often don't know how to be themselves in a society that seems to want them to be somebody else. The widespread availability of porn means that girls often feel as though they need to act in certain ways they feel uncomfortable with, just to be seen as okay.
It's heartbreaking, and as a parent it can be terrifying to see how the world presses in on our girls, shrinking them down.
But God has plans for her good. God loves her and wants her to know the freedom He brings – we just have to remember that to us it may not look like we expect, and sometimes we need to let God be God and our girls be our girls.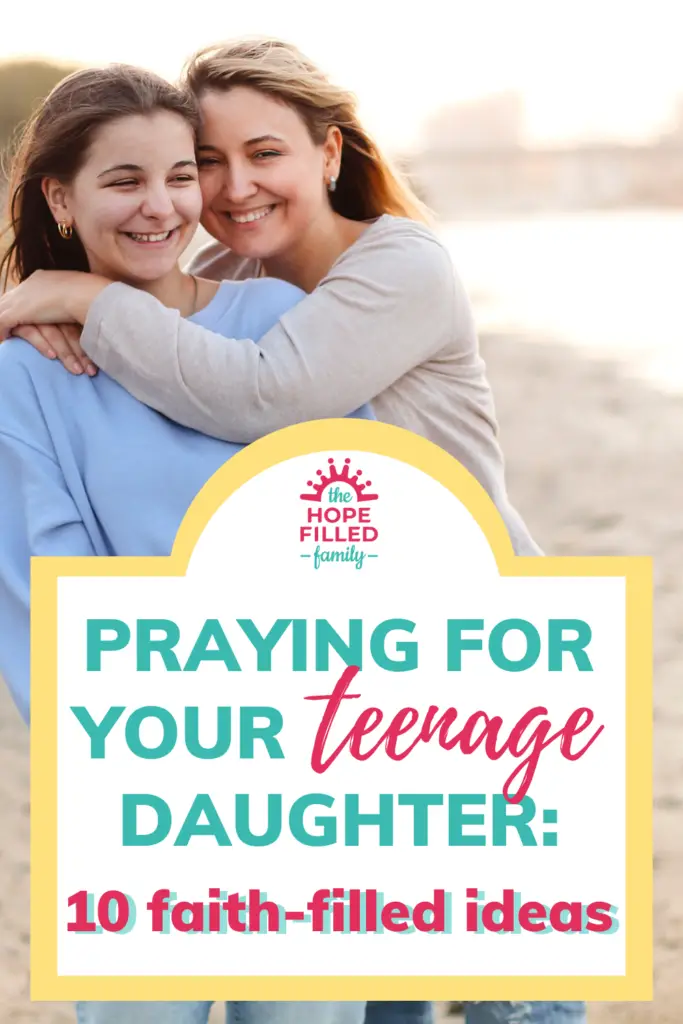 Prayer for my daughter as she grows
When your daughter is tiny, she has her whole life in front of her, and in some ways it is easier to pray for her. She is a blank slate, and, as you look into those innocent eyes, you just know she'll always be perfect – right?

But as she grows, you see her becoming her own person. And that is a joy and a delight, but it's also a reality check: maybe she is not quite like the image you formed in your mind of what your daughter would look like, act like, what she would want out of life – maybe even her response to matters of faith.
You pray for her every day, but it's hard when you see her go through struggles at school and with her friends – you want to wrap her up, to protect her, to stop life hurting her.
(Check out ONLY 1 IN 4 GIRLS CALL THEMSELVES 'HAPPY' – SO WHAT ARE WE DOING WRONG?)
And then the teenage years hit.
Parents can spend a lot of those years feeling guilty, feeling as though you just haven't done enough, haven't shared faith enough, haven't prayed enough, haven't been enough. And if your girl goes in a direction you don't expect or welcome, the guilt intensifies: you should have been better. Should have prayed better.
If you really want to tend this guilt, try a bit of comparison (okay, a lot of it – we all do it, don't we?) Try comparing with the Christian families at church who just seem to do it all so much better. Try comparing with all the perfect mum podcasts who pray faithfully every day and have perfect children.

Or you could accept that we're all imperfect and all messy, and so are our children. You could remind yourself that the families who look perfect are probably struggling just as much as you are. You could decide to be praying for your teenage daughter within that mess instead of feeling guilty for creating it.
(Check out WHEN FLEDGLINGS FLOP: WHAT TO DO WHEN YOUR TEENAGER IS OUT OF CONTROL for some encouragement from a mum who has been there, worn the T-shirt.)
So, how do you pray, in an imperfect world, out of your imperfect self, for your imperfect daughter? Here are ten ideas.
Praying for your teenage daughter
1. Pray through worship
I've found this an immersive and helpful way to pray for others, and especially to engage in prayer for my daughter. Praying through the battle songs like Raise a Hallelujah is profound and powerful – and helpful when you are weary.
Sometimes, I cannot find words in myself. I live with long-term chronic illness, and often have little energy. Sometimes, because of this, I feel guilty (yes, that word again – why do we all do it?) about not being able to sit and pray for prolonged periods. But singing songs over my family is powerful and profound, and comes from a place of encounter with God, a place of honesty and authenticity.

2. Pray through Scripture
The Psalms are so honest and talk of our human experience in wanting more from life and asking God what He's up to. Pray the Psalms – pray them over your daughter. Find the Bible verses about promises for her and speak them out over her. Here are a couple that help me:
But from everlasting to everlasting
    the Lord's love is with those who fear him,
    and his righteousness with their children's children

Psalm 103:17
Do not be afraid, for I am with you;
    I will bring your children from the east
    and gather you from the west.
   I will say to the north, 'Give them up!'
    and to the south, 'Do not hold them back.'
Bring my sons from afar
    and my daughters from the ends of the earth

Isaiah 43: 5-6
3. Pray in her spaces
Maybe when she's at school, you could be praying for your teenage daughter and worshipping in her room as you clean or tidy up. Kneel on her floor and ask God to soak this atmosphere with His presence. See what He does!
4. Pray with her
It's not always easy, especially if she's resistant, but ask her if she would like you to pray with her. Sometimes she might surprise you.
5. Pray your dreams
Dream God-things for her and pray them. This is really difficult when things seem to be falling apart and you don't understand where God is in it, but God wants us to have courage in our prayers and use our imaginations to pray good things over our children.
6. Pray for her friends and relationships.
Pray for Christian friends and partners, for people who will help her grow and love her and honour her. Keep on praying even when it doesn't seem to be happening. Sometimes the waiting is long – but God is still working in the waiting.
7. Pray through the pain.
If everything hits rock bottom, if she seems to hate you and go against everything you want for her, still pray. Pray through a Psalm like Psalm 42, where the writer looks back at better times and says he is full of despair – and yet still will pray. Hold on. God sees your pain and holds you close within it.
8. Pray for her future.
Try not to enforce your own wants for her (that's different to dreaming God-dreams for her), but pray that she will flourish wherever she is and whatever she does. Try to pray without expectation – but with assurance that God loves her even more than you do.
9. Pray for her safety; physically, mentally, spiritually, and especially online.
Pray over the spaces she loves to go to online, TikTok and Instagram and Snapchat, pray that she will meet with God there in unexpected ways. Expect God to work even where you think he is absent.
(#SHETOO – CAN I PROTECT MY DAUGHTER FROM BEING A VICTIM? might be a helpful read here.)
10. Pour out your soul.
Praying for your teenage daughter may be tricky sometimes. So try creative methods. You might write it in poetry or prose, journal it in a beautiful prayer journal, sing it out in song, dance it or paint it. Pour out your emotions about your daughter through whatever medium works for you and see it as both an act of worship and a proclamation prayer.
11. (Ok, I know I said 10, but here's a little extra…)
Remember that the Holy Spirit prays for her in groans too deep for words.
Even when you have no words, God does. God knows the hidden and tangled up words of your heart when it all seems too hard, and he groans with you. He collects up all your tears for her and stores them in a bottle (Psalm 56:8, NLT).
***
Are you praying for your teenage daughter? Which of these ideas resonates most with you right now? Are there other tips you would share? Let's chat in the comments!
Liz Carter is an author, poet and editor from Shropshire, and is married with two children. She writes about the difficult and painful times in life, and how we can find gold in the mess. Her books Catching Contentment and Treasure in Dark Places are available in bookstores. Liz's next book, with The Good Book Company, is coming in 2023. She's just brought out a new prayer journal which is filled with verses and poetry about creation. You can find her and her books at Great Adventure.