I use affiliate links in some blog posts. If you click through and make a purchase, I earn a small commission at no extra cost to yourself. Thank you for your support.
I absolutely adore Christmas music – and, having four kids of my own, I particularly love finding children's church Christmas songs with motions that they can easily join in with too.
Of course, as a worship leader too, I'm all about kids singing 'adult' songs too – our kids love to just join in with traditional carols, without there being an 'all-age' element about them. But it's really great when we can pair tradition with some more contemporary Christian Christmas songs with actions. We all know that doing something helps us remember it much more than just listening or saying/singing it.
You may be here as a parent, a children's church leader, or perhaps a primary teacher, looking for songs you can sing with your kids this year.
Well – look no further! Here's the best selection of children's church Christmas songs with motions/actions (what do you call them? I'm an 'actions' girl, personally, but reckon a poll would be pretty evenly split…) – along with YouTube links so you can easily check them out for yourself and discover the PERFECT song for your family/group/class this Christmas!
Here are 20 Christian Christmas songs for kids with lyrics and action ideas. Enjoy!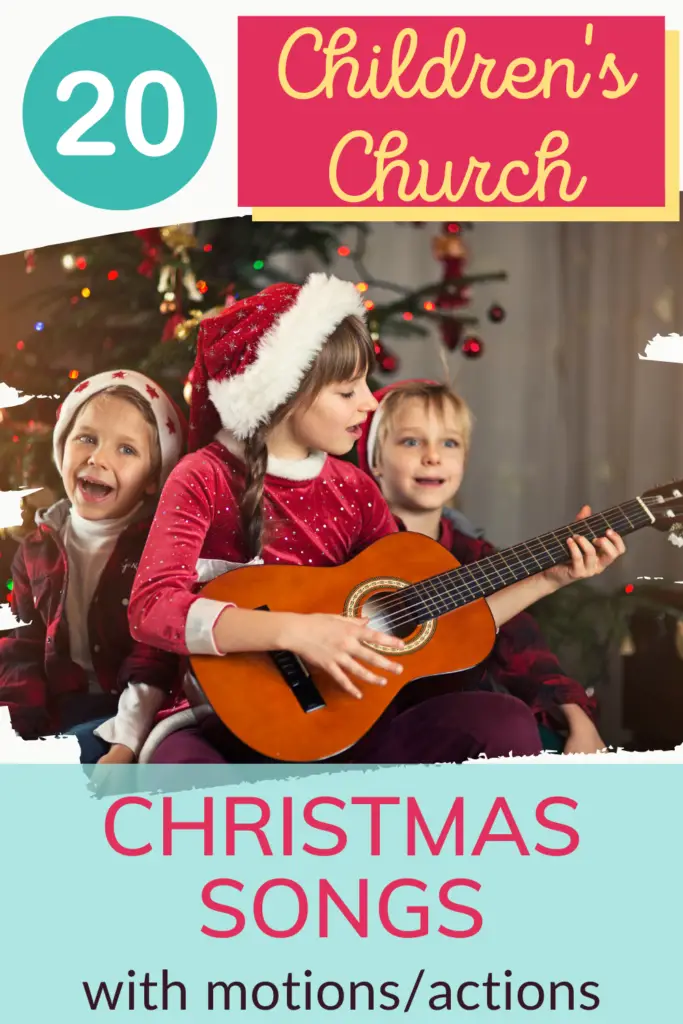 Children's church Christmas songs with motions/actions
1. Good news (Cindy Rethmeier, 1995)
This chorus is so simple and easy that even pre-readers will pick it up. And the motions/actions are simple too: thumbs up for 'good news' then obvious actions for the ends of the lines. You can make them up on the spot!
2. Little Donkey (Eric Boswell, 1959)
An absolute classic! WE all sang this at school and probably so did our parents! Still a blinder 🙂
3. The King of Christmas (Colin Buchanan, 2005)
A really fun, folksy, upbeat song for all ages – perfect if you're looking for children's church Christmas songs with motions – and this video gives you everything you need to know!
4. Star of the Morning (Hillsong Kids, 2020)
A bit wordy for younger kids, but such a fun pop number that will really appeal to kids who enjoy chart music.
5. Joy to the World (Bethel Kids, 2016)
There's a whole Bethel Kids Christmas album if you're keen to share contemporary, child-friendly versions of traditional carols – but I've chosen Joy to the World here as it's one of my all-time favourite carols.
6. In the beginning (Resound Worship, 2014)
OK so Resound's Christmas album isn't *strictly* aimed at kids – but the singable nature of what they produce, plus the fact that it's easy to reproduce in a standard church worship band (hello, dodgy pianist and six flutes), make it a worthy inclusion on this list. This song in particular is nice and repetitive with simple lyrics kids will pick up easily.
Check out Resound's resources for this song – including lead sheet, backing track, piano score and more – right here.
7. Prince of Peace (Monica Scott, 2018)
This would make a lovely performance piece for a school choir or church Nativity play, but could also work well for a whole congregation to sing.
8. A long long long long time ago (Awesome Cutlery, 2015)
A super catchy song to teach the idea that Jesus was the fulfilment of an ancient promise. (Find the lead sheet for your musicians right here!)
9. Hear the bells (Worship for Everyone, 2017)
10. Today is the Saviour's Day (Rend Collective, 2020)
Again, not a song specifically aimed at kids over anyone else, but Rend Collective's wonderfully uplifting sound really appeals to kids, and this is a catchy sing-a-long for the whole family!
11. Christmas is Jesus (Go Kids, 2015)
Another upbeat, boppy number to raise spirits for kids this Christmas.
12. Nativity Baby Shark
Surely one of the best children's church Christmas songs with motions! There were millions of versions of this flying around a few years ago – I'm biased of course, but I think mine's the best 😉 You can find the words here (scroll to the bottom of the post), complete with ideas for actions, and just use any Baby Shark backing track like the one below!
13. Mary's Boy Child (Jester Hairston, 1956)
It may be vintage, but Boney M really did the church a huge favour when they covered Harry Belafonte's 1956 classic. The upbeat feel of the song makes it a favourite with many kids.
14. Born is the King (Hillsong, 2011)
This has such an anthemic feel to it! Literally EVERYONE will be in the Christmas mood after singing this wonderful worship song to Jesus.
15. The angels knew (Worship for Everyone, 2012)
This song has been specifically written for all ages to sing together – with beautifully simple words which announce Jesus' birth. With such visual lyrics, you could easily add motions/actions.
16. O what a glorious night (Sidewalk Prophets, 2013)
There are some great motions/actions to this song – just search YouTube for 'oh what a glorious night' and you'll see the action vid!
17. It's about the cross (Go Fish, 2010)
This would be easy to add motions/actions to, and although this beautiful a cappella version might not be easily replicated in most churches, if you scroll further down YouTube you'll hear versions with instruments. It's a great one for teaching the significance of Jesus' birth!
18. Oh what a special night (Singin' Praise Tots, 2013)
If you're looking for Christmas songs for preschoolers, this is a brilliant Old MacDonald-style Christmas carol! Actions easy to add!
19. Jingle Jingle Jesus (Colin Buchanan, 2015)
Younger kids will love grabbing bells and shakers and singing along with this one!
20. Hallelujah (Colin Buchanan, 2015)
Looking for a slower, more reflective children's song this Christmas? This one has fabulous words, lots of potential for actions, and an easy-to-pick-up tune.
Sunday school Christmas songs
If you're searching specifically for songs your Sunday school class can sing together to worship Jesus this Advent, or perhaps to perform to the wider church, here are my top recommendations:
In the beginning (no 6 above)
Prince of Peace (no 7 above)
Today is the Saviour's Day (no 10 above)
Born is the King (no 14 above)
Hallelujah (no 20 above)
Religious Christmas songs for 3 year olds
Whilst all of the above work generally for 'kids', we all know that preschoolers have specific needs when it comes to singing and music. We're generally talking about pre-readers, so we need short, simple lyrics, a repetitive, memorable melody and (preferably) lots of actions!
My top picks for this age group would be:
Good News (no 1 above)
Nativity Baby Shark (no 12 above – click here for my lyrics/actions)
Oh what a special night (no 18 above) – the animal noises would go down very well with most 3 year olds
And if in doubt, just teach the chorus!
***
There you go – I hope you've enjoyed my selection of children's church Christmas songs with motions/actions!
Which ones would you add? Which do you already know? And which will you try this year? Leave me a note in the comments – I'd love to know!
Looking for Christmas picture books for children? I've got you covered!
Or to check out how you could make a simple Advent basket for your kids this year, click across to read!